If you're a young and experimental bride who's not quite in love with the long traditional white meringue gown, you'll adore these 5 unconventional wedding outfits that will suit your personality and unique sense of style.
Toss the idea of putting on that over-the-top, hard-to-walk-in wedding gown for a look that is stylish and understated, just like you.
You will wear whatever you want for your big day, because you can.
1. T-Shirt Dress
_
Source: Her World Plus_
Shu Qi's "eco-friendly" dress features a T-shirt body and three layers of ruffled lace and tulle underneath, costing only HK$3,990 from H&M's "Conscious Exclusive" collection.
Despite its simplicity, the exquisite details of lace and tulle give this dress a boho, romantic and street-style look.
2. Power Playsuit
_
Credits: Anna Maurer Couture_
Look and feel like a true #girlboss at the altar!
After all, both parties should wear the pants in the marriage, right?
3. Modern draped dress
_
Source: Brit.co_
The clean silhouette emphasises a svelte figure, and does not distract from the beauty of the bride.
Incredibly runway chic, this dress is perfect for low-key elegant wedding parties.
4. Floor-length cape dress
_
Source: Etonline_
Solange Knowles' clean yet striking Kenzo column dress comes with a floor length cape that gives her wedding a powerfully surreal look.
We love how she accessorised this neat dress - see those thick gold cuffs peeking out from under her cape?
5. Bridal Romper
_
Source: Wedding Party App_
Sexy and classy at the same time.
This wedding romper is absolutely perfect and fun-looking for an elopement or engagement photoshoot session!
-
And now that you're totally in love with the unconventionality of these wedding outfits, here comes the next question: So where do I make these unique pieces in Singapore?
-
Try these gown designers and seamstresses:
1. Kelly's Bridals
Kelly is a talented gown designer who's bold and experimental. Her creativity and skills enable her to bring any wedding outfit that can be possibly visualised by the bride to life.
So far, we've heard that she's never said "no" to trying new, bespoke, alternative designs - she's like a genie in a bottle!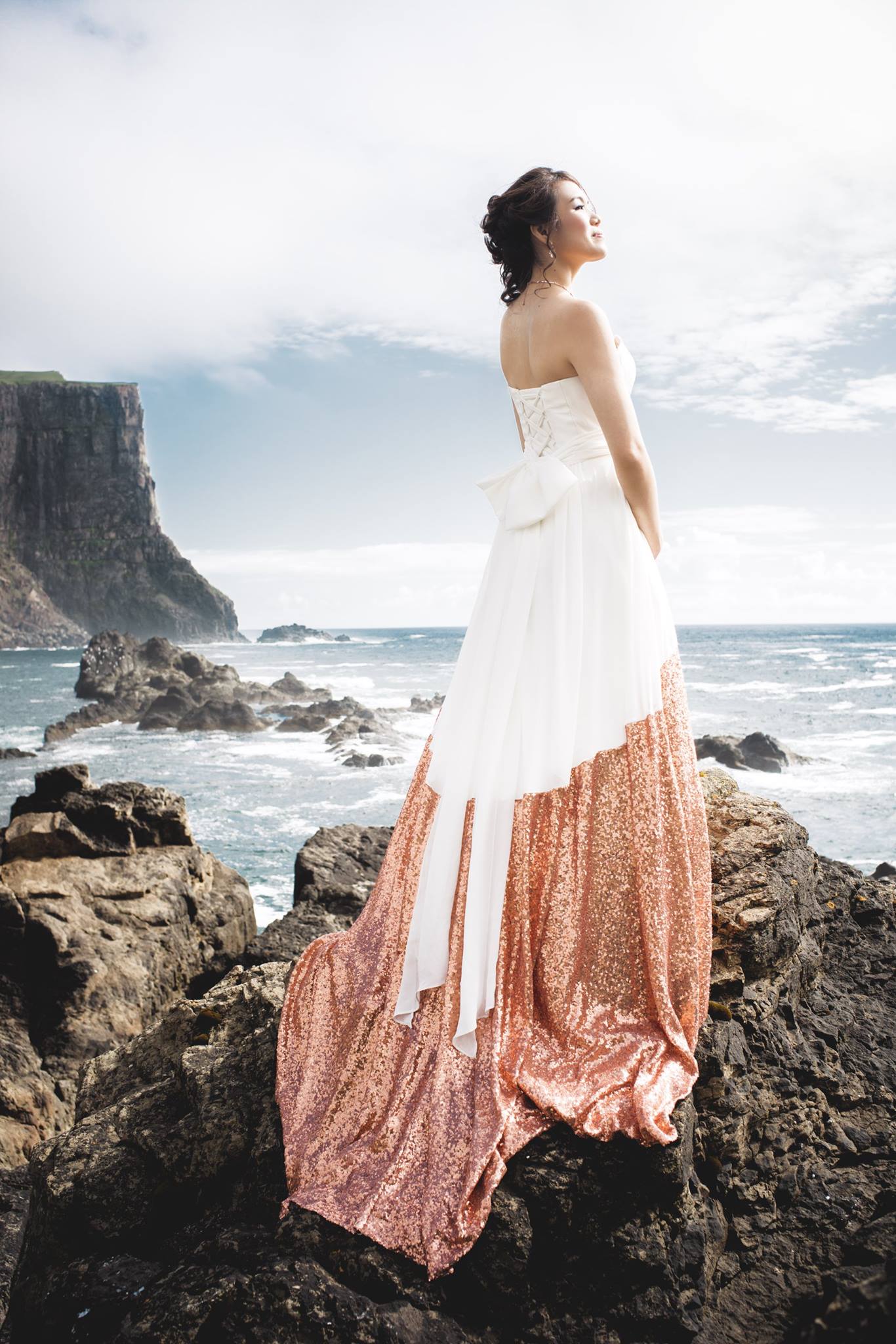 _
Source: Kelly's Bridals Facebook_
This rose gold shimmery hemmed dress by Kelly is a heart stealer, isn't it?
2. Time Taken To Make A Dress
The design team at Time Taken To Make A Dress take their calling very seriously, "neither swayed by trends nor style forecast, looking instead to the individual client as muse."
_
Source: Time Taken To Make A Dress' Instagram_
This crop top and skirt in organza and cotton, with hand sewn strips and floral sprays, is too unique for words.
3. Seamstress Kim
_
Source: The Wedding Scoop_
From very recent reviews we've read online about this experienced and skilled seamstress, we're sold by her efficiency, dedication to her craft and ability to deliver.
Some #dayrebrides have even said it's taken just 1 measurement session to get their final dress fitting them like a glove!

Seamstress Kim
Address: Tampines St 21 Blk 246 #11-359
Contact No: 9647 8146
We hope you're full of wedding dress envy after reading our article 5 Alternative Wedding Outfits For Cool Brides and have found our recommendations on where to get your personalised dress made useful!
Have other unconventional bridal outfit ideas or wedding dress makers to share? Email us at hello@miraculove.com and we'll be happy to enrich the list.
Hi! I am Yunnie. I am the newly minted mama to a little baby girl and a mum friend to everyone on this special (and many times scary) journey of motherhood. Also a graduated bride with a penchant for weddings.