It's your first date and understandably, it'll be one of nerves, excitement and anticipation. What can you do to make it go as perfectly as it possibly could?
Start with picking a date location that is kind to the wallet (especially if you're the kind who insists on 'going dutch'), romantic yet casual and relaxed to induce meaningful conversations.
Here are our top 5 picks for cafes that are interesting, warm and cosy. Perfect locations for the first get-to-know-each-other!
1. Shop Wonderland Cafe & Floral Studio

Source: Shop Wonderland Instagram

Source: Shop Wonderland Instagram

Source: Shop Wonderland Instagram
This floral and botanical themed cafe has just moved from Haji Lane to Telok Ayer, making it the perfect location for a lunch meetup if you and your date happen to be CBD warriors!
The blooms and foliage bring about a sense of tranquility, making the clock tick slower than usual and allowing conversations to get deeper.
Shop Wonderland serves both savoury meals and desserts, so you don't have to worry about not getting your tum adequately filled, and still get your sweet cravings fixed!
Shop Wonderland Cafe & Floral Studio
Address: 134 Telok Ayer Street Singapore S068600
Tel: +65 9299 4593
Hours: 8:00am – 6:00pm (Mon-Sat), Closed on Sun
2. Wimbly Lu Chocolate Cafe
This chocolate dessert place is located in the residential area of Jalan Riang. It is a charming, quaint and somewhat whimsical place.
Dessert items, like the waffle and Root Beer Cake, are the crowd-drawers. Sweeten up the atmosphere with these treats! If everything sweet and saccharine isn't your thing, Wimbly Lu also serves mains like lasagna and baked rice.
Its cosy and intimate atmosphere is a perfect place to get acquainted with the special someone.
Wimbly Lu Chocolate Cafe
Address: 15-2 Jalan Riang S358987
Tel: +65 6289 1489
Hours: 1:00pm – 10.30pm (Tue-Fri), 9:00am – 11:00pm (Sat & Sun)
3. Shiberty Bakes Cafe

Source: Shiberty Bakes Instagram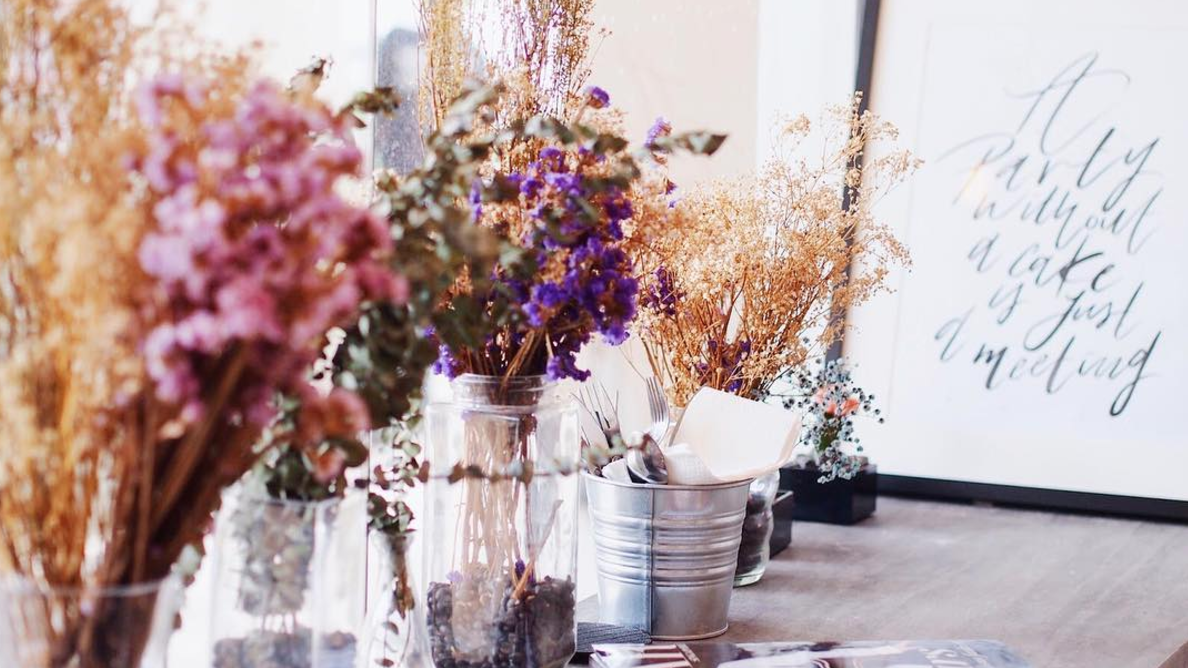 Source: Shiberty Bakes Instagram | Photography: Benvoda Instagram

Source: Shiberty Bakes Instagram
Helmed by the talented blogger Jessica Loh, Shiberty Bakes Cafe is an instagram-worthy cafe with 'magical' handmade bakes that have attracted an online following for the last couple of years.
Its light-coloured interiors sees an abundance of natural sunlight, which makes for an open and cheerful ambience for first-time dates.
What can we say? This place is simply made for a sweet mid-afternoon date!
Shiberty Bakes Cafe
Address: 46 Owen Road, #01-277 S210046

Hours: 12:00pm – 9.30pm (Tue–Sun), Closed on Mon
4. PS Cafe
Our favourite of the PS Cafe chains would be its Palais Renaissance outlet. The interior is chic with romantic low lighting. If the weather isn't too hot and stuffy, it's delightful to dine outside at its white-tiled terrace area.
The truffle fries are great for sharing (considering its sizeable portion!) and you should share calories with your date if you're ordering their famed sticky date pudding!
The close proximity to the Orchard stretch also means that you can accompany your date to window shopping (and even more cafe hopping) if all goes well!
Palais Renaissance Branch
Address: 390 Orchard Road #02-09A
Tel: +65 6887 2207
5. Arteastiq Tea Boutique

Source: Arteastiq Instagram | Photography: Foodonfork.com Instagram

Source: Arteastiq Instagram | Photography: Ketrin Agustine's Instagram
A comfy and upscale place that fuses art and tea, this is a boutique tea house that allows you to sit back, enjoy life and talk freely.
If both of you are into art and creativity, spend some time on art jamming! It's a brilliant way to bond, make fond memories and take home a priceless keepsake (each other's artwork, maybe?)
Arteastiq Tea Boutique
Flagship Branch: Mandarin Gallery, #04-14/15
Address: 333 Orchard Road S238867
New Branch: Plaza Singapura, #03-70/72
Address: 68 Orchard Road S238839
Hi! I am Yunnie. I am the newly minted mama to a little baby girl and a mum friend to everyone on this special (and many times scary) journey of motherhood. Also a graduated bride with a penchant for weddings.