This is a real-life "happily ever after" proposal story.
Kaiying is a well-loved tutor . Boyfriend Kheng Wee thought it couldn't get any sweeter for her to be proposed to in a place that holds great joys for her -  the classroom, on her birthday.
After enlisting a spy in Kaiying's midst (their mutual friend), Kheng Wee got to know what a dream proposal would look like for her.
A memorable, thoughtful surprise, surrounded by her close friends.
Kaiying believed that if Kheng Wee were ever to propose, it would be a notch up from decking a holiday suite in rose petals and champagne (which was what he did to ask her to be his girlfriend).
And so he did. Kheng Wee decided to commission a bespoke Children's Storybook that tells their story, which he could have her read at the proposal venue.
Kheng Wee's moniker is Kiwi, because it sounds like a cute version of his name. In the story, Kheng Wee was personified as a flightless Kiwi Bird, lost and insignificant in the big world until he met the Phoenix of his dreams who opened his eyes and took him on a flight to see the world.
"The Flight of the Flightless Bird" was conceived:
(Which was the true story. Kheng Wee met Kaiying at a casual group dinner with friends.)
(Which was also true. Because Kheng Wee arrived late for the group dinner.)

Photography: Majella's Studios
Under the guise of a media interview arranged between Kheng Wee and Kaiying's employer, Kaiying was tasked to read "The Flight of the Flightless Bird" aloud to her students to be captured in a video shoot.

Photography: Majella's Studios
When Kaiying reached the final pages of the book, a pre-recorded video played on cue with Kheng Wee saying, "I'm the flightless Kiwi Bird".
Everything clicked. Emotions taking over, Kaiying uttered the "yes" that Kheng Wee had been waiting for.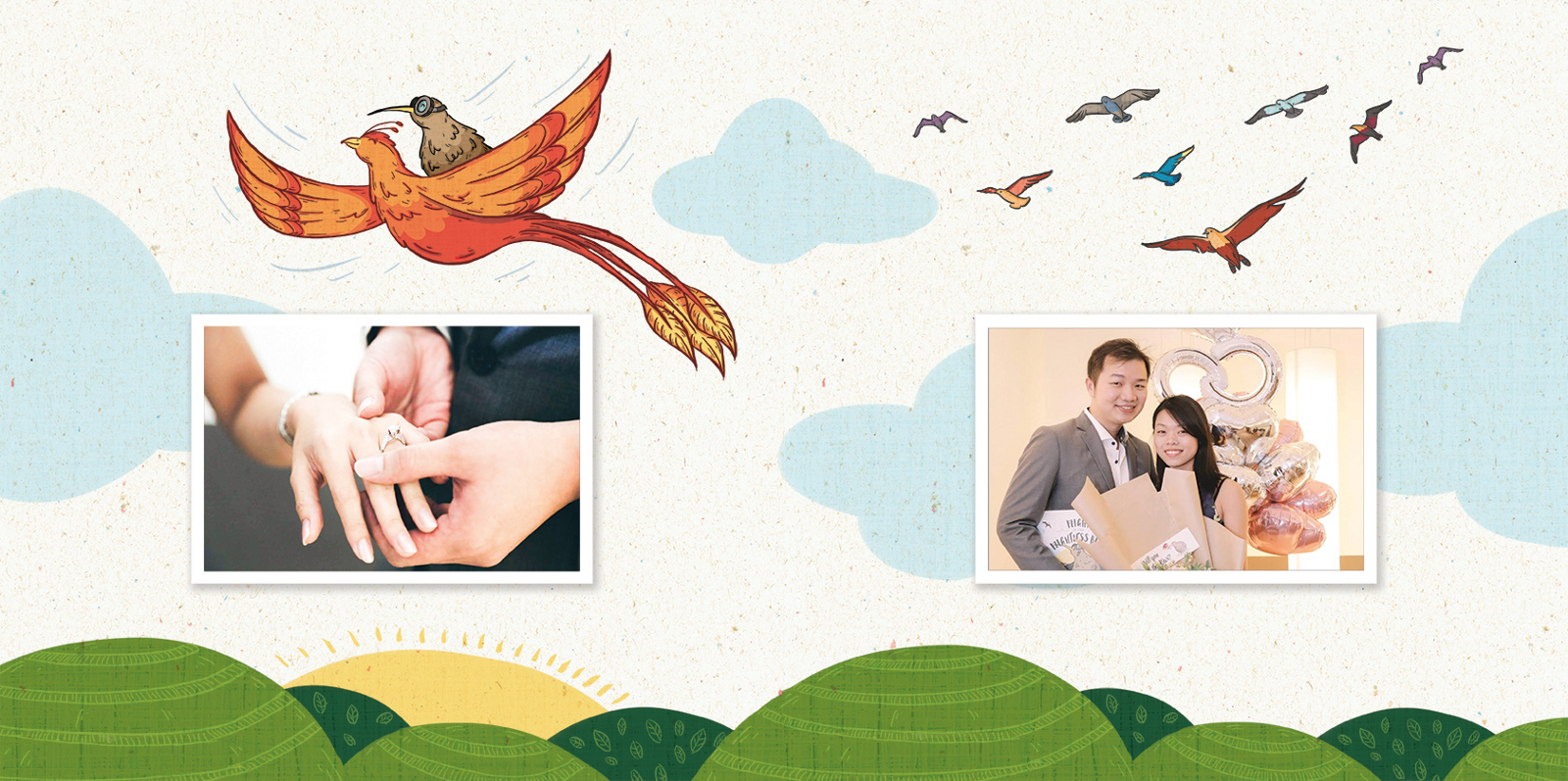 Photography: Majella's Studios

Photography: Majella's Studios
What was your favourite moment from the proposal?
"The moment when she said yes of course! I prepared a carefully scripted video, having thought that it would ease the pre-proposal jitters many have warned me about. Yet, seeing her in tears still put me at a loss for words momentarily, before I managed to muster up the courage to ask the all-important question.
The moment when she said yes, was when I got excited that a whole new chapter of our lives has just begun (no longer just about the flightless bird anymore!). Being able to gift to my fiancée the promise of a lifetime on her birthday, witnessed by her close friends made it all the more beautiful."
~Kheng Wee

Congratulations, our kiwi bird and phoenix! May you continue to see the world in each other's company and make wonderful memories for life!
Vendor Team
Photography: Majella's Studios
Balloons: Give Fun
Storybook: Miraculove
Hi! I am Yunnie. I am the newly minted mama to a little baby girl and a mum friend to everyone on this special (and many times scary) journey of motherhood. Also a graduated bride with a penchant for weddings.