We got a real Christmas tree from Swansons Nursery at their Reindeer Festival (experience captured here) and it was a joyous family event putting up the baubles together.
Miss 19 months enjoyed the Christmas tree decoration tremendously. She single-handedly put up 20 Christmas baubles lol.
My husband and I decided to extend this interest by DIYing a mini Christmas tree from upcycled cardboard to let Miss 19 months decorate her own little tree whenever she likes. That way, she's happy doing her thing and our real Christmas tree is spared from daily decorating efforts haha.
Just look at the fun Miss 19 months had!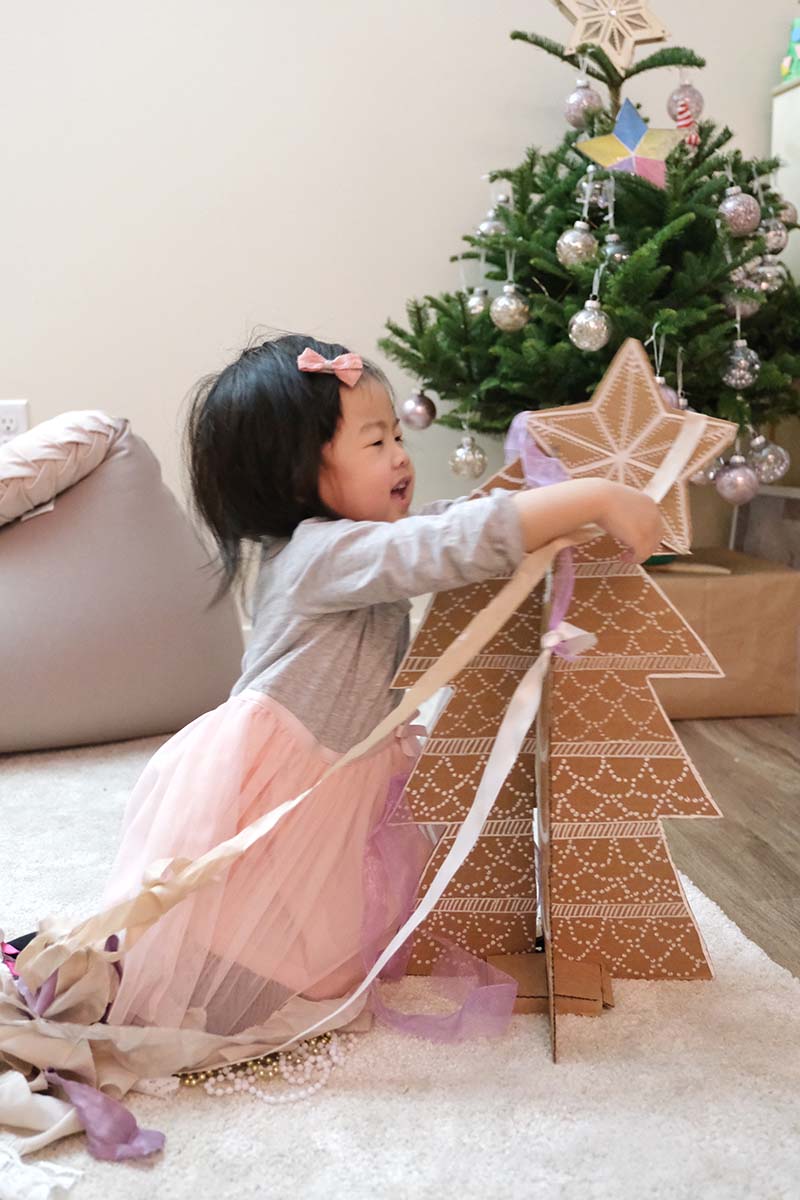 Cardboard Christmas Tree Decoration Fine Motor Activity with Toddler!
Tutorial to DIY Cardboard Christmas Tree
You'll require the following materials to craft the cardboard Christmas tree:
2 equal sizes of large cardboard
1 small piece of cardboard
Penknife
Pencil
White ink marker
Steps:
Use the pencil to draw a Christmas tree on cardboard
Cut out the cardboard Christmas tree
Cut a long slit in the middle of this cardboard Christmas tree from the base to nearly the top of the tree
Place it over another piece of cardboard and trace its outline
Cut out an additional cardboard Christmas tree
Cut a short slit on this cardboard Christmas tree in the middle from the top down
Decorate Christmas tree by inking patterns on it (white ink looks really pretty on brown cardboard)
Fit and overlap cardboard Christmas trees so it becomes self-standing
Optional: Make a Base for the Cardboard Christmas Tree
Align the intersection onto a small cardboard piece and trace the "+" outline on the cardboard
Use penknife to make light slits for the "+", do not cut all the way through, but just enough to fold the cardboard
Slot Christmas tree into the base
How to let Your Toddler Decorate Cardboard Christmas Tree
Provide the following materials to your toddler for draping over the tree:
Bead necklaces of different colors and sizes
Ribbons of assorted textures, colors and lengths
Other decoration ideas:
Stick pom pom balls onto the Christmas tree to pass off as baubles
Poke holes to fit short straw lengths throughout Christmas tree and loop pipe cleaners around the straws
Let your toddler freely sticker on Christmas themed stickers (Amazon gives out holiday gift guides with such free stickers in them!)
Developmental Benefits of this Activity
Sensory play with ribbons aids cognitive skill development and brain growth
Improve hand-eye coordination
Fosters concentration and focus
Fine motor practice (with all the pulling, stretching, draping and arranging of ribbons on the cardboard Christmas tree) strengthen hand muscles and tendons, which help with later skills like writing and drawing
Free artistic expression enables children to build creativity and confidence
Object and shape recognition (Star/Tree)
Display of decorated tree artpiece at home enables children to feel that their work is valued and they are useful members of the household
Other Cardboard Christmas Tree Tutorials
I scoured the blogosphere and found these amazing DIY cardboard Christmas tree crafts you can reference too!
If you're interested in other Christmas themed DIY projects, try making a Life Size Cardboard Santa Sleigh for your little one to ride! It brings great imaginary fun!
Hi! I am Yunnie. I am the newly minted mama to a little baby girl and a mum friend to everyone on this special (and many times scary) journey of motherhood. Also a graduated bride with a penchant for weddings.