Now that winter is in full swing and Christmas vibes are everywhere, I've been on a roll making festive crafts and activities for my toddler to enjoy at home. My latest creation...
DIY Life Size Cardboard Santa Sleigh for Toddlers to Ride!
It's crazy how much fun good old cardboard can create for little ones! It's also inexpensive and not overly tedious to make.
Tutorial for DIY Cardboard Santa Sleigh
Materials required:
A large open-top cardboard box (the big fruit boxes from Costco are perfect. Make sure it fits your toddler because this is the main frame for Santa's sleigh)
A smaller cardboard box with a length that fits the width of your large open-top cardboard (the romaine tomato box from Costco works great! This makes the seat for your toddler in the sleigh)
A large piece of flat cardboard (for drawing Santa, who'll ride along in the sleigh)
Crayons and markers for decorating Santa
Masking tape
Penknife or scissors
(Optional) Thick rope
Steps:
Open up the sides of the large open-top cardboard box to flank your toddler when she sits in it. Secure them to be self-standing with masking tape.
Place smaller cardboard box against one side of the large cardboard box and secure it there with masking tape.
Draw Santa Claus from the waist up and decorate together with your toddler. Cut it out with penknife or scissors.
Secure Santa on top of smaller cardboard box, propped against one side of the large cardboard box to look like a passenger onboard the sleigh.
(Optional) Tie thick rope to the large cardboard box to pull your toddler in the Santa sleigh. Otherwise, grasp the cardboard firmly in both hands and drag across the floor while seated.
Gwen's Play Experience
We read a book about Christmas and Santa Claus before I introduced her to Santa's sleigh.
She enjoyed climbing into Santa's favorite mode of transportation and I pulled her around the house. It was such a thrill ride for her.
Then, I asked if she'll like to invite her stuffed toy animal friends onto the sleigh and push them, which she did! She enjoyed picking out her companions for the sleigh ride and arranging them on the seat.
I love that this simple cardboard Santa sleigh is great for pretend play, and offers lots of imaginary and creative play possibilities!
Developmental Benefits of this Activity
Art and craft foster creativity and self-expression
Character and season recognition (Santa Claus / Winter)
Conversations about Santa and Christmas builds language development and new vocabulary
Pretend play builds imagination and cognitive skills
Develop gross motor skills and motor planning skills (as toddlers scoot in and out of Santa's sleigh and try to make it move)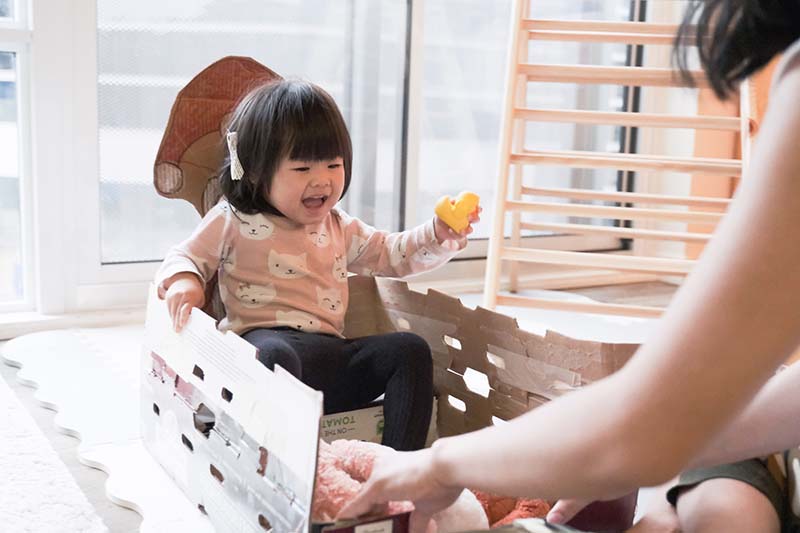 Other Santa Sleigh DIY Projects
Here are some other DIY projects for crafting Santa's sleigh which I found in the world of Internet:
Hi! I am Yunnie. I am the newly minted mama to a little baby girl and a mum friend to everyone on this special (and many times scary) journey of motherhood. Also a graduated bride with a penchant for weddings.