Whenever there's a bit of sunshine (which Seattlites long for), I love bringing Gwen out to the outdoors to experience nature. I hope that by exposing Gwen to the outdoors since young, she'll develop a lifelong appreciation for nature.
Apart from looking at and touching plants, I thought it would be fun for her to try watering them. This is a great way for her to learn that plants are living things and need water just like us to grow.
Since young children find it difficult to use a gardener's watering can and enthusiastically end up drowning the poor plants, I decided to DIY an
Environmentally-friendly Watering Can!
that's easy for little toddler hands to hold so Gwen could slowly sprinkle plants with water.
The DIY watering can is recycled from a milk carton, a common enough product that my household consumes, so we can make new watering cans whenever the old one gets battered from toddler use. It sends a great environmental message too, which is important for Gwen to grow up with.
How to DIY a Toddler Watering Can
Rinse with water a cardboard milk carton or plastic bottle/jug (after the contents have been consumed) and leave to dry
Drill a few holes into the top side of the carton or bottle/jug. This is so that when you pour water into the container, you can fill it up while upright
To use:
Simply turn the container over the plants to sprinkle the water on them!
Great DIY Toddler Watering Can Ideas
Turn it into both an art and craft + gardening activity! Decorate soda plastic bottles with acrylic paint, hop over to Mess for Less to be inspired
Cultivate gardening skills in your little one with a DIY self watering pot. Learn how at Kid Spot Australia
I hope your child finds this a fun activity. Tell us your experience at miraculove_sg via Instagram Direct Message or Facebook Group.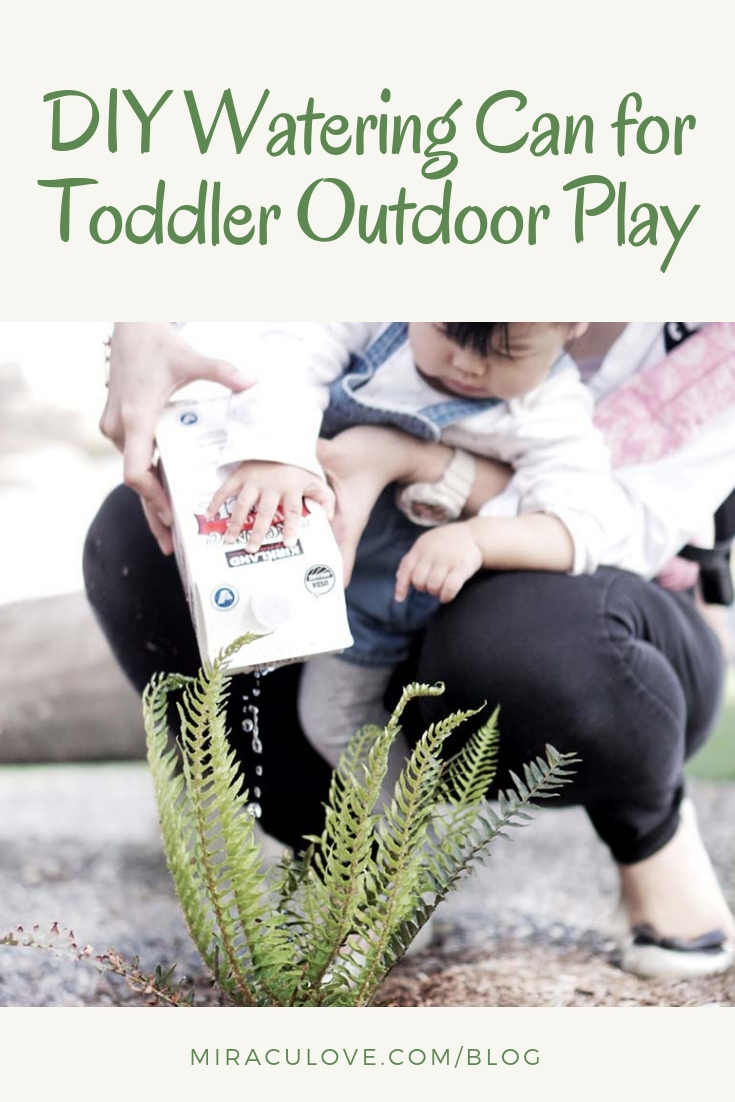 Hi! I am Yunnie. I am the newly minted mama to a little baby girl and a mum friend to everyone on this special (and many times scary) journey of motherhood. Also a graduated bride with a penchant for weddings.