Foreword
Regrettably, we no longer design and produce the Miraculove signature Acrylic Wedding Vow Keepsakes as we have transitioned the brand from a wedding stationer into a kids learning website (with a focus on toddler play ideas).
We were among the first in the Singapore wedding industry to create acrylic wedding keepsakes for our customers. As time went by, we started seeing acrylic imitation pieces by other vendors, which showed us that the acrylic trend was growing and acrylic wedding pieces are well-loved.
We are sad to have ended our relationship with the acrylic wedding keepsakes but I'm glad we did so on a beautiful note. It has been a real privilege immortalising wedding vows of brides and grooms onto a medium we dearly love.
Thank you for a good run and for the beautiful memories!
Leaving a legacy
While we won't be creating acrylic wedding keepsakes anymore, it doesn't mean you have to too!
We want all wedding couples to own something so precious and beautiful, that seals their promises to each other and makes for a timeless wedding memorabilia.
So here's our guide on how you could DIY your own acrylic wedding vow keepsakes!
Guide to DIY Your Own Acrylic Wedding Collaterals
A straightforward 6-step tutorial for you to create and produce your own unique acrylic wedding stationery items:
1. Write your wedding vows
The soul of the keepsakes is none other than the wedding vows.
Think about what marriage means to you and what you aspire to be in the relationship. From there, go with your feelings and the words should flow, making every word of your wedding vows ring with sincerity.
If you're facing a mental block, here are the classic wedding vow verses for inspiration:
I take you to be my husband, to have and to hold from this day forward, for better, for worse, for richer, for poorer; in sickness and in health; to love, cherish and obey, till death us do part, according to God's holy law, and this is my solemn vow.
2. Rightsize the wedding vows
You would want to prevent the wedding vows from looking too lengthy, which affects the aesthetic appeal!
For optimal readability, a good estimate would be 80-120 words for an international A5 size canvas of 148 x 154mm.
3. Select a desired font
If you're trained in calligraphy, nothing beats writing your wedding vows in your own handwriting!
Don't fret if you can't do calligraphy! All you have to do is pick a pretty script.
Here are (free) personal favourites of ours from Google Fonts, for your consideration:
4. Decide on the word layout
Pay attention to the line breaks, decide if you want to centralise the words or keep them left aligned.
To emphasize certain words e.g. name, feel free to make them bigger. There's no right or wrong!
Here are some examples for inspiration:

Credits to Roy & Denise

Credits to #kcbzweds
5. Save the file as PDF
You can use any design (e.g. Adobe Illustrator) or writing (e.g. Microsoft Word or Apple Pages) software to layout the words.
Export the file as PDF.
It is optional to include trim marks.
6. Send off for production
Give your wedding vows a thorough round of proofreading before you send the file off for production. (We find that it helps to rope in a few close friends with fresh eyes to proofread!)
Here's the contact of our trusty acrylic partner. They're a second-generation business and has been revered in the industry for decades for their quality material and top-notch laser engraving techniques.
Brighten Engrave
View their website
Email the PDF to sales1@brightenengrave.com (attn Benjamin)
In your email, you might like to specify the acrylic thickness and size. We recommend 3mm thickness for the acrylic piece, in A5 international size to be easily held in hand and for photographic purposes. State that you would like laser-engraved white words on clear acrylic.
Common questions
How much does it cost?
We won't be sharing a fixed rate here but we daresay you won't have to break the bank!
Brighten Engrave provides one of the most cost-friendly rates for laser-engraving and acrylic customisation in Singapore!
How long does it take production?
5-10 working days!
Is there a physical shop to view samples?
Yes! Brighten Engrave has 2 physical stores at their Queensway and Bukit Batok locations.
Find their addresses on their website.
What are the delivery modes?
Free collection at Brighten Engrave stores.
For normal or registered mail, check with them for additional rates and leadtimes.
We know for a fact that Brighten Engrave packages the acrylic piece carefully with protective wrapping when it has to be delivered through mail.
How do I get the acrylic piece to stand upright as a decorative item?
You could use a small easel, a place hold holder or an internationally sized photoframe!
How do I keep the acrylic piece in good condition?
Brighten Engrave employs a laser-engraving technique that is scratch-resistant and water-resistant so you don't have to worry about wear and tear.
You could use dust-repelling cloth to gently wipe the acrylic piece to erase fingerprints!
Which other wedding items are suitable for acrylic?
Bespoke wedding invitations! Acrylic definitely makes a statement.
You could use a white marker to pen guest names on the invitations for a personal touch.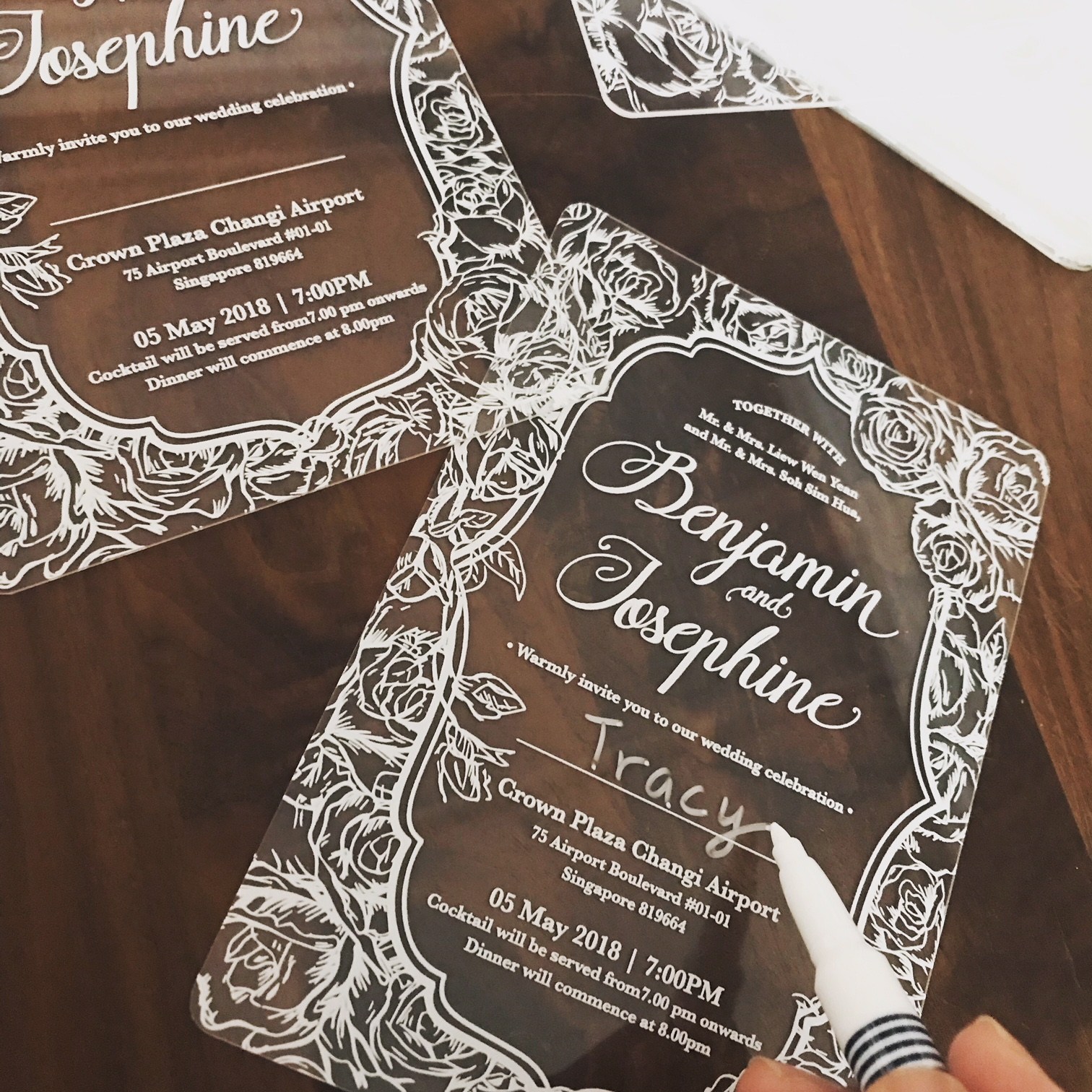 Source: Brighten Engrave website
Congratulations on your upcoming nuptials and we hope you are happy with the outcome of these acrylic wedding keepsakes!

Xx, Yunnie & Limin
Hi! I am Yunnie. I am the newly minted mama to a little baby girl and a mum friend to everyone on this special (and many times scary) journey of motherhood. Also a graduated bride with a penchant for weddings.