Flutes at the National Museum is a venue that draws in people who love history and arts. The room itself was actually built in honour of Queen Victoria's Golden Jubilee in 1887. On its exterior, the National Museum establishment exudes heritage and grandeur, as one of the most iconic architectural buildings in Singapore.
For Dylan and Heidi, it was love at first sight when they stepped foot into the venue. The modern-vintage feel of the venue was enchanting, just as how they had intended their wedding theme to be.
They wanted guests to be able to experience the same vibes of sophistication and elegance, from receiving the invitations to being there on the actual day. They thus commissioned a hand-illustrated artwork of the venue to be integrated into their wedding stationery.
On their wedding day, from Dylan's pinstripe suit to Heidi's tea-party dress, everything about their wedding exuded elegance and dreaminess with a touch of vintage.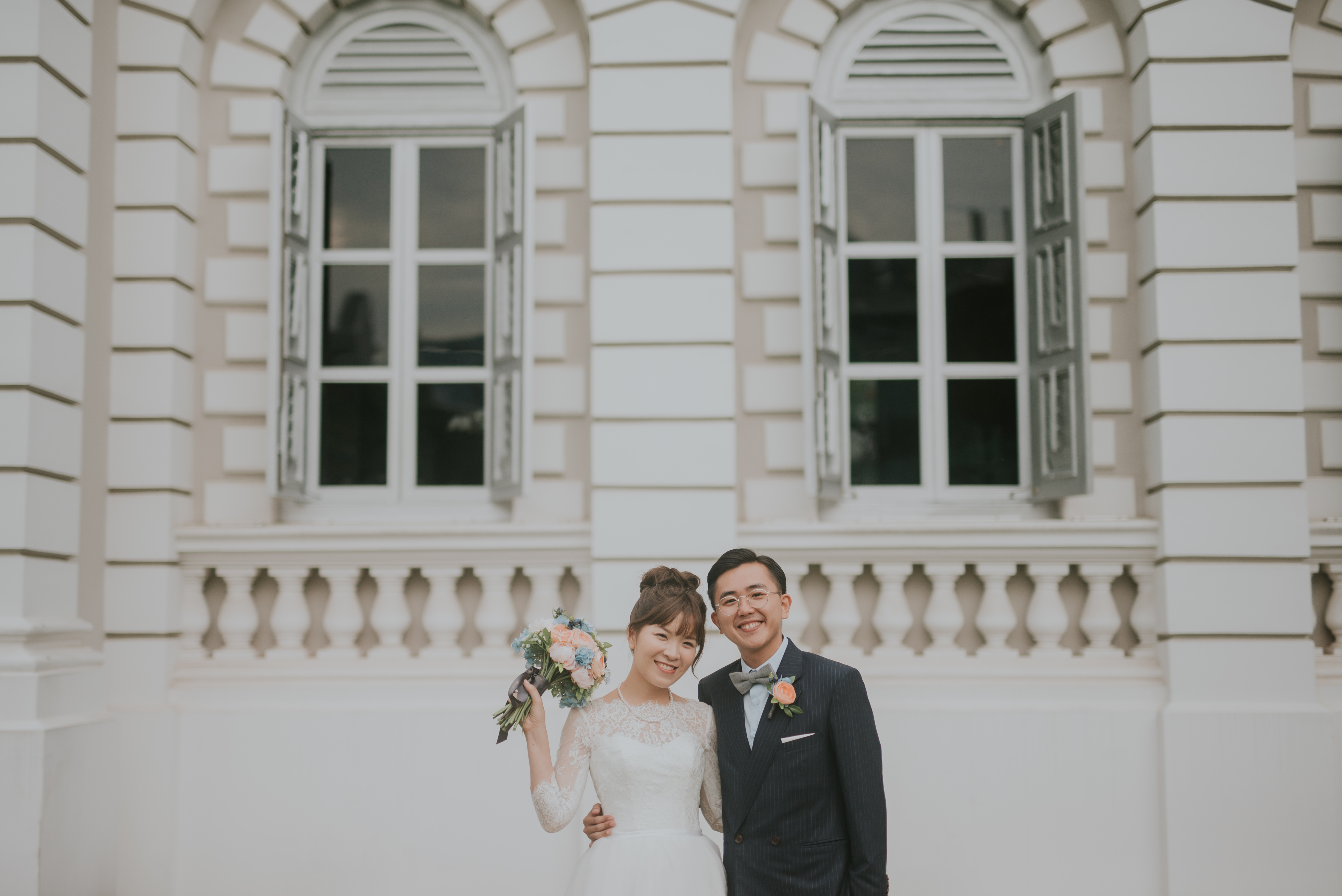 Did your wedding come to fruition as planned?
"We always wanted a simple, no frills and cosy wedding, and we wanted an elegant British vibe. Flutes was perfect for us!"
What was the highlight of your wedding?
"We originally rented a VW beetle but was told the day before that the vehicle got into an accident! (Thankfully my friend offered his Mini Cooper after he heard what happen). We were extremely disappointed at first but after that we were no longer daunted by anything, like the heavy rain in the morning or the floral decor flying across the windscreen due to the wiper. We simply laughed any hiccups off and had a great time."
~Dylan
Congratulations on your elegant nuptials, Dylan and Heidi! Wishing you a lifetime of happiness and love like fine wine that becomes better and stronger with time.
Vendor Team
Venue: Flutes at National Museum
Gown: 520 Library
Bride's shoes: Bella Belle (US)
Suit: Bulli & Sons
Groom's shoes: Zara
Makeup/hair: Eesha
Flowers: Bunny Garden (HK)
Styling/props: Couple's own
Photographer: Said & Meant
Favours: Do Me A Favor
Stationery: Miraculove
Hi! I am Yunnie. I am the newly minted mama to a little baby girl and a mum friend to everyone on this special (and many times scary) journey of motherhood. Also a graduated bride with a penchant for weddings.