Bagged home the cutest pumpkin-shaped pasta at Trader Joe's. Before cooking them, I thought they'll be great for sensory play!
Fall Themed Scoop Transfer & Sort Station!
The Setup
Pour the pasta pieces into sensory bin
Add tools for object filling and transfer e.g. bowls, cups, scoops, spoons, ladles
For sorting, include another type of items e.g. pine cones, acorns, leaves
Provide sorting containers e.g. pill boxes, wooden compartmentalised plates, small white uniform saucers (Play hack: I repurposed the plastic dividers found in pastry and cookie boxes!)
To successfully encourage sorting, demonstrate to your child (without a verbal commentary at the same time, Montessori-style, so she can focus on observing your actions). For more visual guidance, draw the items to be sorted on separate pieces of paper and tape them to the sorter container.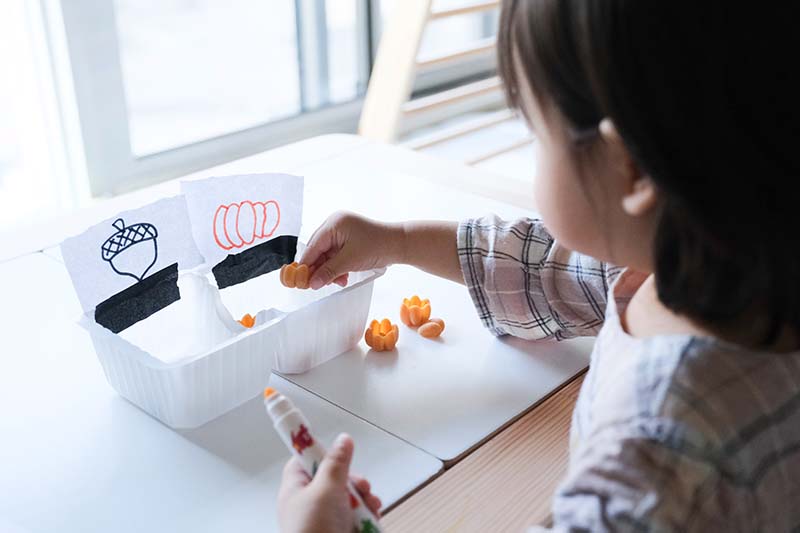 Benefits of this Activity
Object transfer and filling help children understand spatial relationships between objects, important for math skills
Object transfer and filling improve fine motor skills
Sorting enables children to make sense of the world and create order in her life through organising like and different objects
Sorting allows children to group numbers and sets and understand numerical concepts better
Sorting enables children to spot and self-correct errors (The Montessori way is to let the child try it on her own after you have done the demonstration. Yes as a parent it can be hard to watch a child put sticks in the wrong slots without intervening but trust that she will in time realise it and self-correct. Letting your child figure it out on her own builds self-confidence.)
For other fall-themed toddler activities, try Fall Leaves Sweeping Gross Motor Activity, Fall Soup Sensory Play and Fall Tree Craft.
Hi! I am Yunnie. I am the newly minted mama to a little baby girl and a mum friend to everyone on this special (and many times scary) journey of motherhood. Also a graduated bride with a penchant for weddings.