Ever since I got this amazing sensory table (IKEA flisat) for Gwen, all my excited brain can think of are the possible small sensory worlds I could create for her explorative play.
Today I tried to make a farm animal version, after the success of the insect small sensory world just the day before. Read more about the insect small sensory world setup and our play experience here.
Farm Animal Small Sensory World for Toddlers!
Setup for Farm Animal Small Sensory World
(Modification: I didn't have green coloring dye so I went ahead with the pandan green paste I had in my refrigerator for making pandan cake 😂 It still worked! So if you're in the same predicament as me, feel free to use pandan green paste. Add 1/4 tsp at a time and mix/shake till you get your desired green colour shade and consistency.
Notes:
Quantity: I used 2 cups of rice which barely filled the base of the big flisat tub. If you intend to cover up the base, I think you could try double this portion.

Ease of making the green rice: The recipe from Busy Toddler is clear and easy to follow. I laid out the green rice on a piece of kitchen paper towel overnight to dry and my whole house smelt of pandan 😂 The next day the pandan smell had dissipated entirely (even from the rice itself). The issue was separating clumps of green rice on my tray and peeling them off the kitchen paper towel. My advice is to not line the tray with paper towel and trust that the vinegared rice will absorb all the green dye! Also, to lie the green rice out as flat as possible so they don't end up in clumps.)
Felt cardboard trees: These adorable little trees made from recycled toilet paper rolls are from Play At Home Mummy. For a simpler farm animal small world setup with less sensory elements, hop over here.

Wooden crate which I repurposed as animal enclosure: It came with Melissa & Doug kitchen food toys.

Farm animals: Melissa & Doug Farm Animals set (The texture and realism of the farm animals are great, no regrets spending on them!)

Wild animals: Melissa & Doug Safari Animals Art (Included them in a bid to see if I could do some early teaching for Gwen to learn the difference between farm and wild animals!)

Chinese animal book: Gifted from my friend A, who got it off Taobao

Stones from Gwen's personal collection, amassed from walks to the parks and beaches

Tools like shovel and cups for object filling and transfer + mini weighing scale: Daiso
How the Play Went
Gwen (15 months) went straight to touching the rice and signed "food" because she recognized that they are rice grains despite the shocking green colour. 😂 I told her this green rice is for play and not food and she surprisingly didn't mouth it for the entire play duration.
I described the farm scene to her and asked her to imagine the green rice as grass and food for farm animals. Then I asked her which animal she wanted to feed grass to and I picked up the animal she pointed to and role-played eating from her hand with relish. I felt like I was running a petting zoo 😂 She enjoyed the feeding immensely.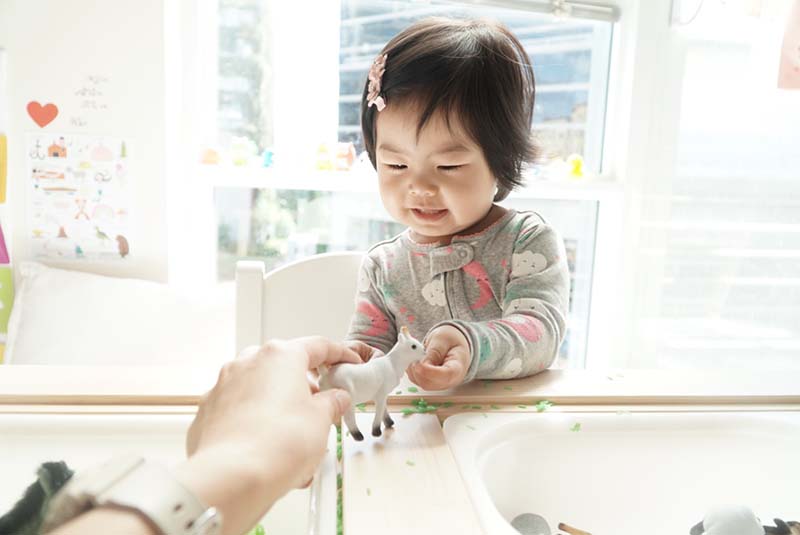 A teachable moment arose when Gwen wanted to feed "grass" to carnivorous animals like the alligator. I had placed wild animals in a smaller flisat tub to attempt teaching her animals raised on a farm versus those roaming in the wild. I explained to her that some animals like and only eat meat and used the alligator figurine to role-play a whiny, loud verbal refusal to eat "grass". She laughed and tried to offer the alligator "grass" again and I repeated my response. She went back to feeding the donkey and sheep 😂 I would like to think she gleaned a new piece of information!
I sang Old MacDonald Had A Farm, pointed out animals in the book and related them to the animal toys and then stepped aside to let Gwen play independently.
She was in her own world for a few more minutes before she got off the chair. That was when I knew she was done with the activity and it was time to put the flisat lids on for her to play at another time in the day.
Considerations
Containing the mess: Aside from laying out ground rules to your little one and repeating them gazillion times to help them remember, I lined the floor beneath the sensory table with a used but clean shower curtain. I just had to pull up the curtain from the edges and let all the rice slide/pool to the middle to pick them up.

Wastage: I read online that dyed rice can be kept and reused for play for over a year so long as it's stored in a dry place. I'm placing mine in a jar with one hole punched in the lid to prevent moisture in the rice.
If you do try out a farm animal sensory small world with your little one, let me know how it went on my exclusive Facebook group or chat with me on Instagram!
Hi! I am Yunnie. I am the newly minted mama to a little baby girl and a mum friend to everyone on this special (and many times scary) journey of motherhood. Also a graduated bride with a penchant for weddings.