Grassi Lakes Hike with Young Toddler!
Location: Canmore Nordic Centre Provincial Park, Alberta, Canada
Elevation: 1,525 m
During our road trip from Seattle/Bellevue to The Rockies, one of our stops was at Canmore. Our Canadian friend S recommended us to hike Grassi Lakes while we were there.
How I Found the Hike
The hike was labelled easy but was far from it for me whose only exercise is breastfeeding and babywearing Gwen to sleep 😂 It's steep almost all the way and with a young toddler strapped on who wanted to nurse in the chilly weather, I felt I could transpire anytime.
We saw a sign that a bear had been sighted recently in the area. My Canada friend told me we just had to make lots of noise (or arm yourself with bear spray) plus keep to the trail so we don't catch any bears by surprise and we would do fine.
The reward was a drop dead view of a tranquil turquoise lake which looked different from every angle around it. Gwen found ways to amuse herself - she climbed in and out of rock piles around the lake and lined small rocks on the surface of a larger rock.
I also showed her ripples by throwing rocks into the lake, and pointed out the many squirrels around the area (and she took my hand and wanted to go chase them lol.)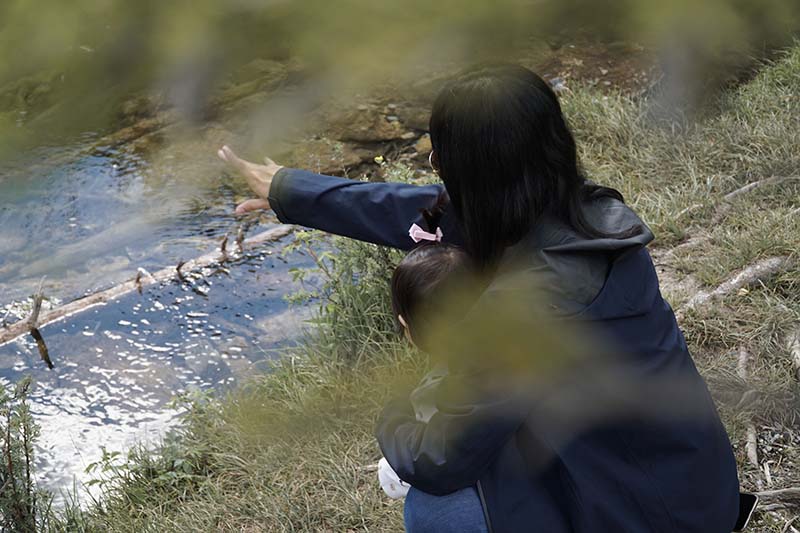 The only thing was that there were puddles around (also because it was semi-drizzling), so on hindsight I should have dressed Gwen in a poncho and boots. We also spotted a small upper falls area and I held Gwen securely under her arms so she could touch the cool running water.
At the top there were spots to take breathtaking panoramic photos of nearby mountains and the azure blue skies.
The descent was so much more enjoyable without physical agony. We took 1.5 hours in total to hike and admire the scenery at our own pace at Grassi Lakes.
No regrets doing this hike at all with my young toddler despite the physical exertion!
Follow #gweninnature on Instagram for my chronicles of traipsing North America with a toddler and seeing nature through her eyes.
Hi! I am Yunnie. I am the newly minted mama to a little baby girl and a mum friend to everyone on this special (and many times scary) journey of motherhood. Also a graduated bride with a penchant for weddings.