Sizzling, fizzing, bubbling fun that is a riot of colours!
Those were the first words that came to mind when I watched the baking soda and vinegar science experiment on Little Sengs Play's instagram. My friend Joyce mentioned this is one of her preschooler's favourite play activities, and I can definitely see the allure! It's a treat for the senses, particularly sight and hearing!
Sizzling Baking Soda and Vinegar Science Fun for Toddlers!
Ingredients
I love that only 3 common kitchen pantry ingredients are required.
Baking soda
Vinegar (The cheapest type, distilled white vinegar works really well!)
Food colouring
Tools
You could try these tools to provide different experiences.
Large surface baking tray (ideal to see colour mixing and trial and error with intensity of chemical reactions)
Muffin tray (ideal for teaching individual colours)
The mixture is easy to clean off the baking trays! After all, vinegar is known to be a homemade cleaning solution. I think it helped to make my baking tray squeaky clean with less stains, an unexpected benefit of this science activity lol.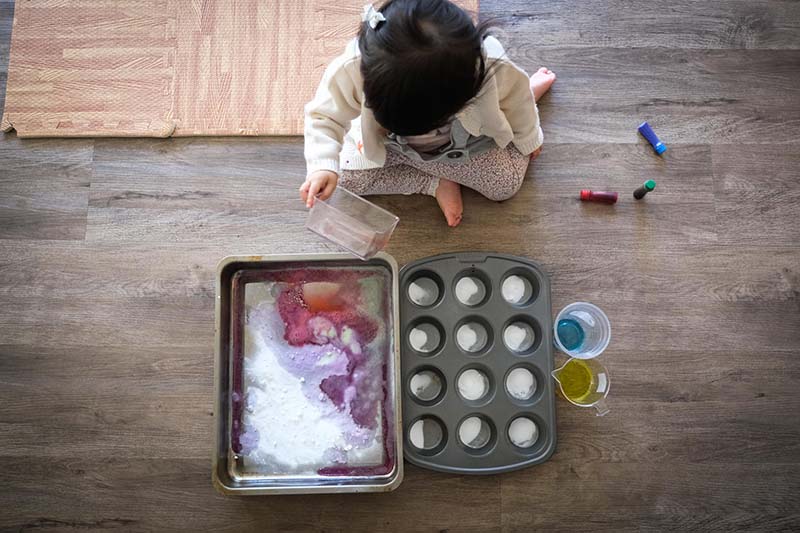 Conducting the Science Experiment
I spread baking soda evenly across the large surface baking tray and poured small amounts of baking soda into each compartment of the muffin tray.
You can place food colouring droplets on the baking soda but I preferred mixing the food colouring with vinegar so the colours could be seen more clearly and weren't so dark and concentrated in small droplets.
For older toddlers, you can place the coloured vinegar in droppers, squeezy bottles and spray bottles that train their fine motor skills. I kept to simple pouring containers for Gwen (17 months) so that she could focus more on watching the fizzy, bubbling eruptions of colours vs. being too distracted and fiddly with the tools.
I explained to Gwen the ingredients and told her what to expect and observe when vinegar is added to the baking soda. Then I demonstrated the process. I learnt from The Montessori Toddler book that it is best to remain silent while demonstrating a skill so that the toddler can focus on internalising the demonstration without being sidetracked by an accompanying dialogue.
When the fizzle and bubbles appeared, Gwen actually gave a big reaction. From squatting next to the baking tray, she immediately sprang into the safety of my lap. It is a very strong sensorial experience for a little one. I acknowledged her scared feelings, comforted her and offered to count down the next time I demonstrated so she could feel more mentally prepared for the experience. That helped!
By the end of the activity, she was more comfortable with pouring the coloured vinegar into the baking soda, though she still retreated a few times as the chemical reactions took place.
Learning Benefits
Fine motor skill development (Critical to build strength and dexterity for later skills like writing, use of scissors etc)
Stimulating sensorial experience (Builds nerve connections within brain's neural pathways, empowering child to be more inclined and able to complete future complex learning tasks)
Provides opportunity to teach colours (primary) and colour mixing (secondary)
Builds language skills and vocabulary (Especially when varied adjectives are used to describe the chemical reactions!)
Early introduction to chemistry (Science behind this activity: When an acid and a base mix, a gas named carbon dioxide is formed, explaining the fizzing and bubbling. Vinegar is acidic while baking soda is the base.)
Why I Love this Activity
Taste safe for little ones
Safe to touch and explore with fingers (Apparently baking soda has alkaline and antiseptic properties which can soothe the acidic pH of skin and help to prevent infection. Source from Parents.com.)
For a simple setup, you get BIG reactions!
Inexpensive, with ingredients commonly found in kitchen pantry
When Gwen's older and understands what a volcanic is, I'll love to re-attempt this science experiment in the form of a volcanic eruption! Preschoolinspirations has great posts about that!
Hi! I am Yunnie. I am the newly minted mama to a little baby girl and a mum friend to everyone on this special (and many times scary) journey of motherhood. Also a graduated bride with a penchant for weddings.