Mumpreneurs are amazing multi-taskers. As though running a household and running after their toddling kids aren't enough, they run a thriving business too. Miraculove interviews 5 inspirational mumpreneurs to find out how these superwomen do it.
In the spotlight we have Rynette, momboss of 13Thirteen, which has the backing of one of the strongest mommy community and customer base we've seen!
Credits: Rynette
Tell me about yourself and your business!
I'm a mom to 2 (soon to be 3) energetic boys with a strong desire to help parents find products that will make going out with their babies easier and more convenient. I have a passion for babywearing and find joy in meeting and helping other parents through my business and as a certified Babywearing Consultant. I own 13Thirteen (pronounced "thirteen thirteen"), which is an online and distribution business. We cater to the needs of modern parents, offering a range of products that includes skin-to-skin garments, a wide variety of baby carriers, non-slip active footwear, as well as our own range of diaper backpacks. We also have a baby carrier rental arm that offers parents the option to rent and try out a carrier before they decide to invest in one.
Credits: Rynette
What kind of mom are you?
I would describe my style as laid-back and relaxed. I tend to hang back a little and let my boys problem-solve and learn through their own experiences, mostly also because it's just too exhausting fussing over every small bump and bruise if I worried about my high-energy boys all the time!
Credits: Rynette
When was your business founded? How did the idea come about?
My business was founded in 2014. It started with me wanting to design my own diaper backpack as my husband and I were really struggling to find a good backpack in the market that could cater to our needs (ergonomic, lightweight, big enough to fit everything we needed for 2 or more young children and also not too girly such that my husband would carry it).
As we shared the idea with friends, we found that they liked the design and concept, so with the help of a good friend to design the bag, we looked for someone who would work with us to manufacture the product. From there, my passion and love for babywearing led me to expand my business to baby carriers and to search for other useful and innovative products that truly meet the needs of modern parents in Singapore.
Tell us about your products.
We design our own line of functional, ergonomic and lightweight diaper backpacks that are excellent for both travel and daily use.
13Thirteen also offers a wide range of ergonomic baby carriers including soft structured carriers, ring slings, wraps, buckle onbuhimos and meh-dais from many brands.
Currently, we are an Authorised Retailer for Emeibaby, Natibaby, Soul Slings, LennyLamb, Baby Roo, Manduca and Boba baby carriers with more brands that will be added on this year! We are also the Exclusive Distributor for Chimparoo baby carriers, and for patented skin-to-skin garments by VIJA Design in Singapore.
Other products we sell include our own collection of maternity & nursing wear, non-slip active footwear, baby carrier accessories and custom made toys made from woven wraps.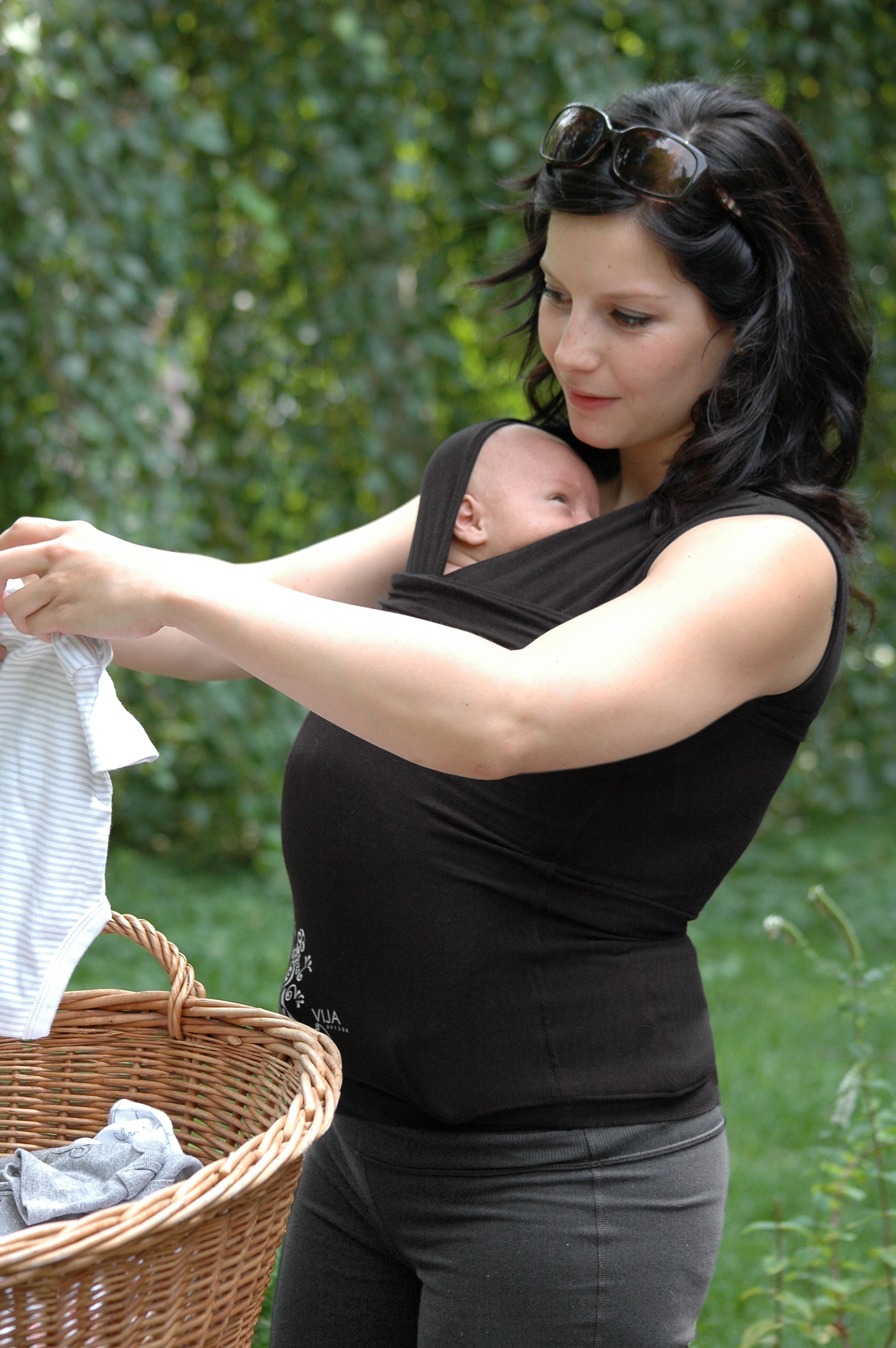 Credits: Rynette
What are the unique selling points of your business?
What makes us different is our strong commitment to quality and service. Specifically, as a certified Babywearing Consultant, ensuring parents know how to carry their babies correctly and comfortably in a baby carrier is very important to me, which is why we only offer brands and products that we know are reputable and have undergone stringent safety testing.
I offer free baby carrier trial fittings and follow-up consultations after purchase to parents who buy from us.
I also do house calls upon request because I understand how difficult and daunting it may be for some first time parents to bring a newborn out of the house with no help because I was once at that stage!"
What do you find most challenging about being a mom and juggling motherhood with running a business?
I believe every working mom goes through this struggle. For me it's acknowledging the opportunity cost of forsaking the time that I could have spent with my young kids, to bring them out and just experience life and watching them learn and grow versus working hard to build and grow a business.
You never know how much of a difference that extra few hours of teaching your child or reading to them (instead of replying emails and clients' messages) could have helped them.
Credits: Rynette
What're your supercharged moments as a mompreneur?
My supercharged moments are moments when I'm feeling refreshed and empowered to take on the day ahead!
This is usually at the start of the day after a good night's rest, before having to run after the kids!
What's the worst thing that had happened so far in this journey?
I don't think there's a worst thing, but every business will definitely have its fair share of challenges.
I choose not to think so much about them and deal with them as they come, because that's just how life works and you can't let any bumps and bruises get you down. ☺
What do you want to achieve in the next 5 years?
I hope for my bags to really take off and be sold in more retail outlets both locally and around the world (currently we have a few local retailers in Singapore).
I also hope to go back to my background in Psychology and help parents with special needs children be able to incorporate babywearing as therapy. Babywearing is such a beautiful experience, and I hope parents can find a way to incorporate this into their daily lives, no matter what their circumstances are.
Credits: Rynette
What would you say are some of your personal beliefs or philosophy?
I believe in blessing and helping others and in turn, you will be blessed too!
Life's too short to worry about every petty detail so I take things as they come and enjoy my kids and my business as I go along.
Thank you Rynette for sharing generously about your mommyhood and entrepeneurial journey!
It's incredible how you've embraced motherhood with such passion, love and drive! Continue to help and enhance the lives of many other mothers with your knowledge and experience!
If you've enjoyed this feature, don't miss the stories of 4 other mumpreneurs we love and admire - Phillane of Med Kärlek, Shuying of MerryLove Weddings, Pei Li of 8Dec and Pearlyn of Pearlyn and Paper.
Happy Mother's Day to all ladies who have given life and made the world better!
Hi! I am Yunnie. I am the newly minted mama to a little baby girl and a mum friend to everyone on this special (and many times scary) journey of motherhood. Also a graduated bride with a penchant for weddings.