I was inspired by Play At Home Mummy to make cardboard figurines and trees so I decided to recycle my bathroom and kitchen empty paper rolls into fun, creative DIY crafts for Gwen.
I like that the outcome of this easy craft activity are items that are great for imaginary play. I thought of making felt trees for a small farm world.
Verdict!
These felt trees were perfect in creating a realistic farm scene for Gwen! I turned Melissa and Doug wooden crates over to turn them into makeshift animal enclosures and added Gwen's favourite toy farm animals.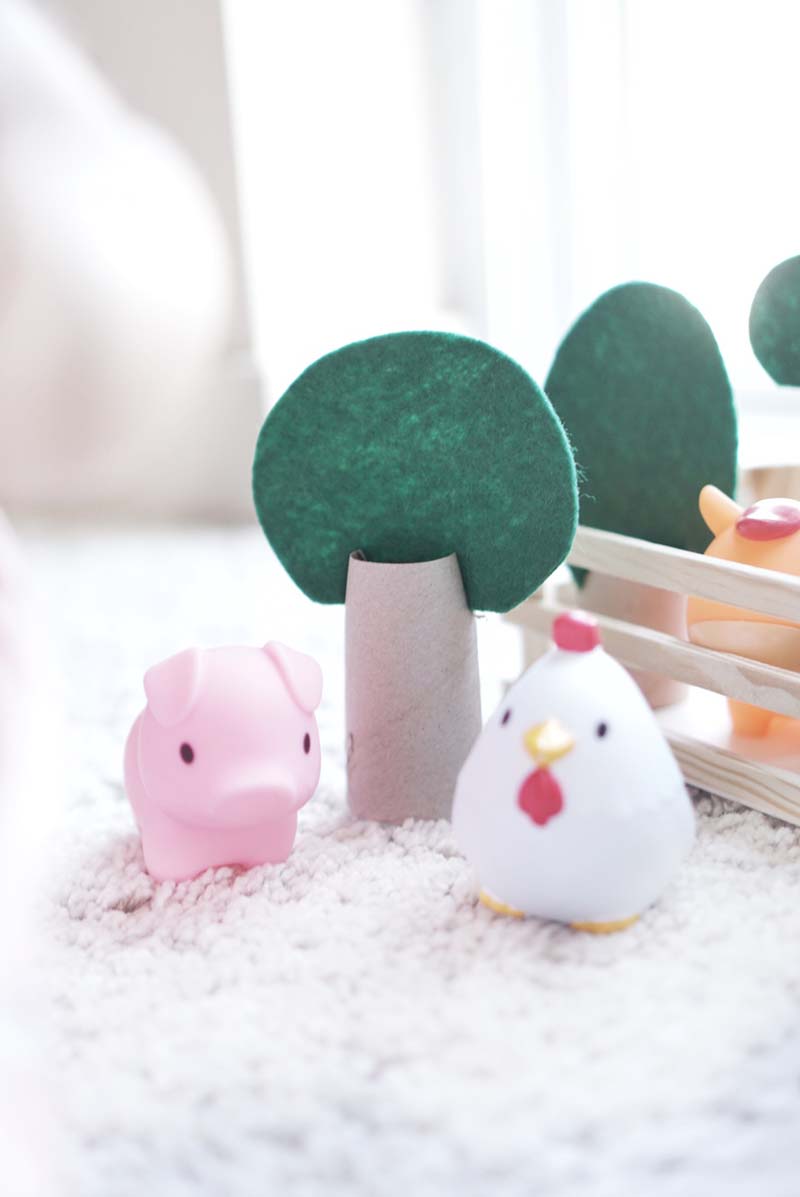 I told her how most farm animals are herbivores; some graze on grass while taller ones like giraffes reach into tree tops to eat leaves. We spent a couple of minutes more singing "Old MacDonald Had a Farm" before Gwen decided to deforest the felt trees 😂
Other Creative Recycling Paper Roll Ideas
Make beautiful Christmas candles, which are great decorations for the festive period at home parties. More at Happy Hooligans.
Create a family of standing homemade paper dolls using paper rolls! More at Happy Hooligans.
Turn paper rolls into useful party confetti poppers at Happiness Is Homemade.
Make a honeycomb art mural with paper rolls. Hop over to the tutorial at The Sea Man Mom.
Create a small animal zoo for little ones to explore. Here's an inspirational one created by my mum friend, Carmen. Her thoughts on small worlds,
"He is still too young to play w it for very long. Prob a few mins at a time he will visit this "small world" play. But I leave it out for him for a month or so before I rotate his toys, small worlds etc. I also use it for him to gain vocabulary so I try to pair his small world with a book that we have been reading together. Then whenever he is there and I am there too we will have conversations about it.
To follow Gwen's play adventures, check out @miraculove_sg (Instagram) or A Toddler Activity A Day Facebook Group.
Hi! I am Yunnie. I am the newly minted mama to a little baby girl and a mum friend to everyone on this special (and many times scary) journey of motherhood. Also a graduated bride with a penchant for weddings.