Trying Out Oobleck Rescue Mission Young Toddler Activity!
Sensory play is one of the key things I focus on when planning stay-home activities for Gwen (15 months). This is because sensory play is so critical for the brain development and learning of young children. Read this post by Creative Play UK for the key benefits.
Oobleck is one hyper-sensory material that many children love touching and manipulating given its intriguing texture and physical properties. It's easier than slime and requires just 2 very common kitchen pantry materials (cornstarch and water), so I decided to try a hand at it!
What Makes Oobleck Hyper-Sensory?
Oobleck is a non-Newtonian fluid — which means it can't be squarely classified as a solid or liquid.
It seems to transition between states of matter, sometimes behaving like a solid, other times a liquid. Change in pressure exerted changes its physical properties — so Oobleck can be squeezed into clumps of solids at times, while it can also flow through the fingers like gloop too.
Teachable Moments for Older Children
Playing with Oobleck is a wonderful science experiment to educate about the states of matter — solid and liquid, and to show how changes in pressure affect the physical properties of this material. Read here for the science behind Oobleck
There is a Dr Seuss book that introduces this material, hop over to Best Ideas for Kids for the book title and order link
How to Make Oobleck
I used the recipe by Best Ideas for Kids. Because I had limited cornstarch, I cut down the quantity by half. It's sufficient for a young toddler to dip her fingers in and play for the first time.
I wasn't sure if I got the right texture at first. It's hard to judge with the eye. One way to test was to scoop up a fair amount with your fingers and try to clump it into a ball. If it flows through your fingers like a viscous liquid, add more cornstarch. If you can't even scrape it up from the mixing bowl, add some water. Through some trial and error you should arrive at the right consistency and texture that makes it Oobleck.
How to introduce Oobleck to Young Children
While toddlers can be highly curious and inclined towards novel sensory experiences, they can be really wary when approaching a new object or material they've never before encountered. The best way is to demonstrate how to manipulate Oobleck and then let them get over the initial fear and apprehension
Place familiar toys or objects in the Oobleck so they can relate and draw from prior play experiences. Gwen likes hiding and seeking toys in edible sand so I created a "Honeybee" yellow Oobleck hiding bee toys that she's played with before in addition to the Halloween themed "witch's brew" green Oobleck following the tutorial of Best Ideas for Kids. I turned this Oobleck activity into yet another rescue mission which Gwen loves.
Young children don't yet know how to contain mess so make this a pre-bath activity. Putting your little one in a swim suit and playing with Oobleck in a large bath tub is a great way to make it mess-free (simply wash off after play!)
How the Play Went
As expected Gwen was hesitant to touch oobleck and took a couple of minutes to warm up to it, preferring to watch me dip my fingers in and squeezing it into a ball. Then she couldn't contain her curiosity anymore and tried touching it gingerly. She didn't take enough Oobleck to clench into a ball so that was when the rescue mission came into play.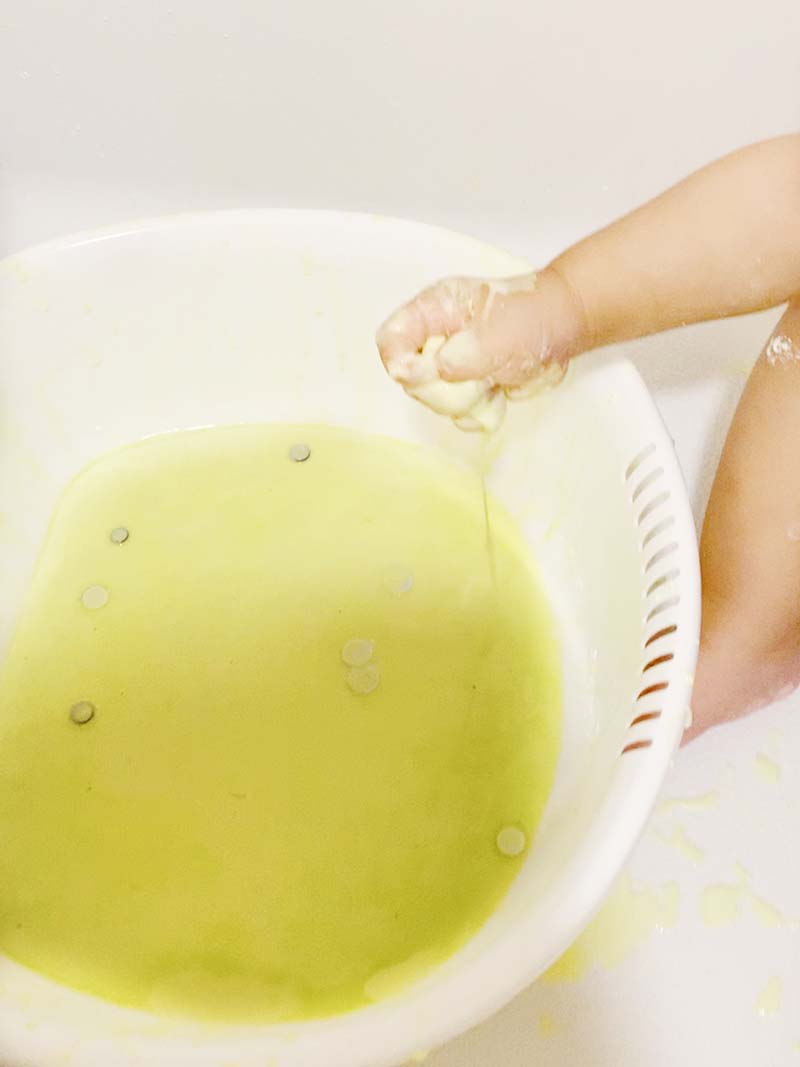 When I told Gwen to save the honeybees, she immediately sprung into action, digging her fingers into the Oobleck to extract them. It wasn't easy because Oobleck had solidified around the bees and she had to pry the Oobleck bits off and dig hard to retrieve them. I like how she's exposed to the solid properties of Oobleck through this hand motion.
She liked the rescue mission so much that she asked for "more" several times, so I popped the bees in and waited for her to dig them out.
When we were done with the activity, I washed Gwen up and left the Oobleck in the tub. Oobleck can be reused a couple of times - it solidifies when you leave it alone and can be resurrected with a little water when you need to use it again! When she got out of the bath, she pointed to the Oobleck tub again and wanted another go! 🤪
Verdict?
No wonder fellow mums say that Oobleck is a sure winner with kids. It sure is! We're now part of that statistic lol.
Hi! I am Yunnie. I am the newly minted mama to a little baby girl and a mum friend to everyone on this special (and many times scary) journey of motherhood. Also a graduated bride with a penchant for weddings.