I have been itching to try baking with Gwen (16 months) but at the same time I'm afraid of her eating the half-completed cookie dough (salmonella risk). So I researched and found that working with nut flour eliminates that risk as it is considered safe to eat it in its unbaked form.
Note: I use almond flour made from blanched and skinned almonds (note almond meal is different, it has a grainier texture because it is made from whole, ground up almonds).
I also wanted a recipe that has as few pre-processed or chemical ingredients as possible. I perused several recipes, cut out many ingredients I felt were unnecessary and did trial and error to finally arrive at one I'm happy with!
2 Ingredient Healthy Almond Flour Cookies for Toddlers!
Not counting water as an ingredient!
The Recipe
I referenced heavily from Power Hungry's 3-Ingredient Almond Cookies. For ingredients I used 1.5 cup of blanched almond flour (yes, not almond meal) and 3 tablespoons of honey (instead of coconut sugar in the original recipe) with 2 tablespoons of water.
I chose honey because Gwen's passed the 1 year mark and can now take honey! My paediatrician says it is believed that consumption of honey can help reduce pollen allergy risk, so I'm trying to incorporate honey as a natural sweetener into Gwen's snacks.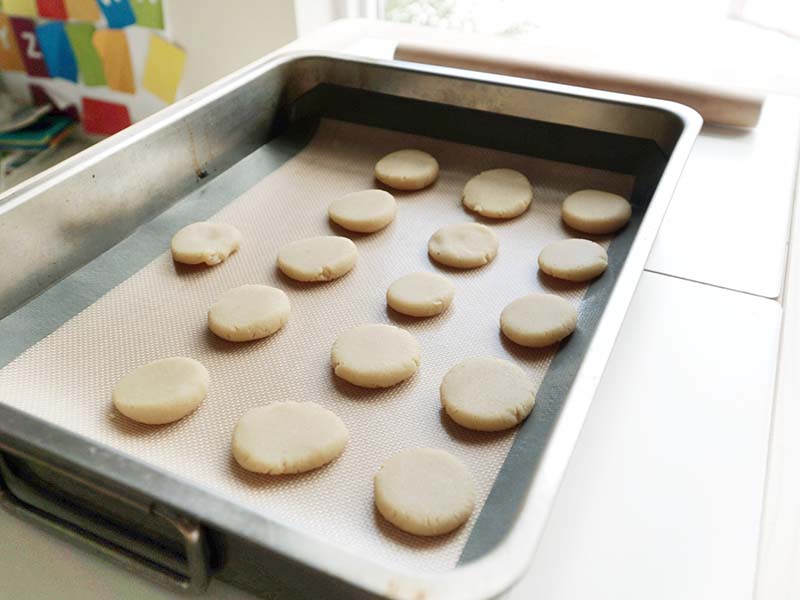 15 minutes is ideal as baking time for the cookies to turn a beautiful golden brown on the underside. I followed the rest of the baking instructions to a T.
Read the full baking instructions (along with flavour variations you can make!) on Power Hungry's 3-Ingredient Almond Cookies.
How I Involved Gwen in Cookie Making
When the cookie dough was malleable and could be shaped easily without clinging to my fingers, I knew it was ready for Gwen to experience it! Keep adding nut flour until it no longer adheres to your fingers!
I took out Gwen's toy knife and toy rolling pin and got her to help me cut and flatten the dough.
Also introduced cookie cutters but those were fun to explore but impractical to use because Gwen loved to scrunch up the shaped dough before I placed them onto the baking tray.
Therefore I kneaded little dough balls and got Gwen to press them down into flat oval discs. She didn't manage to help me with all the dough balls (she lost interest after about 4) but I think it was a good experience for her helping me out in the kitchen and being a process of food-making!
It's also interesting to see her tearing small bits of dough away to press between her fingers and thoughtfully examine its mouldable texture. She would pass the bits of dough to me and was surprised that I could stick them back into the dough. This exploration of new textures definitely counts as sensory play!
Taste Verdict?
The cookies are well-received by Gwen! She usually takes 1.5 pieces at a go and snacks on these cookies around twice a day, as a mid-morning and teatime snack.
I love them just as much, for the mildly sweet flavour and chewy yet soft-on-the-inside texture. They're also firm and easy for little toddler hands to hold without crumbling into a million pieces, so the mama side of me rejoices that I don't have to chase after my little one as she toddles around and eats her snacks.
Storage & Serving
The cookies stay fresh in a ziploc snack bag and airtight food container at room temperature for 2 days. I serve them at room temperature to Gwen. On cold days I do like popping them into the oven at low heat setting to warm up the cookies before serving them, so they have a nice toasty smell.
If your little one enjoys snacking, try making guilt-free, toddler-friendly kale chips. They're just as delicious and addictive!
Hi! I am Yunnie. I am the newly minted mama to a little baby girl and a mum friend to everyone on this special (and many times scary) journey of motherhood. Also a graduated bride with a penchant for weddings.