Dogs are family and the wedding won't feel complete without their hyper presence and drooling smiles. If you're looking around for dog-friendly wedding venues, we've got you covered!
After much research and cross-referencing, here are 8 barktastic dog-friendly wedding venues in sunny Singapore for your consideration.
Hotels
1. The Regent

Source: Her World Plus
_
Source: Vanilla Pup_
Pets (service animals not included) are only allowed in guest rooms and public areas excluding function spaces, but The Regent would be happy to make an exception for your pet to do the wedding march-in, on the condition that it has to be carried and cannot remain in the function space without human supervision. Arrangements can be made with the Concierge for a pet-sitter if required.
Pet-friendly rooms are available upon request. However, the pet is to be no heavier than 7 kg else additional charges would apply. Pets also have to be litter trained. You can count on The Regent to take care of little details like the provision of beds and bowls for cats and dogs.
The Regent
1 Cuscaden Road, Singapore 249715
+65 6733 8888
www.regenthotels.com
2. Hilton
_Source: Hilton Singapore_
Service animals and small pets (maximum weight of 5kg) are allowed, though a non-refundable deposit or cleaning fees might apply.
A Hilton wedding specialist team would be available to coordinate your wedding, so inform the team about including your pet at your wedding.
The Hilton Hotel Singapore
581 Orchard Road, Singapore 238883
+65 6737 2233
www.hilton.com
3. Capella
_
Source: Awesome Memories_
_
Source: Female Mag_
Pets up to a medium size are allowed and pet amenities are provided upon request. Pets can be brought everywhere in the premise except for F&B outlets and cascading pools.
There will be no charge to have your pet as part of your wedding, but be sure to let the team know in advance so arrangements can be made!
Capella Singapore
1 The Knolls, Singapore 098297
+65 6337 8888
www.capellahotels.com
4. Conrad Contennial
_Source: Singapore Brides_
Conrad Centennial allows domesticated dogs and cats with the maximum weight of 34kg on its premises. However pets have to be placed in pet carriers or leashed in public areas.
A non-refundable pet cleaning fee from S$150 may apply.
It is ideal to consult the in-house wedding specialists beforehand to include your pet at the ceremony.
Conrad Centennial
2 Temasek Boulevard, Singapore 038982
+65 6334 8888
www.conradhotels3.com
5. Four Seasons
Source: The Marriage
Small dogs (below 7kg) are allowed at no extra charge. Amenities are provided for stays, though cleaning fees may apply.
Pets are required to be leashed in common areas and are not allowed in F&B outlets.
It is important to consult the in-house wedding specialists about including your pet at the ceremony.
Four Seasons Singapore
190 Orchard Boulevard, Singapore 248646
+65 6733 0682
www.fourseasons.com
6. Hotel Fort Canning
_
Source: The Wedding Scoop | Styling: The Joy Troopers_
Pets have a dedicated entrance route to the bridal solemnization venue and would be ushered off at the end of the ceremony.
Hotel Fort Canning can also assist the couple with pet transportation arrangements for a fee.
Consult in-house wedding specialists about including your pet at the ceremony for arrangements to be made in advance.
Hotel Fort Canning
11 Canning Walk, Singapore 178881
+65 6559 6795
www.hfcsingapore.com
Alternative Venues
7. Alkaff Mansion Ristorante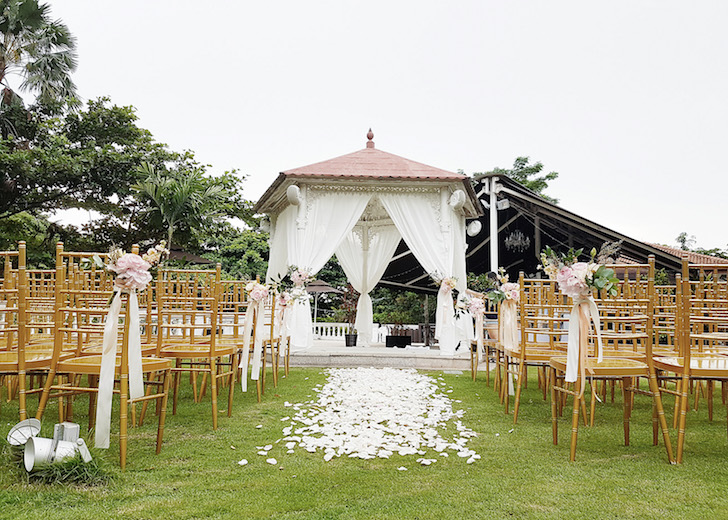 _
Source: Vanilla Pup_
Dogs are only allowed in the lawn area. Note that a handler needs to be with the dogs at all times.
Engage the wedding specialist team to discuss ideas of how to include pet at the ceremony.
Alkaff Mansion Ristorante
10 Telok Blangah Green, Singapore 109178
+65 6510 3068
alkaff.com.sg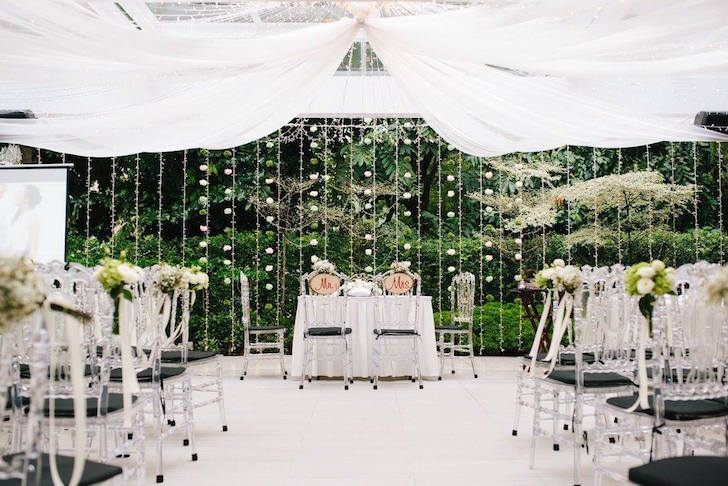 _
Source: Vanilla Pup_
_
Source: Vanilla Pup_
Pets would make such a picture-perfect sight at this elegant venue!
Enquire about One Rochester's pet policy with the wedding specialists.
One Rochester
1 Rochester Park, Singapore 139212
+65 6773 0060
onerochester.com
What do you think of our list of 8 Barktastic Dog Friendly Wedding Venues In Singapore? We hope you found our compilation useful and have a love-filled wedding day with your dearest furry family member!
Hi! I am Yunnie. I am the newly minted mama to a little baby girl and a mum friend to everyone on this special (and many times scary) journey of motherhood. Also a graduated bride with a penchant for weddings.