This is a continuation of my Lemon Picking Fine Motor Toddler Activity because I'm reusing the tree I crafted 😂
I was inspired to let Gwen try this cap twisting fine motor activity after I spotted her desperately trying to pry the bottle cap off a drink bottle. It brought to mind a post I saw a while ago - @creativeplayathome's Twisty Caps. That gave me the brainwave to stick plastic drink bottles into the holes I had previously created in the tree for the pretend lemons (balloons).
It didn't take too long to collect enough of the same drink bottles with some help from a Coca Cola fanatic friend. Coincidentally the Coca Cola drink bottles were red so I could pass them off as pretend apples for my tree!
To add an element of difference and fun, I also added an openable wet wipe lid and decorated it as a bird's nest to tie in with the apple tree concept. I recycled the handles from kraft paper bags for that. First I cut them into short strips, hot-glued them to the top of the wet wipe lid, then placed a protective brown cellophane paper over the handle strips so Gwen wouldn't come into contact with the gluey substance that comes from the hot glue gun yet she could feel the texture through the cellophane. The brown cellophane paper's from Ritz crackers. Major recycling here!
Cap Twist Apple Tree Fine Motor Toddler Activity!
Some recommendations to make the activity more enticing for little ones:
Keep the bottle caps loose on the bottle necks i.e. just 1-2 rounds. Gwen was 16 months when I tried this activity with her. Young toddlers still require more fine motor practice to gain the dexterity to successfully turn bottle caps. They also need more experience to know to twist the caps in the same clockwise/anticlockwise direction for a few rounds to get them off the bottle neck. If young toddlers have to fiddle too long and still can't get the first cap off, chances are they'll get frustrated and give up. Try to balance making the activity not too easy (lol that they can complete with eyes closed) and not too challenging (which might make them quit.)
Hot glue the bottle necks to the tree if possible. With all the hoisting and jostling, the bottles can be dislodged easily which distracts the toddler from the cap twisting action. It's also easier to get the bottle caps off when the bottles are held steady in position.
Hold on to the tree and bottles or secure them to the wall or a cardboard box when the activity is ongoing. Same explanation as above. There's a lot of tugging involved and the tree has to be stable for the cap twisting to be easily accomplished.

Complement this activity with some bookish play about birds when your little one explores the bird's nest. I paired mine with "Are You My Mother?" by P.D. Eastman.
Gwen's Play Experience
After getting 2 caps off, Gwen got more interested in exploring the bird's nest. I took the apple tree off the Pikler Triangle where it was initially propped against and placed it on the floor of her play area so she could begin her earnest exploration comfortably.
Free play happened and seconds later I found Gwen posting the caps through the wet wipe lid and initiating a game of hide and seek the "apple". How lovely to see the fine motor activity extending into imaginative play!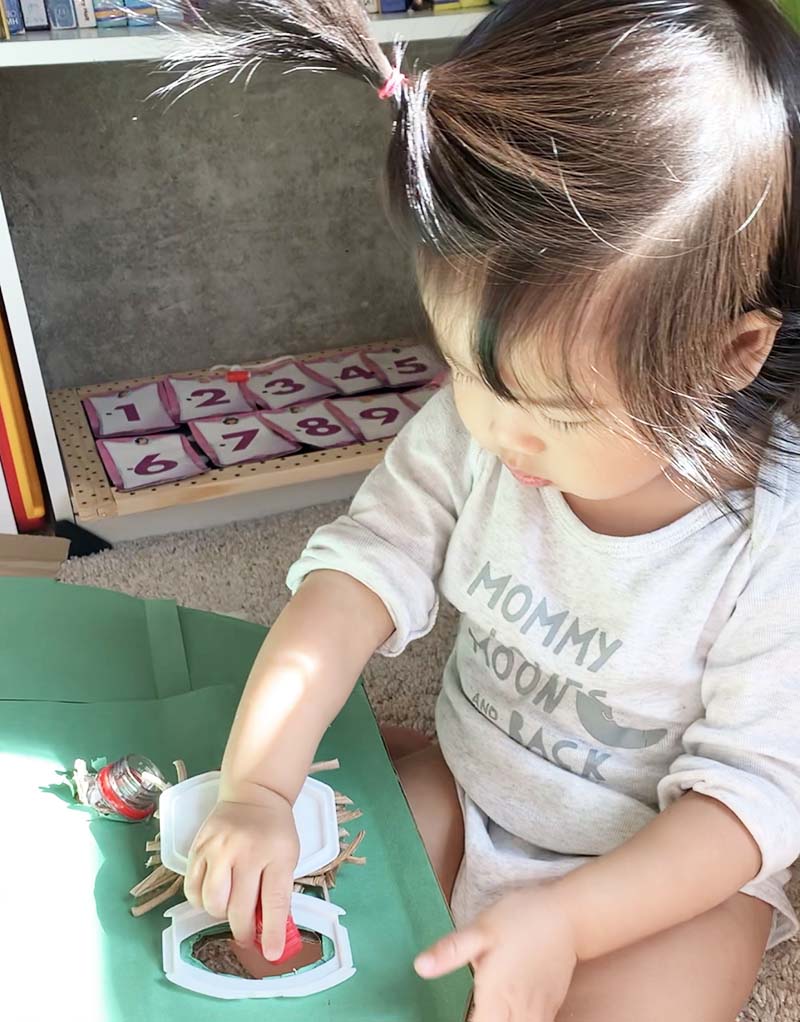 Benefits of this Activity
Fine motor workout (Development the muscles in the hand helps in later skills like writing and use of scissors!)
Learning of cause and effect
Bookish play boosts language development
Pretend play boosts imagination and creativity
Seeing and using recycled materials in everyday play sends subliminal environmental conservation message to our children
Hi! I am Yunnie. I am the newly minted mama to a little baby girl and a mum friend to everyone on this special (and many times scary) journey of motherhood. Also a graduated bride with a penchant for weddings.