I've never been such a hoarder before I had Gwen 😂How motherhood has changed me! Now I'm actually happy to finish another roll of bathroom paper or kitchen towel because I get to add it to my craft stash lol.
This is one of the easy peasy ways I get to utilise all those cherished paper rolls at one go!
Cardboard Paper Roll Ball Run for Young Toddlers!
Original idea for this toddler activity is from Little Bins for Little Hands. I love her idea of placing a sensory bin underneath the cardboard paper rolls to let little ones experiment with putting different objects into the rolls.
I kept my execution much simpler, just right for a young toddler of 17 months! In fact, I only placed 2 pom pom balls at the activity area so Gwen could clearly see where the balls she put through the paper rolls go to! I feel that will help her understand basic science (motion, speed, direction etc) better!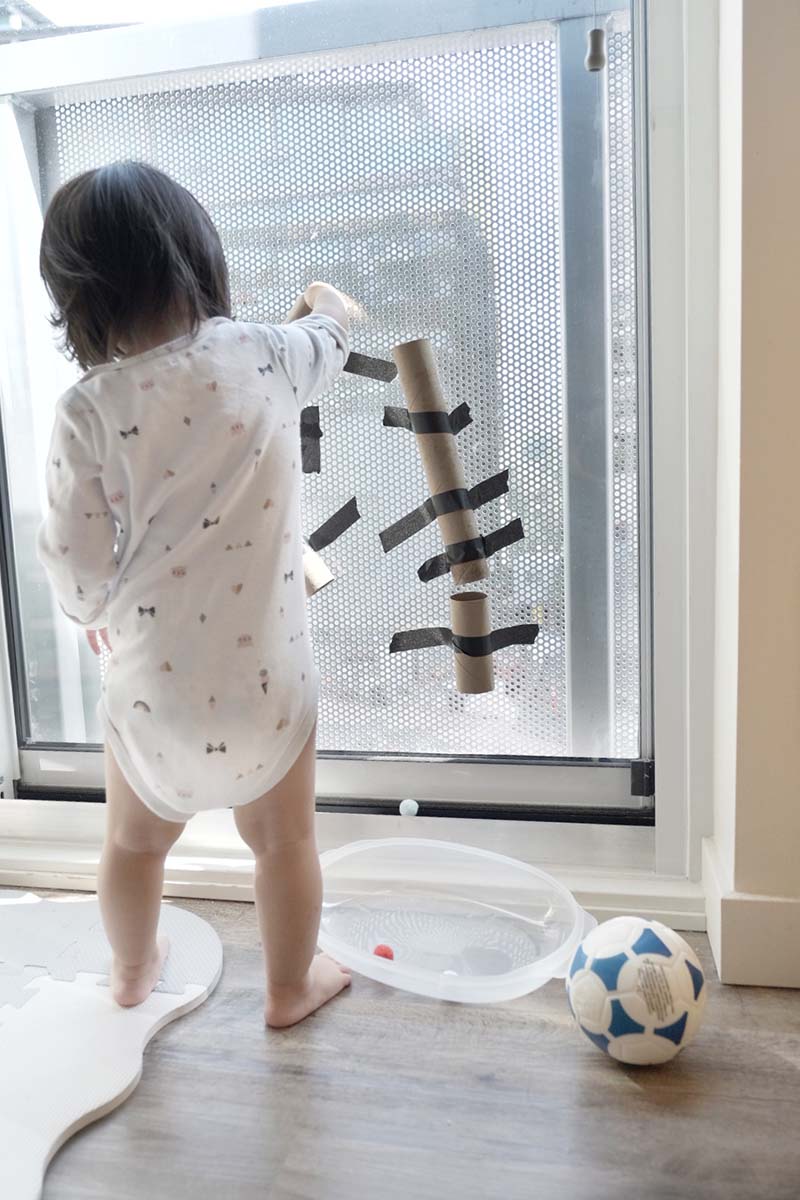 Remember to position the paper rolls at your child's height so she can easily put the balls through and watch the ball run happen!
After play, you can easily remove the painter's tape to save the paper rolls for another toddler activity.
Benefits of Cardboard Paper Roll Ball Run
Gross motor skill development (with all the bending down to pick up the balls and stretching to pop the balls into the right paper rolls)
Fine motor skill development and hand-eye coordination
Hone pincer grip (lol especially if your little one likes to pick at the painter's tape sticking the paper rolls to the wall)
Build focus and concentration
Reinforce cause and effect
Teach basic physics and laws of motion through observation
Social development (this is a good activity for a few children, but you'll probably need a more extensive execution to prevent fighting over the same balls or cardboard rolls)
Opportunities for More Learning
I would definitely repeat this activity in the future to teach:
Colours. I'll stick coloured paper over the rolls and have Gwen roll the corresponding coloured balls down.
Numbers. Say a number and have Gwen roll the corresponding quantity down.
It'll also be fun to turn this activity into a timed challenge so little ones can brainstorm which shorter route the ball should take to have it reach the bottom tray first!
Hi! I am Yunnie. I am the newly minted mama to a little baby girl and a mum friend to everyone on this special (and many times scary) journey of motherhood. Also a graduated bride with a penchant for weddings.