The Chinese lion dance is one of the most important Chinese New Year traditions and they are typically performed to bring prosperity and good luck for the new year.
I made this Chinese Lion Dance Puppet Craft to introduce this Chinese tradition to my toddler and we had fun doing puppet play!
Chinese Lion Dance Puppet Craft for Toddlers!
What are Chinese Lion Dances?
Lion dances are performed during Chinese New Year and for special occasions (like the launch of a brick and mortar business) to bring good fortune and chase away evil spirits.
The Chinese lion dance performances are accompanied by loud music produced by drums, cymbals, and gongs. Lion dancer performers move in synchronised steps to imitate a lion's movements and to demonstrate their martial arts agility.
More about the history of Chinese lion dances here.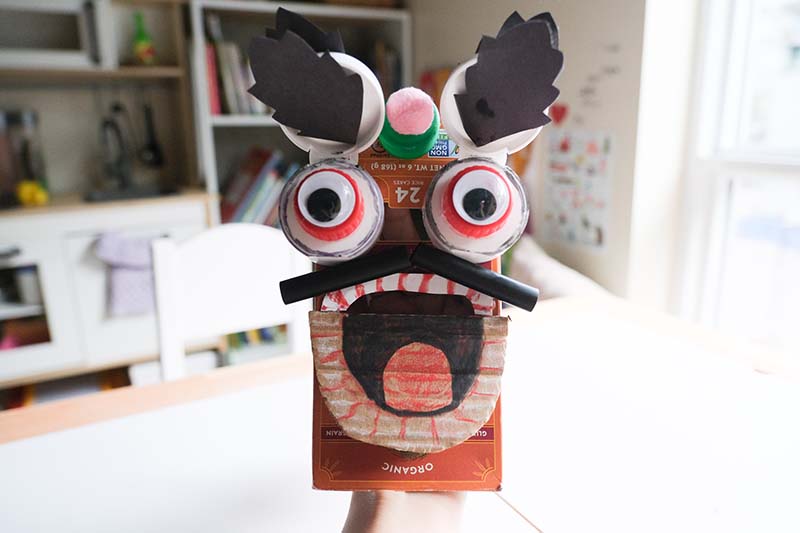 How to Craft Chinese Lion Dance Puppet
Materials needed:
Small box
Toothpaste snap lids
Googly eyes
Black straw
2 red bottle caps and 1 green bottle cap
Construction paper (black and red/pink)
White copy paper
1 small cardboard piece
Crayons/markers
Hot glue gun
Penknife/scissors
Feel free to substitute the materials for any available craft supplies you have on hand!
Steps:
Use hot glue gun to stick red bottle caps on the toothpaste snap lids. Stick googly eyes over the red bottle caps.
Cut out bushy eyebrows from black construction paper and glue to both sides of the toothpaste snap lids.
Stick toothpaste snap lids on the box where the lion's eyes should be positioned
Stick green bottle cap above and in between the snap lids where the lion's forehead should be (it's a decorative emblem for Chinese lions)
Cut 2 short lengths of black straws and stick them under the lion's eyes as moustache
Draw upper row of teeth on a rectangular strip of white copy paper and cut it out. Stick to the box under the moustache
Draw a tongue and lower row of teeth on cardboard and cut it out. Stick to the box under the upper row of teeth. (Tip: Stick only the top of the cardboard piece so the cardboard can 'flap upwards' to imitate talking and make it more interactive in a puppet show)
Give the lion a cape with pink construction paper
Fun Ways to Play
Play oriental music like Dong Dong Dong Qiang and move the lion puppet to the beat
Make 2 puppets and have your toddler imitate your lion dance and vice versa
Write small strips of auspicious sayings and spring poems and have your toddler feed them to the lion (if interested in this idea, cut a small hole in between the upper and lower rows of teeth)
Ask your toddler to hold a stick and run around the house and you can have your lion puppet follow and dance behind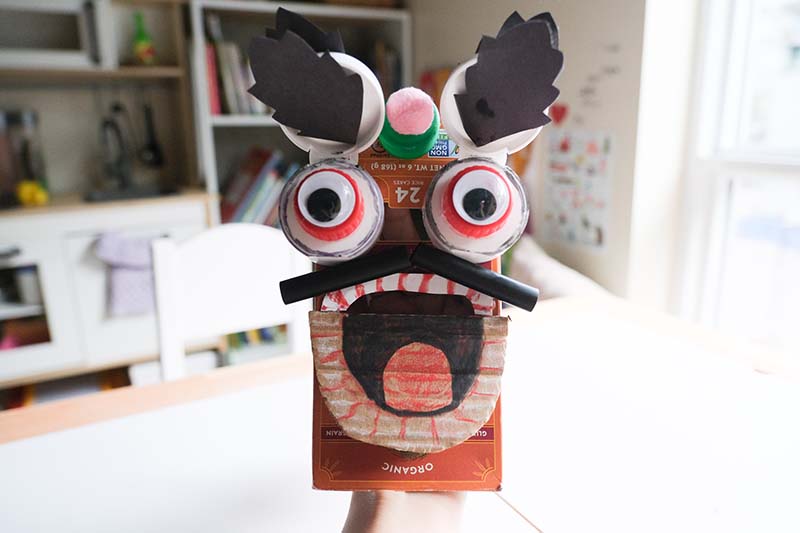 Other Interesting Chinese Lion Craft Ideas
Chinese lions can be crafted in a myriad of ways. Here are a few other fascinating ideas you might like to explore!
Hi! I am Yunnie. I am the newly minted mama to a little baby girl and a mum friend to everyone on this special (and many times scary) journey of motherhood. Also a graduated bride with a penchant for weddings.