To celebrate and usher in the New Year, Chinese families typically hang couplets (also known as spring banners) or "春联" on their doors to bring luck to the family and visitors who enter their home.
Chinese couplets are red banners showcasing two verses of poetry, often hung to the left and right of the front door. It is common to have another four-character scroll above the door as well.
Since the banner making was meant to be a toddler activity, I decided to keep the banner content simple. I chose to DIY a one-character banner with Miss 21 months. The character I chose for the banner was 吉 which symbolises good luck.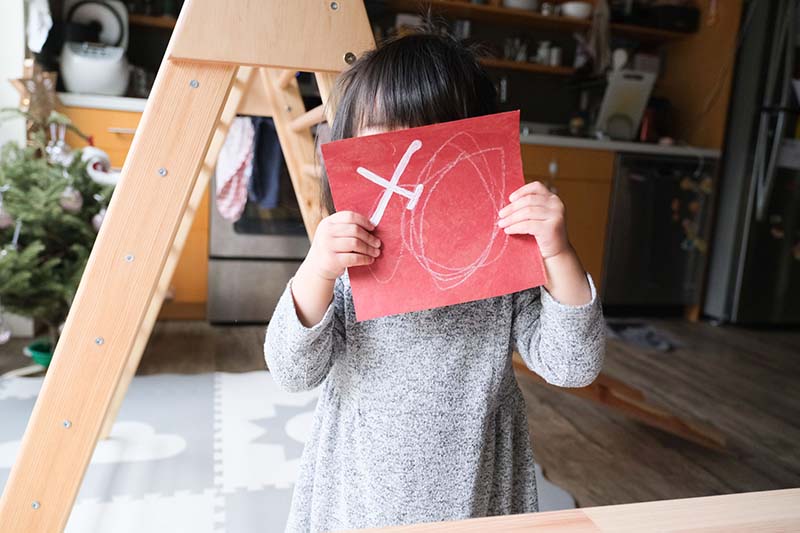 Crafting Chinese New Year Banners With Toddler!
How to DIY the Chinese New Year Banners
Materials needed:
Square piece of cardboard
Red paint
Paintbrushes
White crayon
White permanent marker
Steps:
Paint the square cardboard red with your toddler.
Wait for paint to dry.
Turn the square cardboard by 45 degrees so it's a diamond shape.
Now for the tricky part, guide your toddler to draw a circle in the mid to bottom area of the diamond, substituting the 口 of the 吉 character.
Add a 士 above the circle to form the 吉 character. It's ready for display now!
Tips:
Paint and make a few extras in the event your toddler isn't cooperative the first time and you need repeated attempts to get her artistic contribution on the banner.
Adjust your expectations. The character might not turn out looking 100% legible, so remind yourself that it's the effort that counts!
If your toddler enjoys connecting the dots, you can guide her to make straight strokes forming the 士 word.
For older children, you can challenge them to create more complex characters like 福, 春 and 满, again with the connect-the-dots technique or providing the written word and asking them to write a copy.
Benefits of this Activity
Fine motor skill development (Squeezing the paint bottle, painting and drawing work and strengthen the muscles and tendons in the hands, paving the way for mastering of future skills like writing)
Create a sense of ritual and tradition associated with the special holiday
Instil cultural appreciation and sense of belonging
Exposure to Chinese customs and Chinese character recognition
Provide little ones with sense of accomplishment to see their art pieces being showcased at home (toddlers love doing their part for the family!)
Other Chinese New Year Craft Ideas
There's so much imagery that comes to mind when I think about Chinese New Year. Dragons, lion dances, red lanterns, zodiac animals... these are fodder for fun and vibrant Chinese New Year craft ideas!
My favourites in the blogosphere:
Hi! I am Yunnie. I am the newly minted mama to a little baby girl and a mum friend to everyone on this special (and many times scary) journey of motherhood. Also a graduated bride with a penchant for weddings.