Chinese New Year firecrackers are set off in many parts of China to usher in the new year. Firecrackers however are banned in Singapore (where I hail from) and they are illegal in off-tribal lands in Washington State (where I currently reside) so I doubt I'll be seeing real firecrackers anytime soon lol.
If we can't see them for real, the very least I could do is craft a non-explosive (and quiet i.e. non-irritating) version for display at home right?
I also wanted to introduce this interesting tradition of lighting firecrackers to Miss 21 months after reading "Bringing in the New Year" by Grace Lin. No regrets making this DIY Chinese New Year firecracker toddler craft with her, it turned out really nice as festive home decor!
The Story Behind Chinese New Year Firecrackers
Chinese myth has it that the loud and explosive noises emitted from firecrackers chase away the 年 (Nián / Year) monster which roams about to eat villagers and destroy their homes every New Year's eve. Details about the myth here on China Highlights.
As such, setting off firecrackers is believed to protect people and their homes and the Chinese welcome and enjoy this custom every year.
DIY Chinese New Year Firecracker Toddler Craft!

The firecracker craft made a nice decorative addition to my Chinese New Year Montessori Exploration Toddler Shelf!)
How to DIY the Firecrackers Craft
I was inspired by Let's Go Fly A Kite Up to the Highest Height to use Toilet Paper (TP) rolls to make the firecracker craft. Check out their festive-looking firecrackers!
I made 2 modifications:
Instead of using red and gold construction paper, I painted the TP rolls red with my toddler.
I also angled the TP rolls differently (diagonally, sloping downwards) for a stronger resemblance to real firecrackers.
Since it's the Year of the Rat, I added a small red banner on the top of the firecrackers with a hand-drawn rat image. Since Miss 21 months is crazy about Maisy picture books and Maisy is a rat... I chose to draw Maisy lol.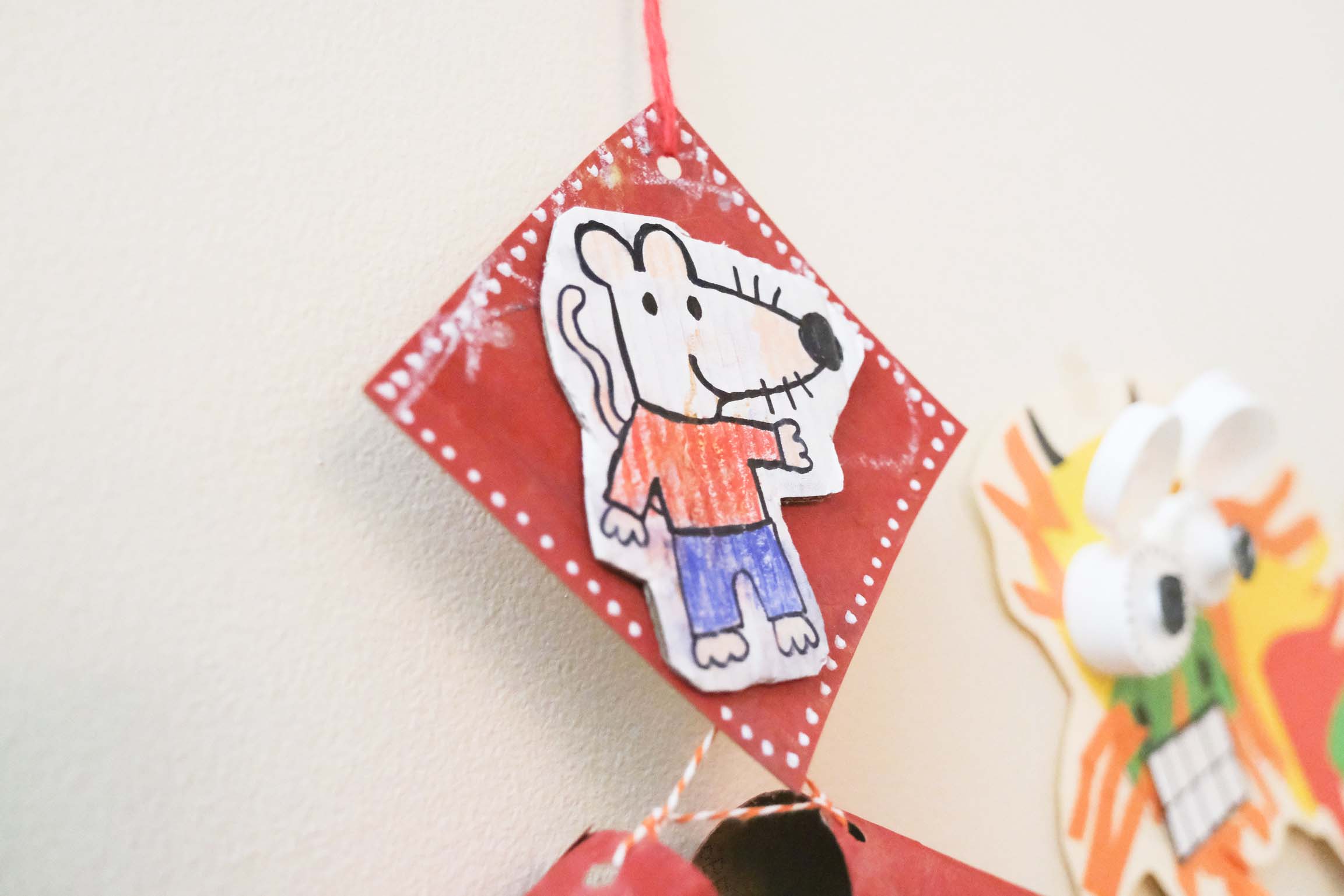 Materials
For the firecrackers:
6-8 TP rolls
Red paint
Paintbrushes
Red string
Hole puncher
(Optional) Gold or silver marker to draw decorative ends to the firecrackers
For the mini Rat red banner
Small squarish cardboard piece
Scrap white paper
Colored pens or markers
For the decorative tassel of the firecrackers
Small piece of rectangular red construction paper
Scissors
Sticky tape
Steps
Paint the TP rolls and squarish cardboard piece red with your toddler
Wait for them to dry before using a marker to draw decorative designs on the TP rolls (I simply drew dots around the ends, feel free to draw elaborative motifs)
Punch two holes at one end of the TP rolls
Align the TP rolls side by side, then angle them to be diagonal and downward sloping in a symmetrical way before stringing the bottom holes together. Repeat for the top holes but give more string allowance
Repeat above step until you have strung all 6 or 8 TP rolls together in rows of 2. You might like to staple the TP rolls together but this is optional if you do a fairly decent job at the stringing part
Follow this tutorial by First Palette to make a tassel to decorate the tail end of the firecrackers
Draw and color a Rat picture with your toddler then stick it onto the squarish red cardboard piece (tilt it to be a diamond shape first before sticking the Rat picture on)
Secure this red cardboard piece to the firecrackers and mini red lantern right at the top of the string
Learning Benefits of this Activity
Hands-on art projects encourages self-expression and creativity
Painting boosts fine motor development
Co-creation of artwork with caregiver enables the child to feel that her input is valued, building a sense of self-worth and accomplishment. Better yet if the artpiece is displayed at home because young children love to contribute to helping out at home and will appreciate that their work beautifies their home!
Use of upcycled materials in crafts sends a subliminal message about environmental conservation to little ones
Introduction to Chinese culture and traditions
Object/Animal (Firecrackers/Rat) recognition and understanding
Other Chinese New Year Firecracker Craft Ideas
Because the blogosphere is teeming with other amazing Chinese New Year firecracker craft ideas, I just got to share these:
Hi! I am Yunnie. I am the newly minted mama to a little baby girl and a mum friend to everyone on this special (and many times scary) journey of motherhood. Also a graduated bride with a penchant for weddings.