Gingerbread Man is one of my favourite holiday characters so I loved decorating gingerbread man houses when I was little. Sadly the fun always lasted just a few brief hours, right as the sugar-induced adrenaline faded.
This Christmas, I deliberated over whether to buy a pricey gingerbread man house decoration kit from the store just for that one-time fun.
Then, a brilliant idea struck me. Why not build a life-size gingerbread man house for my toddler?
A gingerbread man house would be perfect holiday fun for the entire Christmas season!
DIY Gingerbread Man Cardboard House for Toddlers!
A day hasn't gone by that Miss 20 months isn't playing in the gingerbread man cardboard house. When I host playdates at my place, little kids go wild when they see the house (I literally have to ask them to use gentle hands or my fragile cardboard house may lose a roof or door lol).
How to DIY a Gingerbread Man Cardboard House
Materials needed:
Massive cardboard box (Ideally taller than toddler height so your tot doesn't have to stoop low when exploring the inside of the box. If you have a recycling corner for your apartment or neighborhood, that's a good place to look! People who just moved in usually have these giant boxes to give away or recycle)
Masking tape (great for holding cardboard pieces together and decorating)
Black permanent marker (for illustrating festive stuff all over the cardboard house)
Penknife
Lots of imagination!
Steps
Stand the box upright and cut 2 flaps off the top of the box
With remaining 2 flaps, make a triangular roof and tape tight (you might need additional cardboard if the flaps aren't long enough to touch each other)
Fun elements to cut out and include in your DIY Gingerbread Man Cardboard House:
1) Big main door
Cut out a big door but leave one of the sides intact for the "hinge". You might like to cut a little flap as a door handle for your toddler to grip.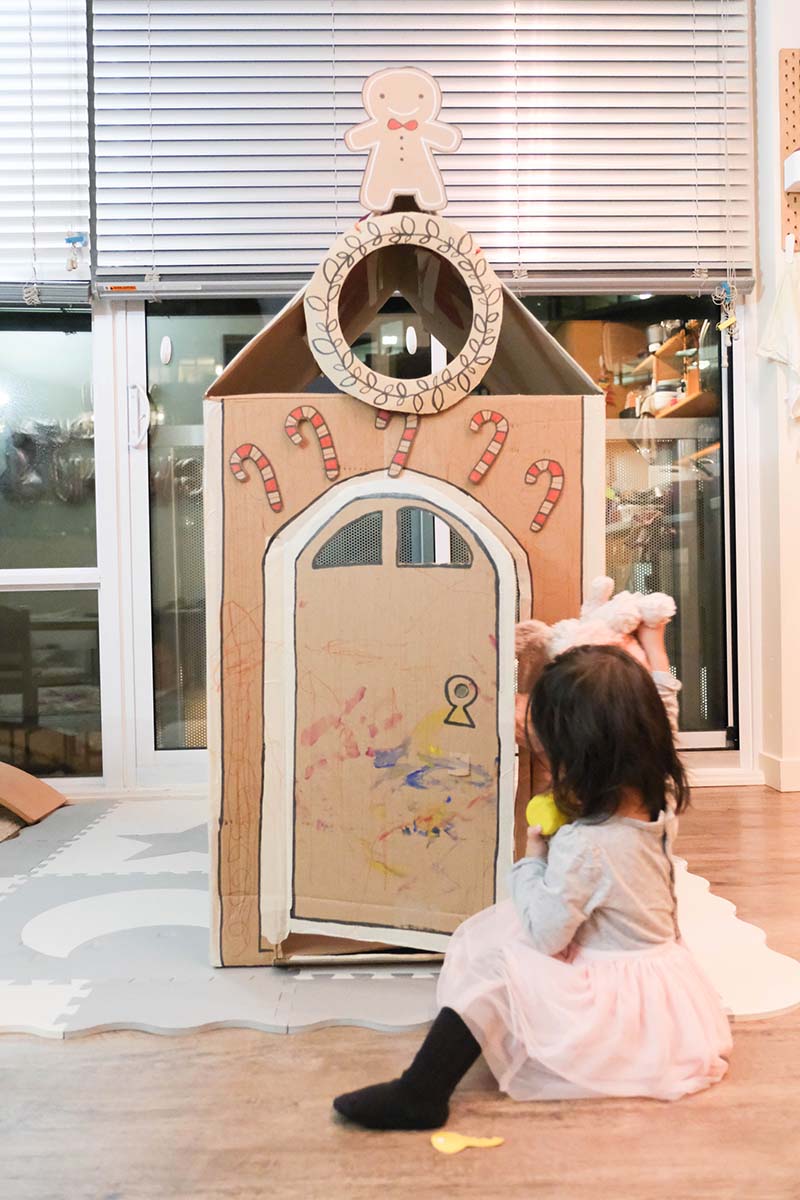 2) Small door keyhole
Cut out a tiny keyhole in the main door and construct a little cardboard key for your toddler to insert into the keyhole. I cut out a key from one of the flashcards my toddler had outgrown.
3) Openable windows
Perfect for spying when in the house and peekaboo games with whoever's outside the house!
4) Mailbox
For posting letters to the occupant of the house! Miss 20 months loved pushing her books and drawings into the mailbox.
5) Big backdoor
I included a big backdoor so it's easy for Miss 20 months to scoot in and out and little ones don't get "trapped" in the cardboard house when multiple children are playing with it.
To switch things up, drape a blanket or swaddle cloth over the backdoor once in a while to make "curtains".
Developmental Benefits of this Activity
Peekaboo games are great for object permanence learning
Interactive elements of the house teach cause and effect
Thinking up different ways to play in the cardboard house fosters imagination and decision-making
Gross motor skill development (to get in and out of the cardboard house)
Fine motor skill development (to "unlock" the door with the key and open/close the door and windows)
Decorating the cardboard house together inspires self-expression and creativity
Helping to build a toy for herself inculcates a sense of ownership in the child
Subliminal teaching about recycling and environmental conservation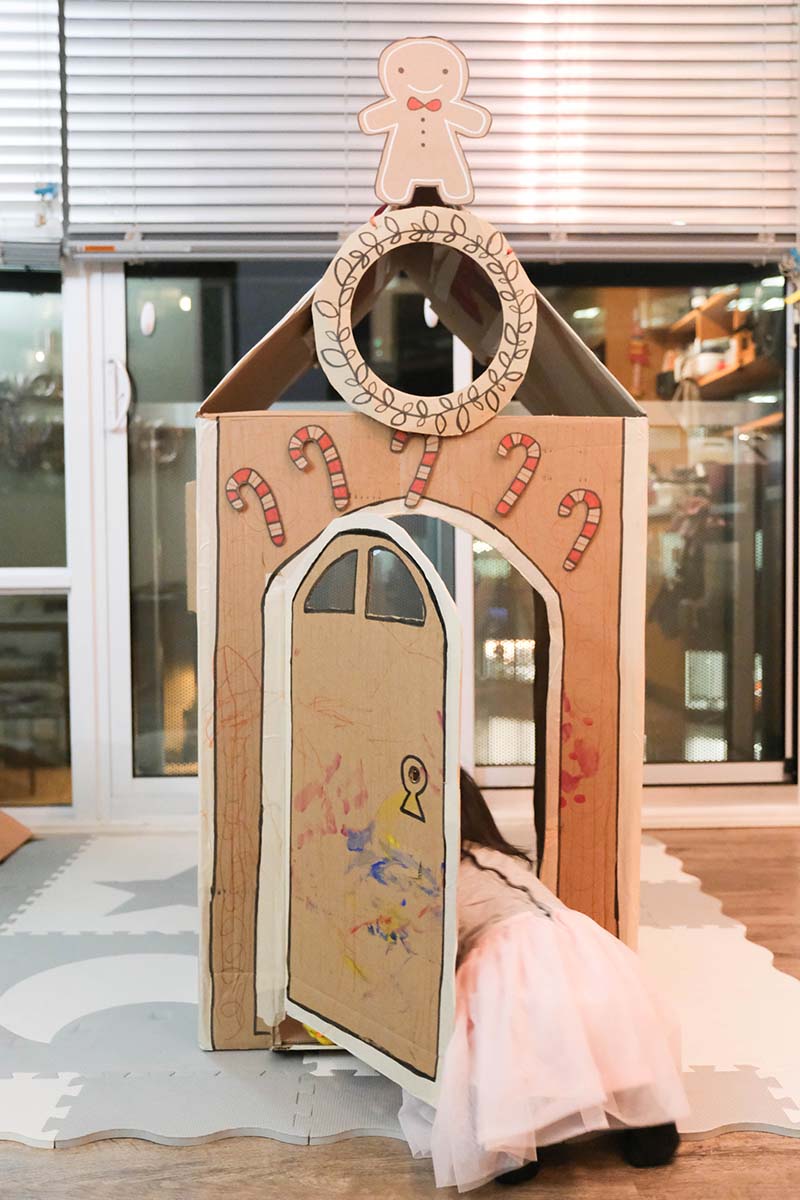 Interested in more DIY festive projects with your toddler? Try Christmas Tree Fine Motor Activity, Building Santa's Sleigh to Ride In and Making a Table-top Christmas Tree for Endless Decorating Fun.
Hi! I am Yunnie. I am the newly minted mama to a little baby girl and a mum friend to everyone on this special (and many times scary) journey of motherhood. Also a graduated bride with a penchant for weddings.