Ever since Gwen tackled her shape sorter toy at 16 months (which took me by surprise because it happened one fine day out of the blue when I wasn't even engaging her with the toy and it was just lying around), I decided to include more shape play in her daily programming.
I think this activity would help her as she becomes more and more recognisant of shapes (and colours) in everyday life!
I saw @7daysofplay's DIY shape puzzle and thought it was the perfect idea! Since she's already familiar with the usual shapes - circle, triangle, square etc - I decided to make a weather-inspired one!
DIY Weather Shape Puzzle for Toddlers!
How to Create the Shape Puzzle
The full tutorial is available on @7daysofplay's post so hop over to read more. I especially love how portable this puzzle toy is for travel and how the felt pieces can't get lost easily because they're attached to the board!
I thought I'll just share some tips for making the puzzle based on trial and error learning on my part.
How to make your life easier:
Find shape moulds to trace the outline on the felt fabric before cutting. At first I tried to cut free-style and I finally gave up after my sun kept looking like the minesweep bomb. Cookie cutters, bottle caps, shape sorter toys - those make good shape moulds!
Make sure the untraced side of the felt shapes are facing up so no one sees the pen marks that guide your cutting. Your toddler doesn't mind the marks, but the perfectionist or OCDness in you might!
THIS IS IMPORTANT. You don't have to stick velcro dot stickers on the felt shapes, they adhere to the bristly 'hook' side of the velcro dot stickers naturally. If you attach velcro dot stickers to felt, you'll notice they keep coming off, which can be frustrating.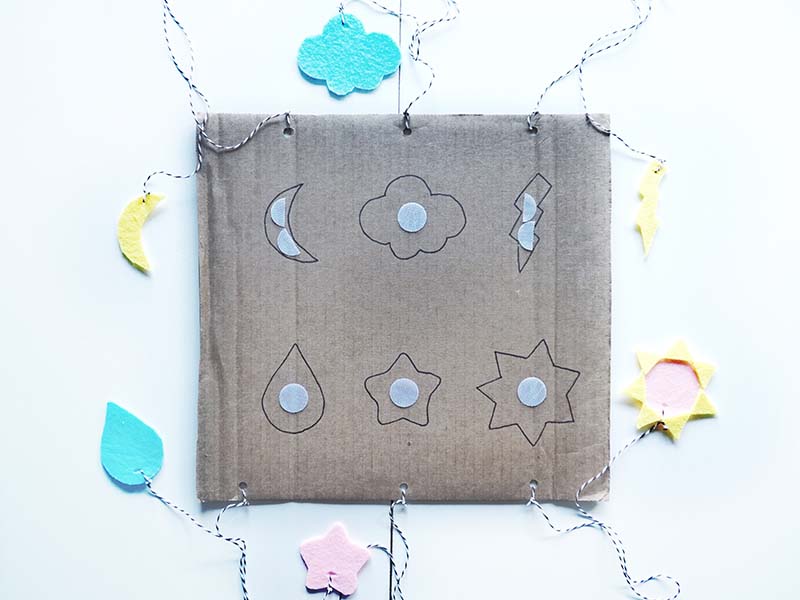 Use a single hole puncher to make holes in the cardboard for threading the strings attached to the felt shapes. I got mine from Dollar Tree for $1! Best buy ever.
Bright and colourful shapes can help engage little ones and hold their attention for a longer time. Pick colours that will appeal for your puzzle!
Make a themed puzzle that would appeal to your little one's interests. I recently taught Gwen about the weather so she understands why I keep her at home when it's raining and when we go out to play when it's sunny so a weather-inspired puzzle is perfect for her!
Manage your expectations. It can be difficult to make puzzles that are age appropriate - nothing too challenging that frustrates toddlers and makes them give up and nothing too easy that they lose interest quickly. When introducing difficult puzzles for the first time, work with little ones on those puzzles. Explain how things fit and demonstrate with patience!
Our Play Experience
Gwen spotted the weather shape puzzle on her sensory table after her nap and ventured closer for a look. She was confused by all the strings and took off a few of the felt pieces but made no attempt to stick them back.
I explained to her how the puzzles worked and demonstrated sticking one of the felt pieces back. She imitated it but her interest faded quickly.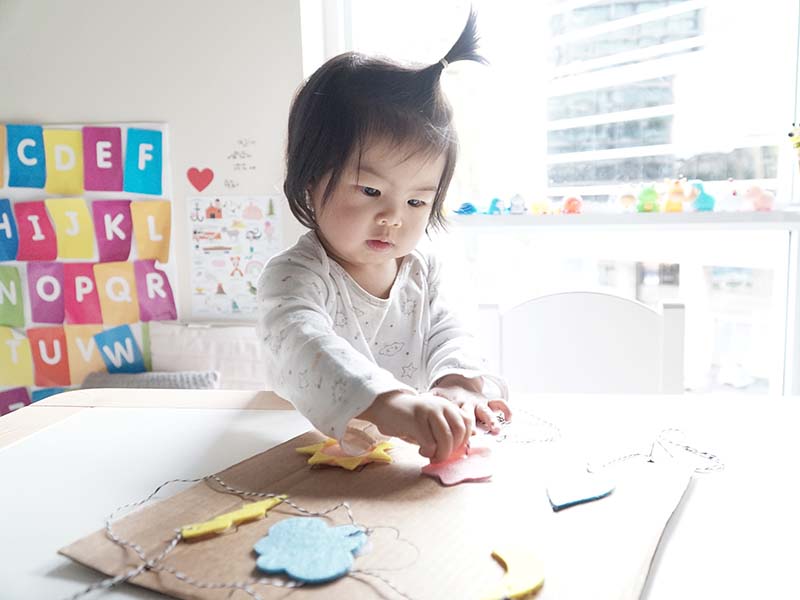 Cheekily, she strapped the puzzle over her arm and proceeded to walk around the house using it as a handbag lol.
I'll continue to lay out this puzzle for her to explore and do trial and error learning with it! This is a reminder to self that learning through play doesn't happen overnight and it's through repeated exposure that children retain knowledge and benefit from it.
Benefits of Puzzle Play for Young Children
Enhance problem solving skills. Going through trial and error to finally land a solution imparts early math skills.
Builds soft skills - patience and tenacity. Puzzles take time to be completed and can't be rushed. There's no shortcuts too. Children learn to be patient and to persevere in the face of a challenge when working on puzzles.
Build hand-eye coordination. Locating a puzzle piece, holding it up, placing it in its correct spot - these steps strengthen the connection between eyes and hands.
Fine motor workout. There's so much to do with puzzle pieces - turning, rotating, flipping, flattening etc.
Strengthen cognitive and memory skills. Shape recognition is important for understanding of the world around us.
Also check out another simple but fun pizza and egg paper plate puzzle to DIY that we tried awhile ago!
Hi! I am Yunnie. I am the newly minted mama to a little baby girl and a mum friend to everyone on this special (and many times scary) journey of motherhood. Also a graduated bride with a penchant for weddings.