There's so many creative egg crate toddler art and craft ideas around and I'm glad to add one of my creations to the mix!
Egg Crate Pumpkin Straw Posting for Toddlers!
On top of it serving a decorative purpose, this idea doubles as a posting activity for little ones!
How to Make the Egg Crate Pumpkins
Materials you'll require:
Orange toddler-friendly paint (feel free to use red/yellow for layering)
Paintbrushes
Black marker
Upcycled straw cut in short lengths (preferably green/red/brown to look more convincing as pumpkin stalk)
Scissors or penknife to poke little holes in egg crate for straws to fit
These are the simple steps:
Clean and wipe dry an empty egg crate
Invite toddler to paint all over the egg crate
Use dark marker to draw jack o lantern faces
Poke little holes into each egg crate compartment for straws to fit
Cut up a long straw into 4-5 shorter segments to poke through the little holes
Benefits of Posting Activity
Improve hand eye coordination
Build focus and concentration
Enhance fine motor skills
Enhance cause and effect learning
Creative transformation of cardboard into decorative toddler toy inspires creativity and inculcates environmental conservation mindset in little ones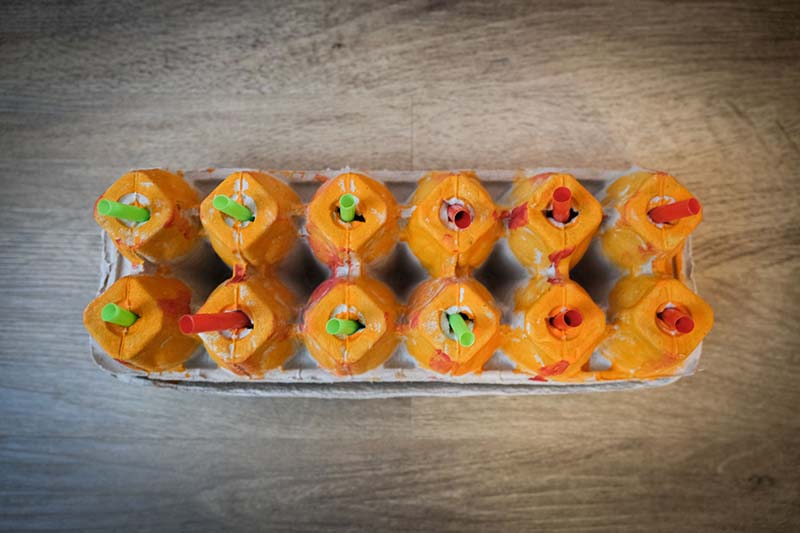 Hi! I am Yunnie. I am the newly minted mama to a little baby girl and a mum friend to everyone on this special (and many times scary) journey of motherhood. Also a graduated bride with a penchant for weddings.