As you know by now, I'm a huge fan of repurposing household items for toddler heuristic play. Read about heuristic play in my earlier post.
Egg crates are awesome for fine motor toddler activities! When Gwen was 12 months and into filling and object transfer, I used it for this activity. Now she's 16 months and posting is her current obsession so I made a posting DIY toy to fulfil her current play need.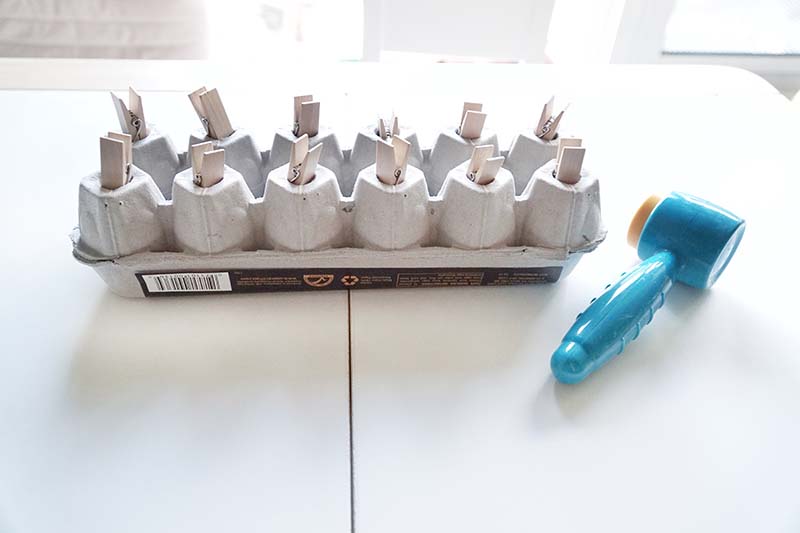 Egg Crate Wooden Peg Posting Activity for Toddlers!
The Setup
This posting toy idea is from Trish Kuffner's The Busy Toddler Book. Instead of using clothes pins, I'm using craft wooden pegs from Daiso!
Here's a tip - after using a penknife to make a hole in the tip of each egg slot, push a wooden peg in and rotate it 360 degrees to enlarge the hole. This makes the wooden peg fit better, so young children won't feel frustrated that they can't post the pegs into the egg crate and give up prematurely.
Also, if you have a toy hammer, include that as part of the invitation to play. Your child may choose to use the hammer... or not. It's all part of free play and exploration of tools and their functions.
Storage is easy. I simply plonked the wooden pegs into the egg crate after Gwen was done with them and placed them at a corner of her play area for a few days so she could return to it time and again. Since she knew how to open the egg crate on her own, she had no problem repeating the posting activity.
Benefits of Posting Activities
Hand-eye coordination
Fine motor skill development, critical for building strength and dexterity in muscles and tendons of little hands to equip them for later skills like writing and use of scissors
Builds concentration and focus
Enhances object permanence concept
Encourages independent play
Increases self-esteem by successfully completing the posting task repeatedly
Promotes problem-solving as toddler figures out how to open the egg crate to retrieve wooden pegs
If your child is a keen reader and likes to play with wooden pegs, you could consider another toddler activity merging these two interests!
Hi! I am Yunnie. I am the newly minted mama to a little baby girl and a mum friend to everyone on this special (and many times scary) journey of motherhood. Also a graduated bride with a penchant for weddings.