I got to know about the newest holiday light show in town (Seattle Washington), Lumaze, after reading this article on ParentMap.
The skies become dark around 4ish these days so checking out a light show with my toddler after dark was a very enticing idea. I narrowed down my light show options to Enchant and Lumaze.
Ultimately I decided to bring my toddler to Lumaze, primarily because it is indoors! I didn't want to brave the cold and wind for too long with a little one.
Exploring Lumaze Seattle WA With My Toddler!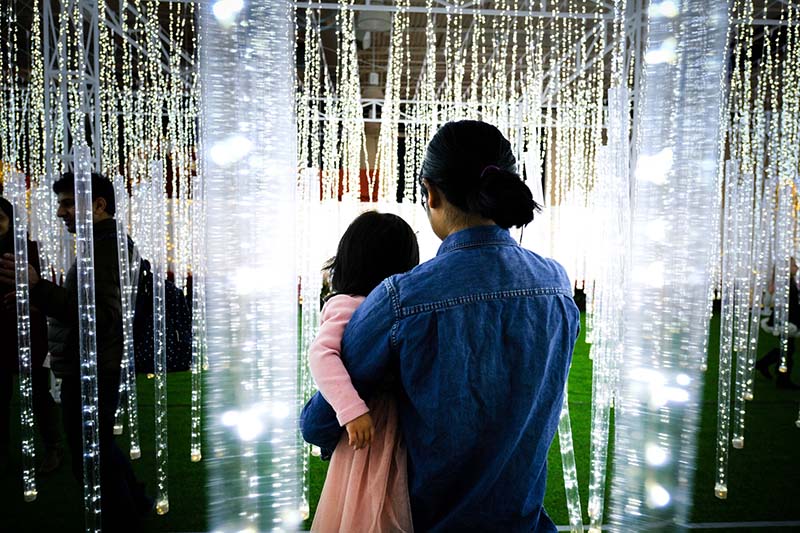 What Was Awesome About Lumaze
The biggest selling point for me was that Lumaze is fully indoors, so visitors are sheltered from the cold and wind. Yes, everything from the giant light maze to the kiddy train ride to the indoor playground and vendor market is contained within the huge 100,000-square-foot cruise ship terminal at Pier 91 in Seattle.
Being indoors meant we could dress light, with fewer layers. The warmth in the huge compound of Lumaze kept Miss 19 months comfortable, calm and happy throughout our time there. Young children can be really sensitive to temperature changes, it's a known meltdown trigger!
Crowd control was good. We visited on a Sunday at 5pm and it was just the right amount of crowd. There was barely a line for the kiddy train (the "Glowcomotive") which meant my toddler's wish to ride the kiddy train 5 times consecutively was easily granted lol.
Some of the light exhibits really provided an engaging sensorial experience. Miss 19 months' favourites activities were running through the icicle field with her hands in the air and stomping on the hopscotch lighted panels to see them change color. The icicle field impressed me, it was really gorgeous and made a wonderful photo backdrop (as evidenced by the many couple shots taken there).
The indoor playground was a hit! Miss 19 months loved the lighted see-saw and LED swings. There was also a pack (or horde?) of bouncy unicorns for little ones to jump onto. Miss 19 months liked the first floor so much that it took some convincing before she was willing to explore the second floor.
Lots of photo ops at every corner! Beautiful holiday lights taking the form of castles, carriages and roaming Disney princesses all contributed to a very magical and festive mood.
Fast and regular shuttle service. From our car to the tent area, we waited barely 5 mins before we got picked up by a shuttle bus. When we were done, it was also a less than 5 mins wait for the shuttle to take us back to our car. I don't know whether it was plain luck but I was really pleased with the shuttle efficiency.
What Could Be Better
Ventilation for the first floor could be improved. There was a rather strong smell of fried food permeating in the air, presumably from the food vendors on the first floor.

Information about the Scavenger Hunt could be clearer. At the entrance, a brochure was passed to me but the greeter didn't mention anything about what was in the brochure. I flipped it open, expected a map but saw what looked like a coloring sheet, and promptly closed it thinking it's some sort of bring-home memorabilia for kids. Only upon seeing a prize redemption booth on the second floor did I realise that the brochure was a Scavenger hunt card lol.

Driving and parking information could be provided more clearly. Getting there wasn't easy, especially for people who haven't been to Pier 91. There were very limited directional signages. To make it worse, because the event is indoors, you can't expect to see it as you drive in.
Additionally I hadn't known about the $15 mandatory parking until I received the confirmation email after booking the tickets. There aren't any alternative carpark in walking proximity to the shuttle bus tents so it's almost impossible not to part with that $15 haha. Well, I did feel better after finding out that parking at Enchant is $20 hahaha.
Verdict?
We spent 2 full hours at Lumaze and kind of covered everything. I would recommend Lumaze to families with young children. Miss 19 months really enjoyed herself and we have beautiful photos to show for that. For families with older kids, the activities might not hold their attention for that long.
Other festive activities we did this winter include seeing real reindeers at Swanson Nursery's Reindeer Festival in Seattle WA and visiting a Christmas tree farm in Issaquah WA. I hope you're enjoying the wintry fun and holiday season!
Follow #gweninnature on Instagram for my chronicles of traipsing North America with a toddler and seeing nature through her eyes.
Hi! I am Yunnie. I am the newly minted mama to a little baby girl and a mum friend to everyone on this special (and many times scary) journey of motherhood. Also a graduated bride with a penchant for weddings.