What can you make out of flash cards which when your little one has outgrown?
As it turns out, lots of stimulating activities! Matching games, barter trade currency for imaginative play and... puzzles!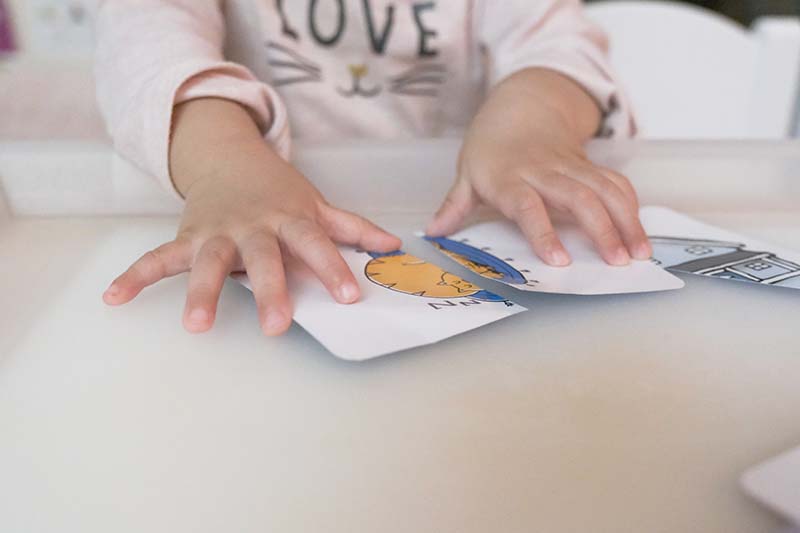 Flash Card Puzzles for Young Toddlers!
The Setup
You'll require the following materials:
Scissors
(Optional) Pencil and ruler
Flash cards you're willing to snip up
Steps:
Use scissors to cut each flash card into pieces (I recommend starting with halves for young toddlers and then progressing to more pieces once they get the hang of the activity)
(Optional) Use a ruler and pencil to draw the cutting line across the flash card before cutting
Cut the flash card in different ways - horizontally, vertically, diagonally
Demonstrate how two halves of a flash card can be placed together to make them whole
Let your little one experiment completing the puzzles with the differently cut flash cards
Setup Tips
I found that 3-4 flash cards (6-8 halves) were the optimal quantity for a young toddler to pick through and find corresponding pieces. Too many pieces would overwhelm and on the flipside, insufficient pieces would make it too easy.
I placed the flash card pieces in a tray, Montessori-style, so that it's organised and easy for Gwen to peruse all the resources required for the activity.
A mold the shape of a flash card didn't seem particularly effective at guiding the completion of a puzzle (and could potentially distract a toddler into trying to break it apart), so scratch that if you lack the time to make one.
Benefits of Puzzle Play
Promote problem-solving and logical thinking
Hone shape and object recognition
Boost language skills (Name and discuss the subject on the flash cards!)
Fine motor development
Further hand-eye coordination
Hi! I am Yunnie. I am the newly minted mama to a little baby girl and a mum friend to everyone on this special (and many times scary) journey of motherhood. Also a graduated bride with a penchant for weddings.