I was hugely inspired by Busy Toddler's Alphabet Fridge Magnet Matching post but I didn't have ABC magnets so I replicated the idea with a twist in subject of interest.
My subject matter was... shapes!
Yay this meant my collection of destination fridge magnets in assorted shapes, colors and sizes came in handy (now who else strikes to get a landmark magnet from every travel like me?)
Fridge Magnet Shape Matching Game for Young Toddlers!
The Setup
Materials needed:
A piece of white A4 paper
Magnets
Washable black marker
(Optional) Masking/Painter's tape
Steps:
Place 3-4 magnets on the white paper, evenly spaced out
Use the marker to trace their outlines on the paper
Use tape to secure paper onto the fridge (I didn't use tape because Gwen's been experimenting a lot with securing paper onto the fridge with magnets and enjoys doing that with partial success, so I thought it'll be nice for her to try to achieve more learning outcomes with this activity)
Demonstrate matching magnets to their shape outlines on the fridge and invite toddler to try
Tips:
Use a washable black marker for tracing so any ink will wipe off easily from the magnets. If you don't have a washable marker, trace with a pencil before using a permanent black marker to reinforce the lines!
Pair this activity with a book about shapes to reinforce learning!
Benefits of Shape Matching Activity
Sorting and matching are important for math skills
Enhance shape recognition
Develop logical thinking and problem-solving skills
Fine motor development
Improve hand-eye coordination
Enhance language skills (Talk about the shapes - the number of sides they have, and everyday things in those shapes!)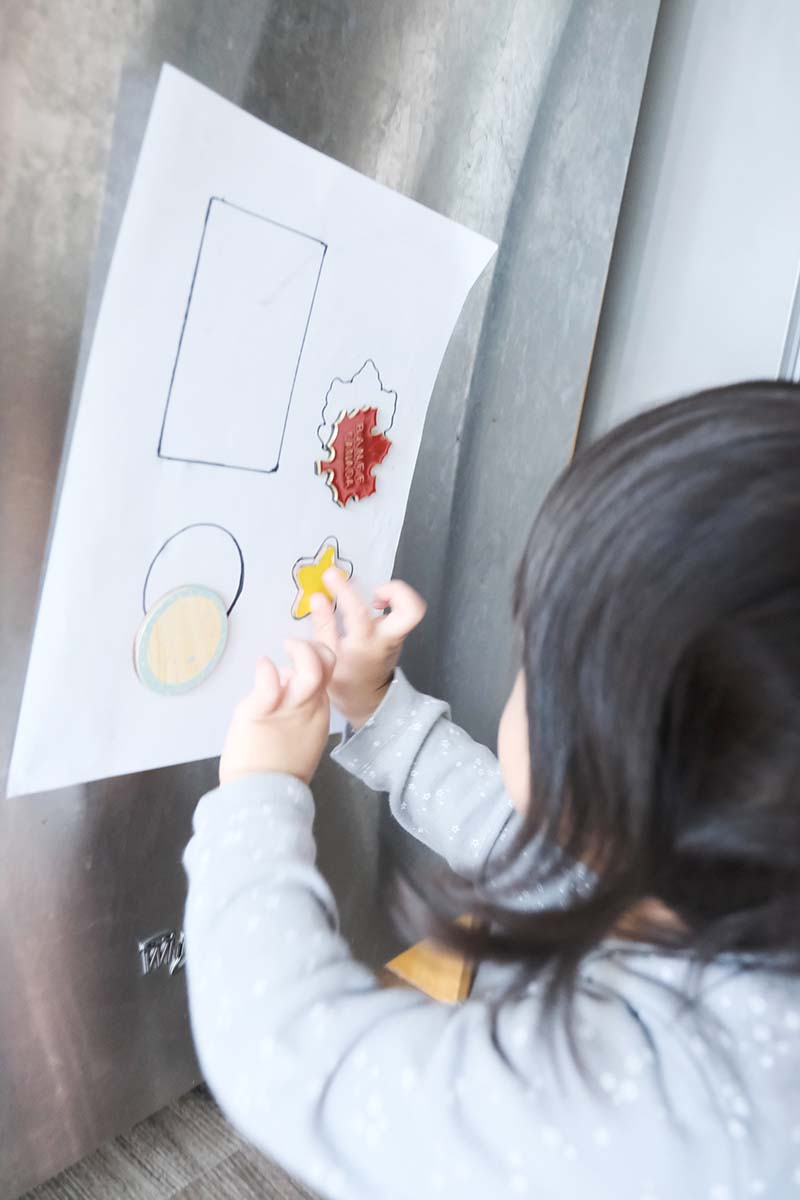 Hi! I am Yunnie. I am the newly minted mama to a little baby girl and a mum friend to everyone on this special (and many times scary) journey of motherhood. Also a graduated bride with a penchant for weddings.