Was stocking up on story books for toddlers about Christmas and the winter season when Amazon recommended me Corduroy by Don Freeman. I added it to my shopping cart, musing that the title seemed really familiar.
I hadn't realised it then, but this book has been such a children's classic for decades! In fact, Corduroy is so well-loved that it has been made into theatre plays in many parts of the world!
When Corduroy the book arrived, I eagerly read it to Miss 20 months. She thoroughly enjoyed the story and cried "ohno" to the sad parts of the story, when no shopper seemed to want to bring Corduroy home and when Corduroy realised he had a missing button. I had to read the story several more times even Miss 20 months was content to put it back on the shelf.
It seemed fitting to create a toddler activity inspired by this wonderful book, as a continuation to the book reading, to reinforce Miss 20 months' comprehension of the story and further her interest in it!
Help Corduroy Find His Lost Button Toddler Activity!
Designing the Corduroy Toddler Activity
These were my considerations when it came to designing the mechanics of the Corduroy toddler activity:
I wanted Miss 20 months to have a feel of how it meant to seek something, just like how Corduroy had combed different sections of the department store to find his lost button. Therefore I incorporated a hide and seek element into this toddler activity.

I also wanted Miss 20 months to empathise with how it felt like to be reunited with a lost possession, so the activity included returning the lost button to its owner.
How to Create this Corduroy Toddler Activity
Materials needed:
Cardboard scrap
Black permanent marker
Green play dough to make Corduroy's green overalls (I made homemade play dough. An earlier post about the recipe and steps can be found here.)
Assorted buttons (Dollar Tree is a good place to get inexpensive colorful buttons.)
Steps:
Draw the likeness of Corduroy on cardboard piece using black permanent marker (include his overalls!)
Get your toddler to help with coloring Corduroy. This is a good opportunity to teach the colors green and brown!
Make green play dough with toddler who can help with squeezing green food coloring into the dough mixture and kneading the dough!)
Flatten and shape green play dough onto cardboard piece, following the shape of drawn overalls
Hide buttons all over the house and let your toddler explore and find them (Give verbal hints if needed!)
Encourage toddler to return the buttons to Corduroy's green overalls by pressing the buttons into green play dough
Developmental Benefits of this Activity
Encourage gross motor movement through hide and seek game
Improve fine motor skills through manipulation of play dough and sticking buttons into play dough
Color differentiation and recognition
Build vocabulary and language skills
Reinforce learning of objects (buttons/overalls) and character (Corduroy bear) from the book
Improve awareness of spatial relationships between objects through hide and seek game
Teach about emotions and build empathy by having toddler return Corduroy's prized possession (missing button)
Foster creativity and imagination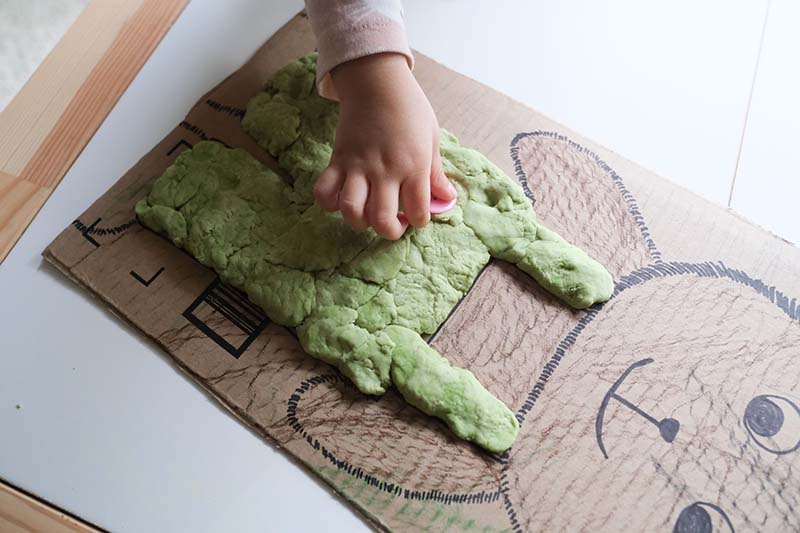 More Corduroy Inspired Activities
Now that I have read the book, it doesn't come as a surprise that many others had fallen in love with Corduroy and this little teddy bear in green overalls had inspired countless of toddler activities.
These are the Corduroy toddler ideas I liked best from the blogosphere:
If you have not read Corduroy (but have somehow read to the end of this post), make time for it! Let the heartwarming story of an unassuming little teddy bear who determinedly sought his missing button and earned a child's friendship win you over.
If you're a Corduroy fan, I hope you enjoy my activity idea with your little one!
Hi! I am Yunnie. I am the newly minted mama to a little baby girl and a mum friend to everyone on this special (and many times scary) journey of motherhood. Also a graduated bride with a penchant for weddings.