Gwen loves lifting big objects and moving them from place to place these days, as though she's testing how much weight she could hold up. She's also been practising stacking quite a lot and can be pretty creative with what she stacks — jam blocks in all-day breakfast restaurants, snack bars and cookie boxes at the supermarket.
So I took some empty milk cartons and recycled them into
Large Stacking Cubes & Dice Games, Perfect for Toddlers!
How to Make the Large Stacking Cubes
Wash then dry milk cartons (especially the insides or they'll smell!)
Use a penknife to cut each carton into 2 square cubes (you may prefer to measure the sides to make sure they're equal which makes it easier to stack. I didn't but on hindsight I should have 😂)
Tape scrap cardboard over the open sides of the cube and put magazine or newspaper stuffing within the cube to hold up the carton walls (Don't over-stuff because it makes the cube too puffy and affects its ability to be stacked)
Use coloured paper to wrap the cubes up (to make it more long-lasting in toddler hands, you might like to consider adding clear contact paper or plastic sheet over the coloured paper)
You can turn the cubes into fun dice games (see ideas below)
Fun Dice Ideas
Ba Ba Sheep — Draw or paste a photocopied sheep image for all surfaces of the cube. Fill each sheep with a different colour. Get your toddler to throw the dice and sing "Ba Ba Sheep" based on whichever coloured sheep faces up. Great way to teach colours!
Learn About Your Body — Draw one body part on each surface of the dice (for example — eye, nose, mouth, tongue, ear and hand). Have your toddler throw the dice and point to the corresponding body part. Interesting way to teach body parts!
Bedtime buddy — Draw your little one's favourite soft toys and have her throw the dice to pick one to bring to bed each night. Makes for a fun bedtime ritual!
Stick felt circles onto the cube to make an actual dice! Your little one will enjoy removing and pasting back the dots. This makes a great counting activity!
Of course no one's stopping you from leaving the cubes plain for pure stacking purposes!
Gwen's Play Experience
Gwen liked stacking and knocking over the tower of cubes enough for me to make them permanent residents of the play area.
She especially took to the Bedtime Buddy dice.
About Stacking
Stacking items is a developmental milestone and the number of cubes a toddler can stack varies with age. Read more about stacking as a developmental activity from < a href="https://www.adam-mila.com/milestones/fine-motor-skills/stacking/">Adam and Mila's article.
If your child likes stacking, encourage her to! Once your child gets the hang of stacking, you can bring on more challenges like:
Speed stacking (A simple contest to see who stacks more in a minute!)
Volume stacking (Compare who has a taller tower of cubes!)
Imaginative stacking (Build a house, train etc by stacking cubes)
Benefits of Stacking
Enhances problem solving skills and cognitive development
Boosts hand eye coordination and fine motor skills
Builds concentration and focus
Bolsters imagination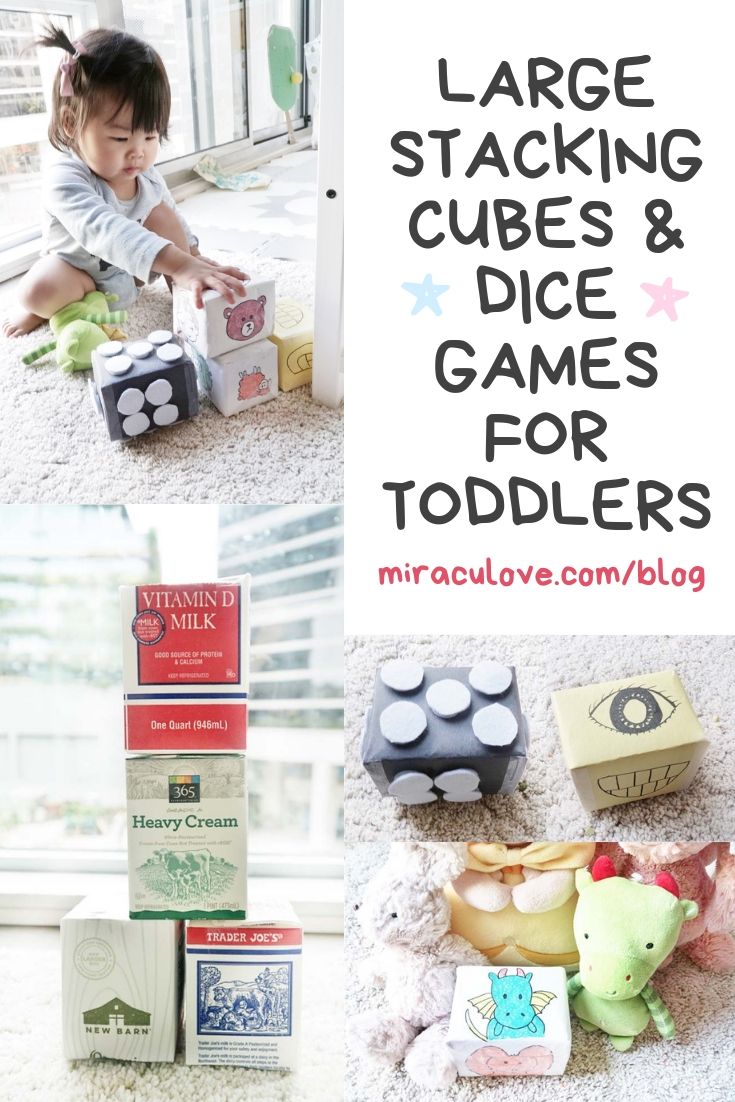 Hi! I am Yunnie. I am the newly minted mama to a little baby girl and a mum friend to everyone on this special (and many times scary) journey of motherhood. Also a graduated bride with a penchant for weddings.