Came across the pool noodle fishing game by inspirational mama of Happy Tot Shelf and thought my 17mo toddler would love it. Set up this fishing activity for her and she was hooked on (pun intended) fishing her sea animal toys!
Magnetic Fishing Fine Motor Game for Young Toddlers!
I referenced the tutorial by Happy Tot Shelf and made a few modifications of my own to make it extremely low-prep.
Modifications to the Setup
Instead of pool noodles, I used Gwen's sea animal bathing toys for the activity.
In place of paper clips, I attached binder clips to the toys which work very well as they have a large metallic surface area for attracting the magnet in the fishing rod.

I repurposed a used drinking straw as the fishing rod.

The magnet for the fishing rod is a small (but powerful) round fridge magnet. I used tape to stick it to the fishing rod.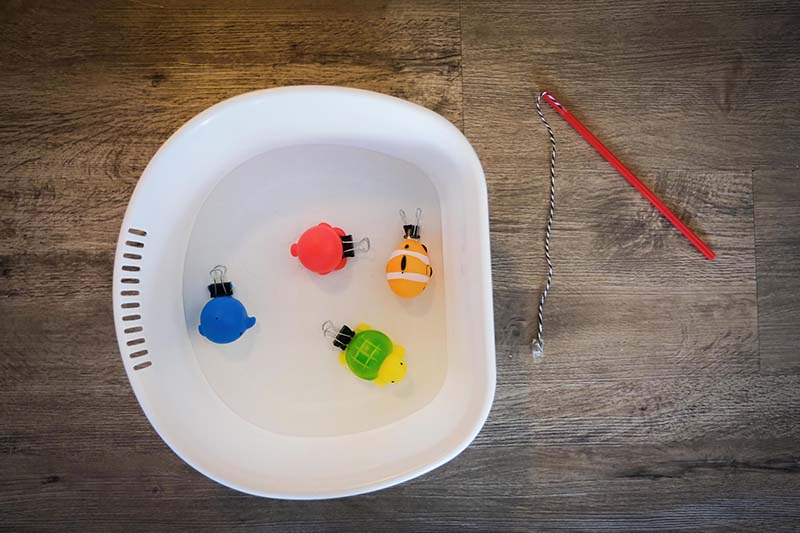 Benefits of this Fishing Activity
Fine motor workout! I like how Gwen has to hold the fishing rod carefully and let it hover over the sea animals for the magnetic attraction to happen. She had to pull the fishing rod and toy apart and place the toy back into the fishing tub. Lots of movements that strengthen and utilise the muscles and tendons in the hand!
Build focus and concentration. It's easy to forget that aiming and angling the fishing rod towards the toy targets is in fact a challenge for little ones.

Build vocabulary and language skills. Throughout the activity, I acted as the cheerleader, shouting and exclaiming whenever she fished successfully! Through this she learnt the nouns "whale", "fish", "turtle" and "dolphin". I also kept up a running commentary and used distance descriptor words like "nearer", "closer" and "further". It also helps to pair this activity with a book about sea animals.
Basic science! It's a fun way to introduce magnets to little ones and let them observe how magnetic attraction takes place.
I'll definitely repeat this activity when I host a group playdate at my house in the future. This fishing game makes for lots of social interaction and fun with a small group of little ones!
Hi! I am Yunnie. I am the newly minted mama to a little baby girl and a mum friend to everyone on this special (and many times scary) journey of motherhood. Also a graduated bride with a penchant for weddings.