Ever since Gwen (16 months) showed a keen interest in trying our "adult fare" when we dine out, we have introduced her to a gastronomic selection of international cuisines. That was when we discovered that she LOVES noodles, of any kind really. Udon, ramen, plain flour noodles, hong kong egg noodles... she'll gladly eat any of them.
The way she eats noodles makes me think she is flossing her teeth. Oh my heart!
I decided to learn to make Chinese noodles from scratch using a healthier ingredient - wheat flour, and build noodles into her meals. I also wanted Gwen to experience the noodle making process to appreciate how food is made and to work on her fine motor skills.
I consulted my sister-in-law, who consulted her mom, for a simple and most basic Chinese noodle recipe. They told me just 2 ingredients are necessary, flour and water. For a richer taste, I could choose to add eggs and seasonings like salt but I decided to omit those for the time being.
Making 2 Ingredient Chinese Wheat Noodles with Toddler!
How to Make Simple Chinese Wheat Noodles From Scratch
These are the ingredients and tools you need:
1 cup of whole wheat flour
1/4 to 1/2 cup of water
Mixing bowl
Rolling pin
Knife or dough scraper
Steps:
Place 1 cup of whole wheat flour in the mixing bowl and add 1/4 cup of water.
Use your hands to knead mixture into soft dough. Add 1 teaspoon of water at a time until a soft dough is formed. It is better to have the dough on the drier than wetter side. (Alternatively, dip the dough into a small saucer of water and knead rather than adding water to the mixture. That will ensure you don't add excess water.)
Sprinkle flour on the table of your work station and work the dough. Keep kneading until the dough does not cling to your fingers. When you reach that consistency, knead into a ball. Kneading warms and stretches gluten strands, creating a chewy and elastic dough.
Place the ball back into the mixing bowl and cover with a damp clean towel to rest the dough for 20 mins in a moist environment without drying it out. The resting will help the gluten in the dough to relax.
Roll the ball with the rolling pin to make it as flat and thin as you can go because noodles expand in size when cooked. Sprinkle both sides with more flour to prevent sticking and fold a few times to create layers. (You may also skip the layers if you find that complicated to directly slice dough into thin, long strands.)
Use a dough scraper or knife to cut into thin strips.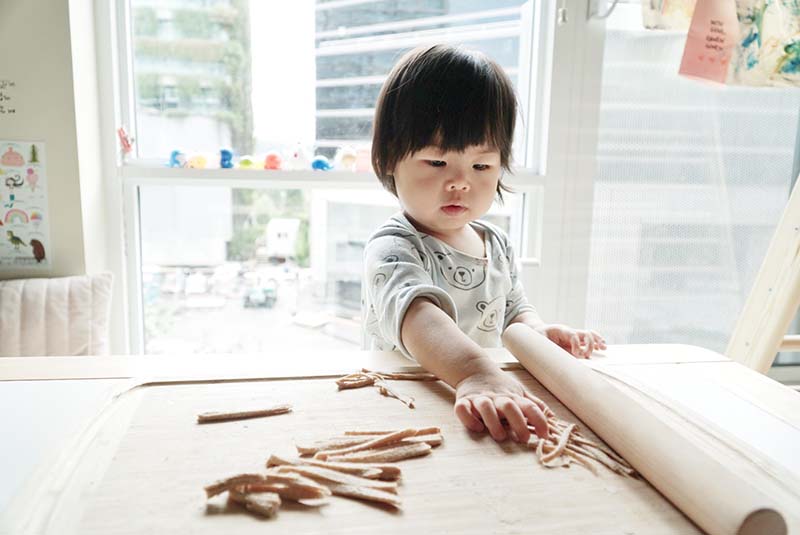 Gently hold up the strands and untangle them into long individual strands.
To cook, I directly place the noodles into boiling soup base for 5 mins. Taste to ensure it's soft and cooked before serving. Note that the excess flour in the noodles may thicken the soup. If you prefer watery soups, you may like to cook your noodles separately in boiling water before adding the soup.
Enjoy the homemade, healthy and rustic-looking Chinese noodles! Teach your little ones to slurp them up for more eating fun!
To store, I place the noodles into a food storage bag for refrigeration. They're good for 2-3 days!
How to Involve Toddler in Noodle Making
Young children love to help out in whatever little ways they can, especially when it comes to doing "grownup stuff". Noodle making definitely counts as "grownup stuff". It is a great form of no-waste sensory play for little ones.
Gwen loves to try her hand at the rolling pin to flatten the dough. I taught her to pat and press balls of dough into flattened discs and she especially enjoyed that.
It is adorable to see her sprinkling flour around and tearing little bits of dough in fascination. Have a damp cloth on hand to wipe floury little hands before they leave traces of flour on other pieces of furniture!
Thoughts
This activity goes beyond teaching little ones to make food from scratch, it is a way of passing down family traditions and instilling cultural appreciation. I love that it fosters great bonding between parent and child, and I hope to incorporate noodle making into our weekly family wind-down time.
Hi! I am Yunnie. I am the newly minted mama to a little baby girl and a mum friend to everyone on this special (and many times scary) journey of motherhood. Also a graduated bride with a penchant for weddings.