We headed to Bailey Family Farm to pick vegetables again (read here for our first experience) and I was pleasantly surprised to see that they've planted new rows of crops and closed off old ones that'd been picked clean.
This time round, we picked a new array of vegetables, including beets!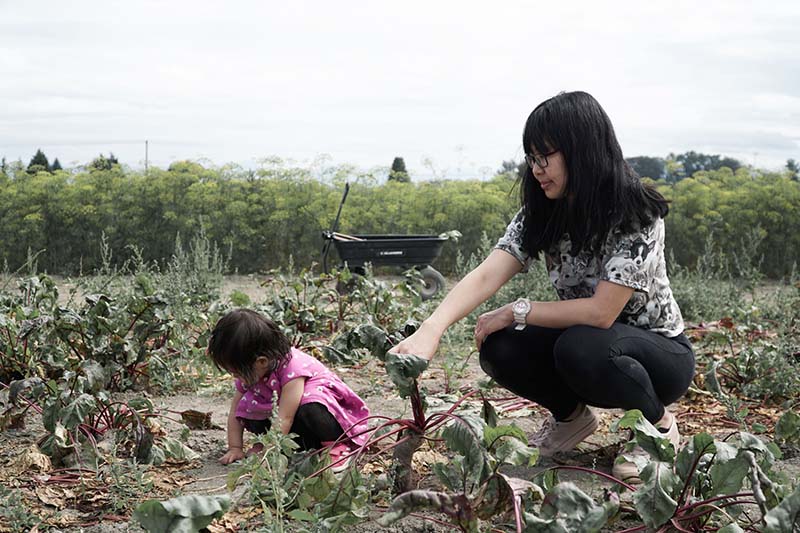 With the beets, I decided to turn them into chips to make a healthy snack for Gwen, while involving my little helper in the process so she could have the entire farm-to-table experience too!
Making Healthy Baked Beet Chips with Toddler!
Steps & How to Involve Toddler
Pick the beets from the vegetable farm (if given the opportunity) or supermarket with your toddler. It's fascinating to show them how the vegetable originally looks and how it'll be processed before ending up at the dining table.
Wash and cut off the leafy stems of the beets. Peel off the skin of the beets.
Continue making peels of the beets. I chose to use a peeler because I don't own a mandolin, and I most definitely don't trust my knife slicing skills.
Tear the beet peels into small pieces not exceeding 5cm by 5cm. Through trial and error I've found that this size crisps best. Beets shrink a lot when baked and the resultant beet chips are small but just the right size for little toddler hands.
Transfer the beet peels to a wire rack to dry as you complete peeling the entire beet. Your little one will enjoy doing the transfer.
Season the beets with a little sea salt and pepper or herbs if you like. Your little one will enjoy the sprinkling and tossing.
Lay the beet peels carefully on the baking mat. Ensure there's no overlap so they can crisp up easily.
Bake at 350 fahrenheit for 24 minutes or when the edges curl up and the colour of beet becomes fainter. (I do a taste test to ensure it's crispy enough before taking the entire batch out of the oven.)
Note:
You might find that your toddler has red stained hands from handling all those beet peels. Don't fret! Beet juice can be rinsed off their hands with running water. If their fingers are heavily stained, try soaking them in some lemon juice.
And in case your little one still mouths items, raw beets are safe for consumption! That makes this activity a taste-safe one!
Verdict?
After cooling for a couple of minutes, I gave Gwen a beet chip to sample. She munched, fell in love with the crispy, crunchy texture and couldn't stop asking for more until she polished off a third of the first batch I made.
Even my husband who is very particular about the chips he eats agrees that it is yummy. There is a sweet aftertaste which makes it more appealing than other types of vegetable chips. Personally I find beet chips more palatable than beets cooked in any other way because of its rather strong and distinctive sweet taste.
If your little one is a fan of snacks, also try homemade, toddler-approved kale chips.
Swap kid-friendly cooking recipes with me on Instagram or over my Facebook Group for fellow parents!
Hi! I am Yunnie. I am the newly minted mama to a little baby girl and a mum friend to everyone on this special (and many times scary) journey of motherhood. Also a graduated bride with a penchant for weddings.