I'm always on the lookout for new, healthy snacks to bake and taste with my young toddler (17 months) and I came across this Rustic Honey Cake by Taste of Home. This recipe is perfect because the only sweetener used is a natural one - honey, and which little munchkin doesn't have a sweet tooth?!
So it's guaranteed fun in the process and a taste winner for the outcome!
Making Healthy Honey Cake with Toddler!
As usual, I have Gwen involved in the cake-making process because it's a great activity for learning practical life skills (think Montessori!), bonding, sensory play and fine motor exercise. Of course, I generally find that it's easier to include than exclude her in day-to-day kitchen activities which she's always so curious about and eager to participate in.
Modifications I Made to the Recipe
I streamlined the ingredient list so it's really pared to the bone without unnecessary flavouring or additives. I omitted vanilla extract, baking powder and even salt and the cake still turned out pretty well! The result is a mildly sweet and very dense cake which we enjoy. If you prefer a fluffier, softer texture, don't remove the
I replaced all-purpose flour in the recipe with organic whole wheat flour to increase the nutritional value of the cake (toddlers generally eat so little sometimes, I try to make every bite count!)
The recipe uses yoghurt because the baker's child couldn't take milk. I didn't stock yoghurt at home and since my little one doesn't have milk sensitivity issues, I used the cashew nut milk. I would assume any other type of milk, dairy or dairy-free, works too.
How I Involved Gwen in the Cake-Making
I introduced honey to Gwen, and talked about how bees made the honey. She helped to squeeze and pour honey out from the honey bottle.
As raw eggs carry salmonella risk, I had Gwen help to stir the mixtures without eggs - first of honey and softened butter, then with the inclusion of flour and milk. This means I mixed up the order of baking, which turned out fine (it was just harder to stir in the eggs once the dough has formed, more elbow grease required!)
After the cake is baked and has cooled to room temperature, I passed Gwen a plastic knife to cut the cake. I saved that knife from the last birthday celebration; I find that the plastic knifes from bakeries aren't sharp and can be handled by young children with supervision.
After eating as much cake as she wanted, Gwen helped me to place the remaining slices into a jar for storage.
I was really proud of Gwen for participating so eagerly in the cake-making process! With experience in the kitchen, I can tell she's becoming more careful with stirring, making sure that the contents don't spill up, and she takes the initiative sometimes to help mop up spills with a wet towel I place within her reach!
Adjusting Expectations
It's slower.
What should be a 15 mins prep baking project might end up taking 45 mins. The efficient worker in us might be trying to hurry up the process, egging our children on with the next baking step, so what's useful is to count one to ten in your head before firing more instructions at your child who's trying to explore with her senses and learn through this hands-on experience.
Try to kick back and observe with a cuppa. This baking project is all about making meaningful memories and connections with your child.
It's messier.
There's no getting around this. You'll probably have more dishes to wash, and will use up more kitchen roll. It's a reality you have to accept involving little ones in the kitchen activities.
The reassurance is... when there's mess, it means there's learning involved. Here's more about why sensory mess is critical for learning in young children.
It's the process, not the result, that matters.
With the disordered baking steps or a delay getting the cake out of the oven due to a toddler tantrum or nap, your cake may just not taste as great as it usually does without child involvement.
And that's okay.
When serving to a picky toddler, top the cake with nuts and fruits so it'll still taste appetising to your little one. This also gives you more opportunity to try again with your toddler, until you get it right.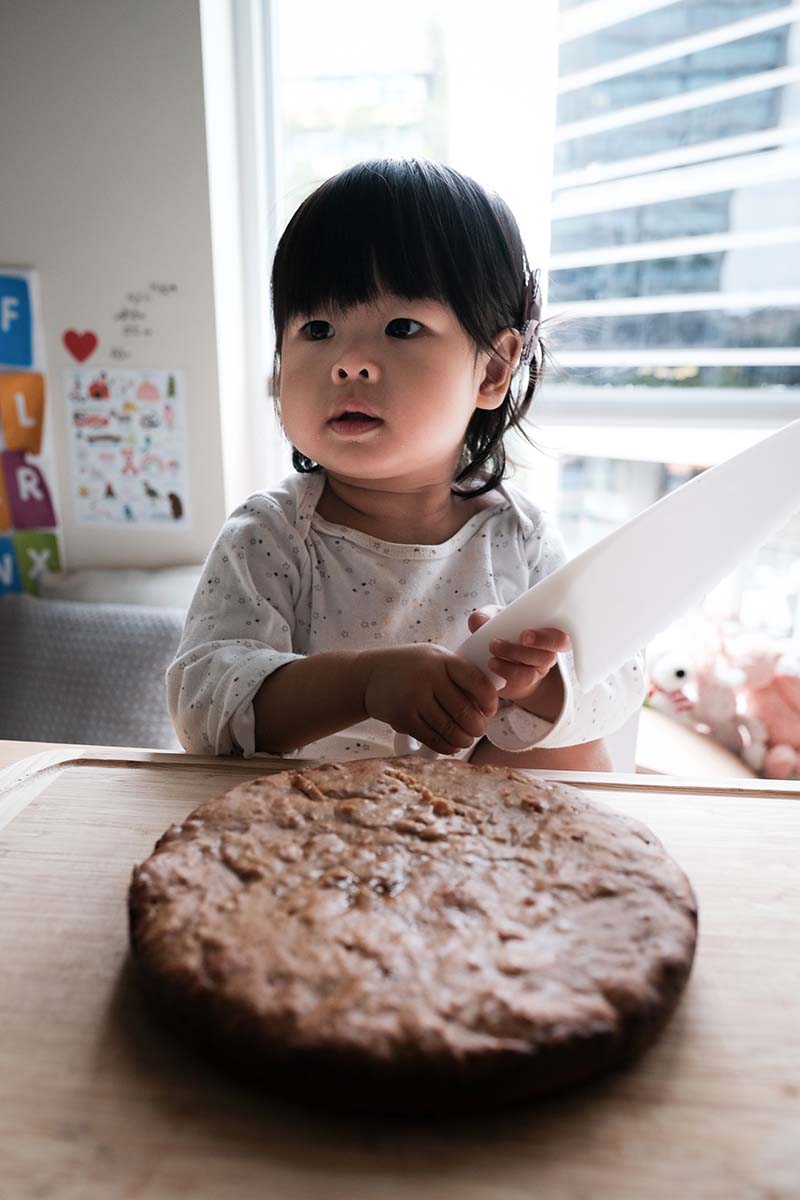 Swap kid-friendly cooking recipes with me on Instagram or over my Facebook Group for fellow parents!
Hi! I am Yunnie. I am the newly minted mama to a little baby girl and a mum friend to everyone on this special (and many times scary) journey of motherhood. Also a graduated bride with a penchant for weddings.