You could say i'm a veggie chip roll! I'd made beet chips and kale chips with Gwen previously, but now that I've tried spinach chips, I can tell you nothing beats the ease and convenience of making spinach chips!
If you're a fan of veggies, or you're trying to entice your little ones to eat some greens, don't miss this toddler-friendly vegetable snack idea!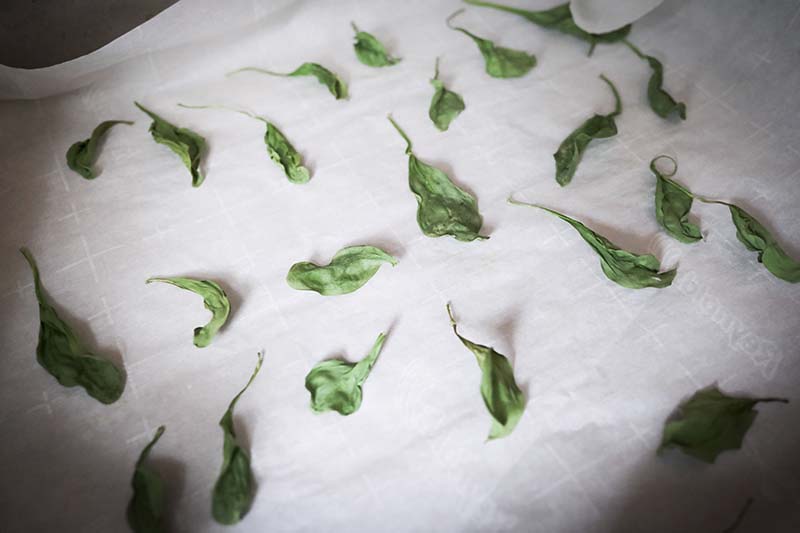 Making Spinach Chips with Young Toddler!
Recipe
I used the baked spinach chips recipe from Brooklyn Farm Girl, minus the spices and sea salt, and using baby spinach from pre-packed salad kits.
For baking time I've found 7-8 minutes of baking time to be optimal for well-oiled spinach leaves and around 9-10 minutes for non-oiled ones. I experimented with the latter batch because I found oiling made the spinach cook fast and the edges of the smaller spinach leaves were borderline charred.
Non-oiled spinach leaves weren't as crisped as oiled ones, and young toddlers who like to savor food slowly in their mouths might undo the crispiness because of that and find it difficult to swallow the soggy spinach leaves. So I would recommend oiling the spinach leaves, and keeping a close watch on the oven if possible because the size of spinach leaves can render the given baking times inaccurate.
How Gwen Helped in Spinach Chip Making
I did a quick set up for Gwen to help rinse spinach leaves in water, take them out and air them on a drying rack. The baby spinach I used were in fact triple-washed so it was okay for Gwen to not be very thorough with the washing. What was more valuable to me was her experience participating in a family routine, and honing her hand-eye coordination and fine motor skills in the process.
Verdict?
Gwen definitely liked the spinach chips (oiled version). The only issue was that chips made from baby spinach leaves got really small and curled up after baking, so there was low yield for quite a bit of work lol.
On the positive side, Gwen learnt a new vegetable! Placing a vegetable book showing a picture or illustration of spinach next to the vegetable in real life helps to reinforce the learning association!
Swap kid-friendly cooking recipes with me on Instagram or over my Facebook Group for fellow parents!
This post is also featured on Bump Baby and You UK.
Hi! I am Yunnie. I am the newly minted mama to a little baby girl and a mum friend to everyone on this special (and many times scary) journey of motherhood. Also a graduated bride with a penchant for weddings.