Lately, Gwen's been showing interest in threading a shoelace through the holes of a shoe! The book about toddler development that I'm currently hooked on, The Montessori Toddler also shared that from 16 months on, toddlers start to develop an interest in threading.
Gwen is 17 months now and I'm excited to start on threading activities to improve her hand-eye coordination and bilateral use of hands.
Threading beginners can be easily discouraged by the difficulty of stringing small beads as they still need time to hone dexterity and their fine motor skills. Hence I looked at Pinterest for inspiration on easy threading activities and came across Laughing Kids Learn's experience of using cardboard beads!
I love how she used coloured paper to add a pop of colour to this simple activity! She mentioned that the original idea of using cardboard beads came from The Imagination Tree so I hopped over for a look too, and I love how pipe cleaners were used in place of shoelaces so the end product could become a necklace.
Modification I Made
I think the paper roll idea is absolutely brilliant, and I hoarded plenty of paper rolls so I definitely had lots of resources on hand to get started on this activity! On top of an old shoelace, I dug out the tubing from my breast pump (which I'm no longer using and is collecting dust) for Gwen to experience using both types of "thread" and make a comparison between the two!
The tubing I thought was perfect for this threading activity because it held its own shape (unlike shoelaces which require a firm grip at the right parts) and could still be flexed and manipulated easily to fit through paper rolls!
The Setup
I used two tips learnt from The Montessori Toddler to set up this threading activity to make it more appealing for Gwen.
Show the items belong together. I placed all the necessary ingredients for the activity into a wooden crate so it's easy for Gwen to recognise that she could use all the elements within the crate for the activity.

Undo the activity. A toddler is more attracted to activities that are undone than one that's been completed (e.g. jigsaw puzzle pieces placed together in a bowl next to an empty jigsaw base vs. all the jigsaw puzzle pieces fitted into the base) It's also recommended to place the elements to be fitted in (e.g. jigsaw puzzle pieces) on the left, and the element that hold the fitted pieces (e.g. jigsaw puzzle base) on the right as a left to right movement is indirect preparation for learning to read. Therefore, I placed the cardboard paper rolls on the left, while the tubing and shoelace go on the right.
Gwen's Play Experience
Gwen immediately reached for the shoelace because she was familiar with it and I gave her verbal instructions to string the paper rolls through it, which she managed to!
At first she didn't want to touch the tubing because it probably looked too foreign to her. I modelled threading using the tubing and after some time, she asked to hold it. Holding two ends of the tubing, she swung the paper rolls round and round, then giggled. I was glad she overcame her uncertainty and learnt to manipulate a new object.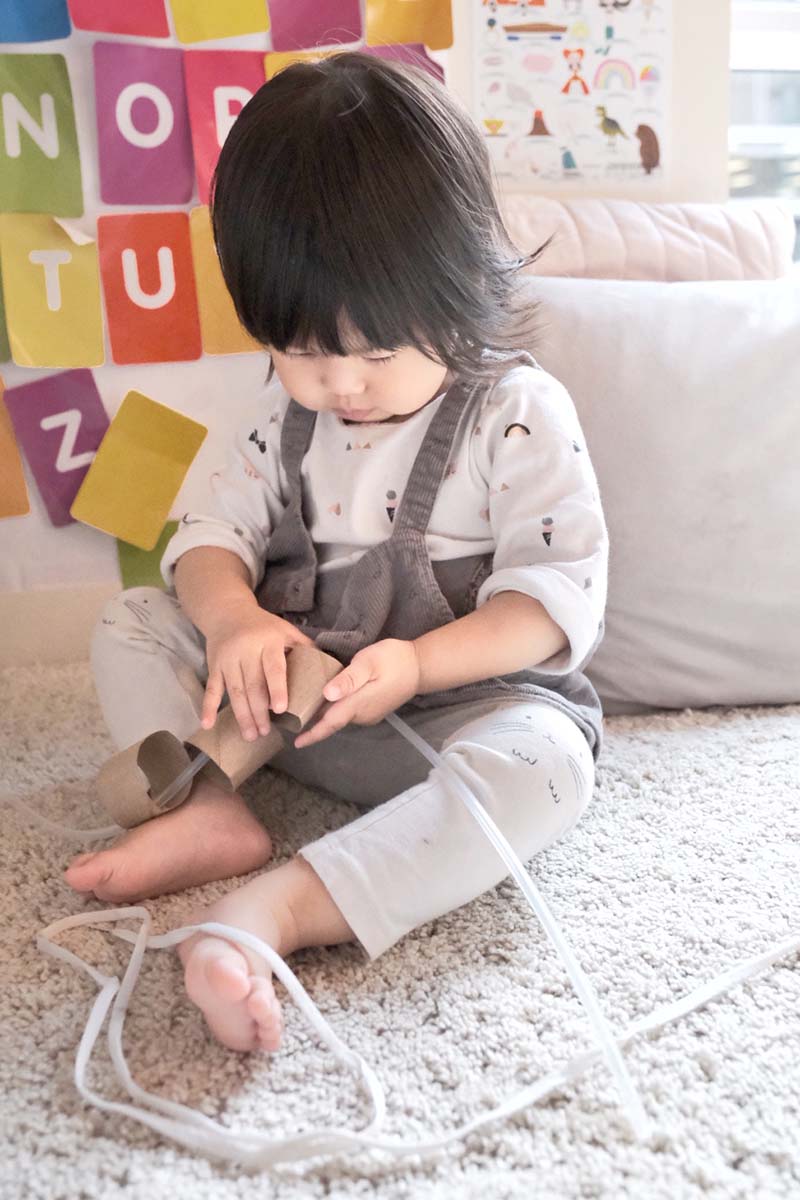 The threading activity didn't last long but I'll repeat it again, probably with a colour sorting theme or fashion it into creative bookish play by turning the threaded paper rolls into The Very Hungry Caterpillar.
Hi! I am Yunnie. I am the newly minted mama to a little baby girl and a mum friend to everyone on this special (and many times scary) journey of motherhood. Also a graduated bride with a penchant for weddings.