This is another fine motor threading activity idea that struck me by chance... and it is a great challenge for tenacious, little toddler hands! Would recommend adding threading activities into child's play at around 18 months, a good developmental age to start threading.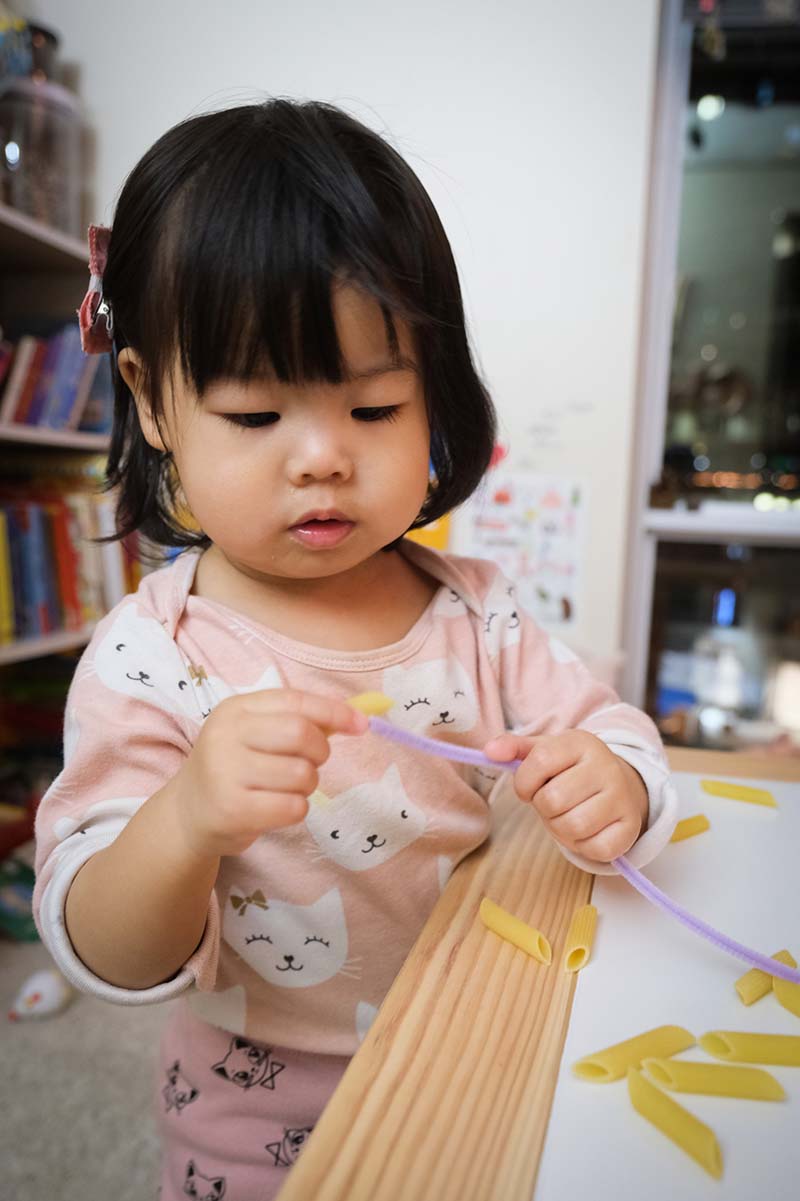 Pipe Cleaner Penne Pasta Threading Activity for Toddlers!
Materials
Pipe cleaner (or chenille stem), commonly found at craft stores and Dollar Tree
Penne pasta pieces, uncooked
Tray (good to have, sharing why below)
Steps and Setup
This was how I guided Gwen for this activity, before letting her attempt the threading on her own.
Name the items for the activity - "pipe cleaners" and "pasta pieces".
Demonstrate threading pasta pieces into the pipe cleaner in silence. The Montessori Toddler book recommends demonstrations to be done without issuing verbal instructions simultaneously so that children can focus on observing the hand movements without being distracted.
Explain that the action of inserting the pipe cleaner into the holes of pasta pieces is called "threading".
Place the items back onto the tray. Invite Gwen to thread on her own.
She managed to thread her first pasta piece and was emboldened by the success but struggled with getting the second piece in because the pipe cleaner had been twisted into a weird angle. She asked for help and I stepped in to hold the pipe cleaner upright so she could place the pasta piece in. Gwen wanted my help for the subsequent pieces.
I left the tray at her play area for her to re-attempt the threading activity at her own time and pace. She did at a later time in the day and was happy to do it on her own. She's usually done with the threading activity by the second piece haha but I think it's a good start.
To amuse her, I would loop her masterpiece - the pasta necklace - around the neck of her favourite stuffed toys.
I also used two tips learnt from The Montessori Toddler book to set up this threading activity to make it more appealing for Gwen.
Show the items belong together. I placed all the necessary ingredients for the activity into a tray so it's easy for Gwen to recognise that she could use all the elements within the tray for the activity.

Undo the activity. A toddler is more attracted to activities that are undone than one that's been completed (e.g. jigsaw puzzle pieces placed together in a bowl next to an empty jigsaw base vs. all the jigsaw puzzle pieces fitted into the base) It's also recommended to place the elements to be fitted in (e.g. jigsaw puzzle pieces) on the left, and the element that hold the fitted pieces (e.g. jigsaw puzzle base) on the right as a left to right movement is indirect preparation for learning to read. Therefore, I placed the penne pasta pieces on the left, while the pipe cleaners go on the right.
Benefits of Threading
Improve fine motor skills (Reaching for a pasta piece, picking up a pasta piece, and then rotating the piece to thread it use varied hand movements. These hand movement practice enable children to pick up holding a pencil for drawing and writing at a later age.)
Hone bilateral use of hands
Enhance hand-eye coordination (To thread a pasta piece onto the pipe cleaner, visual perception and estimation are required. Then, hands have to coordinate fitting both pieces together.)
Build focus and concentration (An important soft skill that'll set children up for success at more labour-intensive, challenging tasks in the future!)
Hone counting skills. Threading is a good way to teach math through counting pasta pieces and getting used to lengths and numbers.
Calming nerves (Probably that's why seniors find beading a therapeutic activity!)
Hi! I am Yunnie. I am the newly minted mama to a little baby girl and a mum friend to everyone on this special (and many times scary) journey of motherhood. Also a graduated bride with a penchant for weddings.