Does your little one enjoy picking wild flowers on strolls in the park? Little Miss Gwen (14 months) loves spotting daisies and dandelions in the grass fields, picking them, peeling the flower petals off one by one, before depositing (lol or dumping) the petals and stalks in my hands.
As a mum, it's so sweet to receive flowers from your child! The first time Gwen picked a daisy and passed it intact to me - I pressed it onto the back of my transparent handphone case to preserve it forever. Precious memory!
But it wouldn't do to have Gwen pick all the flowers she sees, and what happens on days we can't go out due to illness or bad weather? I decided to make her pluckable flowers that she can explore over and over again.
Then it accelerated quickly into making her a sensory garden.
Pluckable Flower Sensory Garden for Toddlers!
This isn't the usual quick and easy play hack that I try, it took two naps to complete this sensory garden, but I think overall it's worthwhile just to see her enthused reaction to the pluckable flowers!
After I demonstrated how to peel one flower petal off, she started plucking them off one by one until we were left with a bald stalk! I stuck them back and she repeated 3-4 times before she had enough of plucking flower petals.
Gwen also surprised me with her ingenuity by taking the bee out of the flower to use as a sand shovel!
Tutorial for Making Your Own Pluckable Flower Sensory Garden
Pluckable Flowers
Cut a paper roll into half
Pick one end of the halved paper roll to cut small slits (I cut 8 times)
Peel each compartment of the paper roll backwards
Trim velcro dot stickers (use the rough hook side) to fit each compartment of the paper roll
Cut 8 flower petals from felt fabric and stick them onto each individual compartment (felt adheres naturally to the rough hook side of velcro, so you don't have to paste the soft loop side of the velcro stickers onto the flower petals)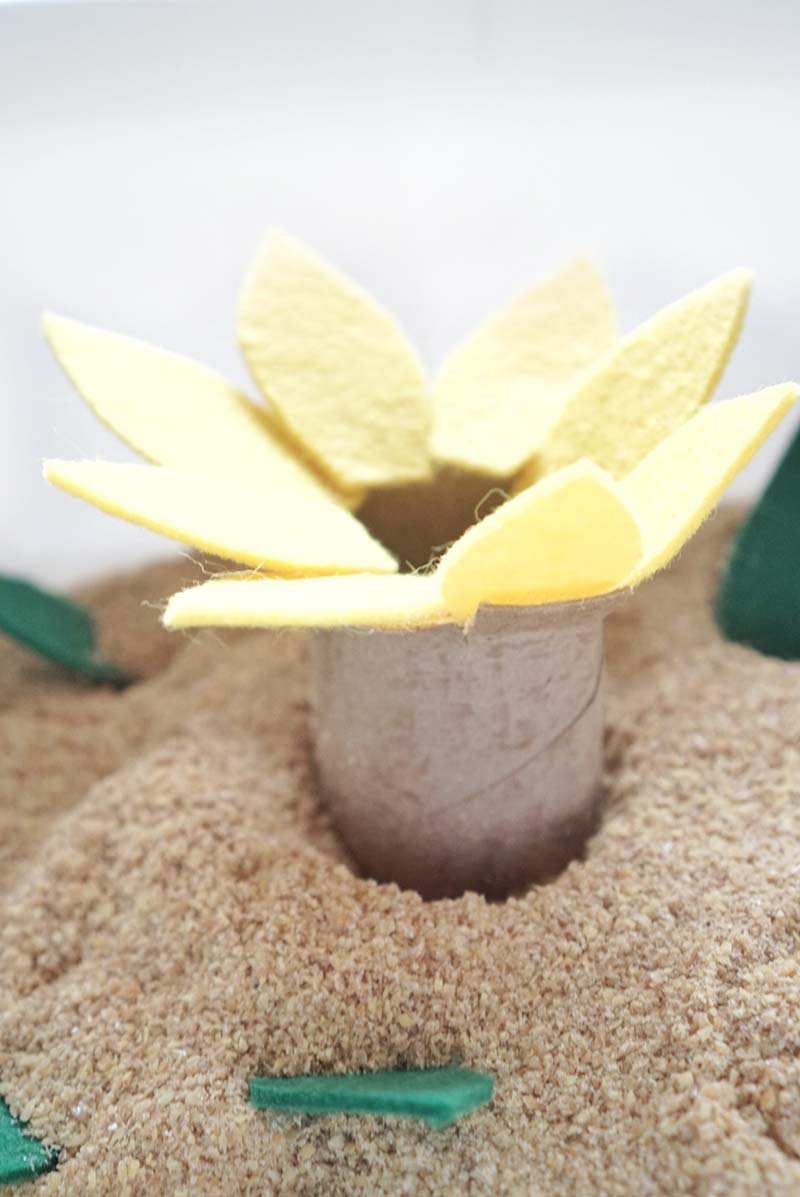 Sand
My secret sauce for not just edible, but nutritious, sand is ground flaxseed (Also check out the sensory edible sand activity I did with Gwen using this ingredient!)
Note: If you don't have flaxseed, feel free to use black beans, brown rice or blended graham crackers.
Grass
Cut strands of grass from green felt and stick them into the flaxseed sand
Bee
Cut a round yellow circle from felt for the bee's face and stuck a pair of googly eyes on it (from Dollar Tree)
Hot-glue the bee's face onto a yellow popsicle stick (also from Dollar Tree)
Cut 2 short lengths of black straws and hot-glue them to the top of the bee's face for feelers
Hot-glue a yellow pom pom ball beneath the face to form the bee's body
Cut small strips of black felt for the bee's stripes and hot-glue to the pom pom ball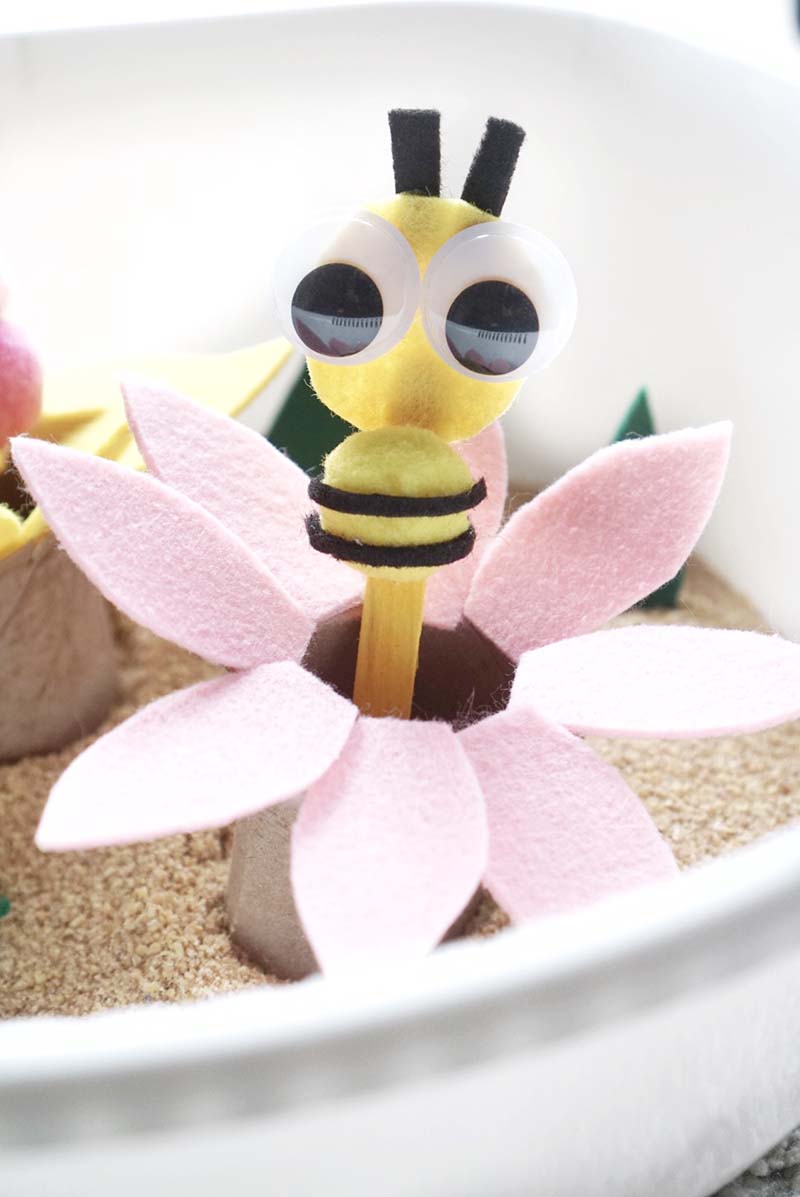 Butterfly
Cut 2 short lengths of black straws and hot-glue them to a coloured popsicle stick for feelers
Hot-glue 4 pom pom balls, 2 on each side of the popsicle stick to form fluffy wings for the butterfly
Tips
I set up this sensory garden in Gwen's play area and we explored the flowers first. When she started digging into the sand and tried to pour it out, I immediately moved her and the sensory bin to the bathtub to continue play. Once done, I washed her up in the bathtub and it was a mess-free play experience. This is good for young toddlers who still don't get the rules for using sensory bins (not to tip over, scatter around).
Parental supervision is required for this activity.
I hope you and your child have a ton of fun with this sensory activity! Follow me on @miraculove_sg (Instagram) or A Toddler Activity A Day Facebook Group for more creative play ideas!
Hi! I am Yunnie. I am the newly minted mama to a little baby girl and a mum friend to everyone on this special (and many times scary) journey of motherhood. Also a graduated bride with a penchant for weddings.