My mum friend A recommended me a farm, The Farm at Swan's Trail in Snohomish, to visit. There's more to it than pumpkin picking, she said, describing activities that sound like wholesome family fun. So off we went last weekend!
The Farm at Swans Trail WA Visit with Young Toddler!
Verdict?
What an awesome recommendation. I couldn't have picked a better place to bring Gwen where there are many farm animals to see and pet, lots of opportunities for sensory play and gross motor workout and generally a place for her to experience many firsts!
What I love about The Farm at Swans Trail:
Petting farm: The goats have such different temperaments and are a joy to see and pet! I especially loved this goat who sat right in the middle of the petting area and gave a serene smile to everyone who stroked her fur. There were baby goats jumping about too, for high-energy toddlers to run after. The petting farm is well maintained and the animals look well cared for.
Giant hay slide: The biggest slide Gwen has tackled to date. She wore such a shocked expression as she came down the slide with her dad, but quickly recovered and even asked for more.
Corn box: 'Box' is an understatement. It's a corn house. Or corn mansion lol. We spent 45 minutes here in this corn haven with dried corn kernels everywhere we looked. It's such a wonderful feeling to lay on a bed of corn, it feels like a cushy bean bag without a cover lol. Kids were going crazy here shoving corn into their clothes for fun, making corn angels, swimming in corn... Gwen was scooping corn, burying her feet in corn and trying to walk and jump in corn. So much fun! The good thing is that there's someone to supervise ensuring no rough play and no throwing of corn, so little kids can play in safety.
Rubber duck race: The setup for this rubber duck race was so fascinating! It works like a traditional well pump, whereby you push a lever up and down a few times to send water gushing out. The rubber duck floats along the pipe with the water from one end to the other. Gwen was far too young to work the system but she loved observing how the well worked and enjoyed watching older kids racing their rubber ducks.

Live duck race: Gwen's first watching ducks swim for the finish line and then run (yes run!) back to their coop! Since then whenever she spots ducks in her books, she would say, "Ra ra ra!" (for run run run). The commentator did a great job introducing each duck contestant's name and getting the crowd psyched for the race. I can't believe how well-trained the ducks are!

Adult corn maze: We hopped onto the wagon ride thinking it was taking us for a farm tour, but it turned out to be a ride towards the corn maze. We went ahead anyway and panicked slightly when we realised everyone else was holding maps and we were thoroughly ill-prepared for navigating the maze lol. Fortunately, there was a blown up board at the corn maze entrance with the map and modern technology enabled us to take a photo of it lol. The husband also memorised the route before we began, which was a great help. I loved that when we were almost at the exit of the maze nearing Seattle, there were miniature structures of the Pike Place Market gum wall and Seattle Space Needle. Seeing those familiar landmarks brought immense relief (nearly out of the maze!) and happiness. Kudos to the team who designed the maze.
Pedal tractors: I'm not sure what the real names of these riding equipment are, but they were so fun (albeit effort-intensive) for an adult to take a child on a ride around the mud tracks!
Tractor-pulled train ride: Gwen's an absolute train and tractor lover so this was a winner for her. Each car of the train was big enough to seat an adult and small child so she got to ride it with Daddy. Daddy felt quite car sick from the train ride because it was bumpy to the max, but Gwen had a different opinion lol. I think she couldn't get enough of it. She kept asking to go back to the "choo choo" (her term for trains) even a few days after the farm visit!
Great variety of food and drinks. It was a fuss-free, no-queue kind of ordering, payment and food collection system. We ordered at a central booth, got coupons with illustrations of the food, passed the coupons to the respective food vendors and received our food, in a really fast and efficient way (especially it being a weekend lunch hour). We got pulled pork burger, corn dog, cider donut and cheese fries, along with hot apple cider and coffee. There was a sheltered seating area with benches and tables where we could comfortably rest our feet and indulge.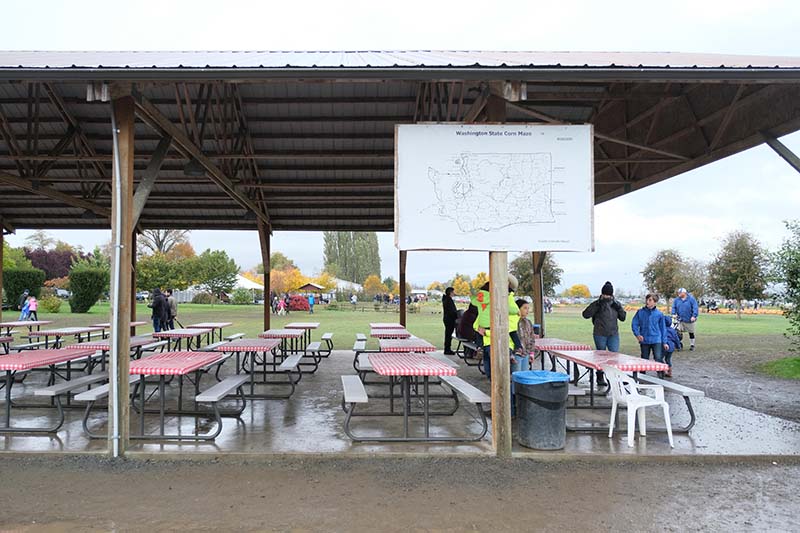 What seemed interesting but we didn't get to try:
Actual pumpkin picking lol (But we saw like 5 different sizes and price ranges of pumpkins, bound to cater to all kinds of pumpkin needs!)
Apple picking (Apple u-pick was closed for the season when we visited in mid-Oct)
Seeing the famous Farmer Ben's Little Pigs Show (Haha we were stuck in the corn box with an enthusiastic toddler)
Thoughts:
DON BOOTS! It's definitely the muddiest farm we'd visited lol, no thanks to the rain on the day we visited. We made the mistake of going in sports shoes (very noob decision) though the silver lining was that we had somehow gotten Gwen in boots that day.
Follow #gweninnature for my chronicles of traipsing North America with a toddler and seeing nature through her eyes.
Hi! I am Yunnie. I am the newly minted mama to a little baby girl and a mum friend to everyone on this special (and many times scary) journey of motherhood. Also a graduated bride with a penchant for weddings.