I chanced upon @flisatfun's post on giving her twins lint remover sticks to stick up wool and yarn scraps while she hustles around the house and immediately bookmarked it to try with Gwen!
(Btw go follow this inspiring mum's account for amazing play and learning ideas for a range of ages from 2 to 9!)
Trying Out Pom Pom Ball Lint Remover Activity!
What a ingenious idea to repurpose a household item for safe yet fun child play, especially if you have a lint remover stick lying around at home collecting dust (I'm guilty of wearing lint-covered clothings out, who's got time to remove lint when you've a totnardo going through your house?)
Setup is fairly straightforward, hop over to @flisatfun's original post for details. I would say it helps to use a sensory table so you don't get little fabric bits all over your carpet and there's less chances your little one will be distracted before your activity even starts!
Modifications I Made
I added pom pom balls and random crocheted items in the mix in hope that Gwen would like the variety.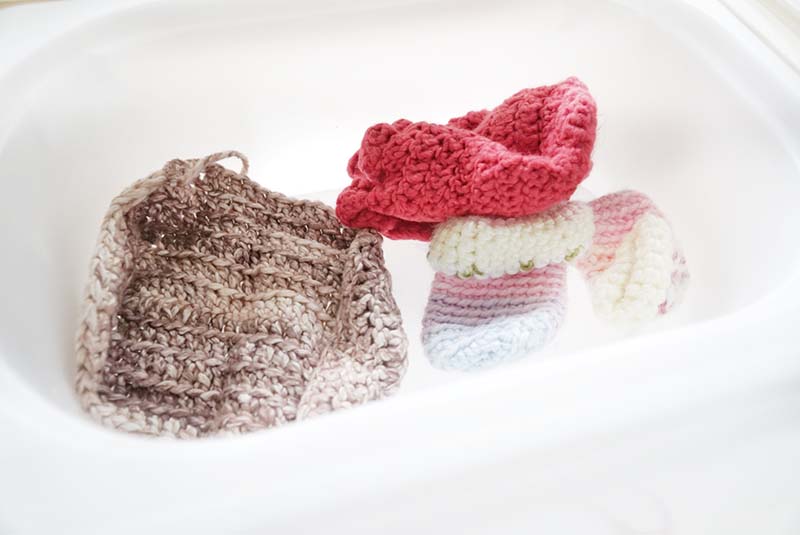 Verdict
I think it's a superb idea but for some reason, Gwen's interest in the activity dwindled like a 100% battery falling to 0% in seconds.
She waved the lint remover in the pom pom balls and was surprised to see them stick. She plucked them off the lint remover stick and touched the lint remover stick, made a face and everything went downhill. She didn't want anything to do with the lint remover stick after that.
I assume she was disgusted by the sticky surface of the lint remover. Mine is the adhesive type from Daiso which is super sticky on its surface. I suppose the result could be different with conventional lint remover sticks from IKEA (with the bristly surface) but I don't think I want to spend on a household item that I honestly lack the time and energy to use 😂
Reflections
As with toddler activities, it's a hit or miss. Since this took very little, almost zero, prep, I didn't mind the lackluster result at all. I would probably repeat this activity sometime in the future with Gwen, who knows she might get over the dislike for sticky textures then.
That's the thing with toddler activities, they need to be repeated time and again for children to truly benefit and learn from them. Moreover, the same activity conducted at different developmental ages could actually yield different results. It's easier to be discouraged when play doesn't go the way you envision, but I tell myself it's okay, and to try again!
Sand play is one good example. Gwen first reacted adversely to sand (a foreign and unfamiliar sensation and texture) but soon acclimatized to and now enjoys sand play due to my persistence. So I remind myself of this little success whenever things seem to go awry!
Follow my play experiments with Gwen on my exclusive Facebook group for parents or on Instagram!
Hi! I am Yunnie. I am the newly minted mama to a little baby girl and a mum friend to everyone on this special (and many times scary) journey of motherhood. Also a graduated bride with a penchant for weddings.