We currently live in Seattle, the city Amazon calls home. It was therefore a natural decision to visit Amazon's urban campus in downtown Seattle, and see the architecturally stunning Amazon Spheres for ourselves!
What are the Seattle Amazon Spheres?
The Seattle Amazon Spheres are three greenhouse glass domes in Seattle, Washington, United States, that are part of the Amazon HQ city campus. They are about three to four stories tall and house an astonishing 40,000 plants from 50 countries. The Spheres have become an iconic landmark and tourist attraction for Seattle.
What Stood Out to Me
The Spheres is simply teeming with diverse flora and fauna, but what stood out was their stairwell shaft covered by a four-story "living wall" with 25,000 plants! Apparently there are carnivorous species from Asia in that mix!
The interior of the domes is at a nice warm temperature (you can ditch your outerwear!) and humidity level, irregardless of the weather changes outside! Wikipedia states that it is kept at a temperature of 72 °F (22 °C) and 60% humidity during daytime.
Many of the greenery are exotic, but among the most unique ones are the 55-foot (17 m) Ficus rubiginosa tree which had to be lifted into the Spheres by a crane in 2017 and the Amorphophallus titanum corpse flowers named "Morticia" and "Bellatrix" which bloomed in 2018 and 2019 respectively. Their blooming drew in large crowds.
The all-gender bathrooms. I've honestly never been to one! It's still somewhat a shock to be washing hands at the sink and seeing a guy walk out of the cubicle lol.
What Stood Out to Gwen
In the Spheres
Rock Steps at a Water Fountain: Gwen was intrigued by the water fountain and wanted to rock hop across it!
Wooden Bridges to the Bird's Nest Tree House: There's a curious flex to the wooden steps when you walk on them, and the movement plus sound is really unexpected! Gwen found the flexing beneath her feet very interesting and she walked the wooden bridges a few times just to experience it over and over again!
Bird's Nest Tree House: Gorgeous architecture and so inviting to relax there with a cuppa. Yes, Gwen tried to climb the structure the moment I turned my back for a while. While the nest looks structurally stable, I wouldn't advise it!
Sun Beds: I can't think of a better way for Amazon employees to work! Sunbathing and writing codes sound like an odd but wonderful combination. It's definitely a nice place to catch forty winks over lunch or teatime.
The elevator with all-surround whiteboard walls (for meetings on-the-go?) Gwen did a bit of doodling there. If you bring along a stroller, ask for where the elevator is!
Outside the Spheres
The outdoor area with gigantic bean bags, steps and a life-size pool zone on a synthetic grass patch where kids can frolick about in the sun. Sometimes, the community banana stand is located there where you can get a free banana snack for your little one!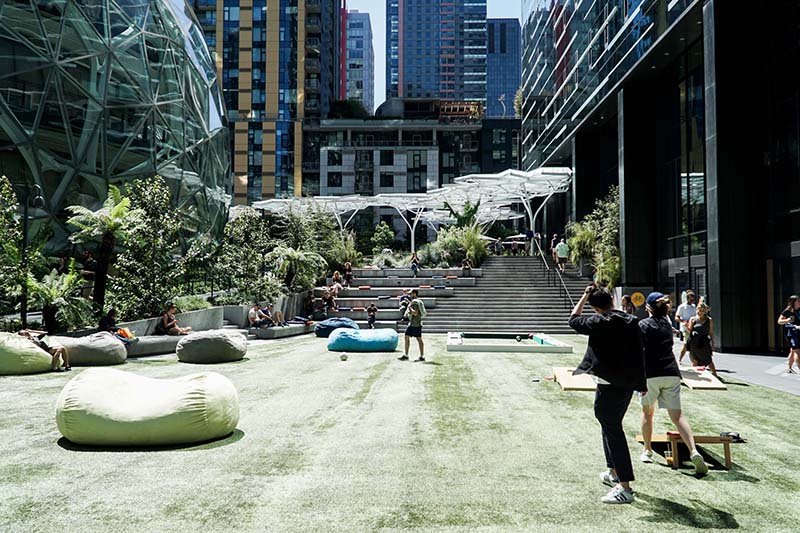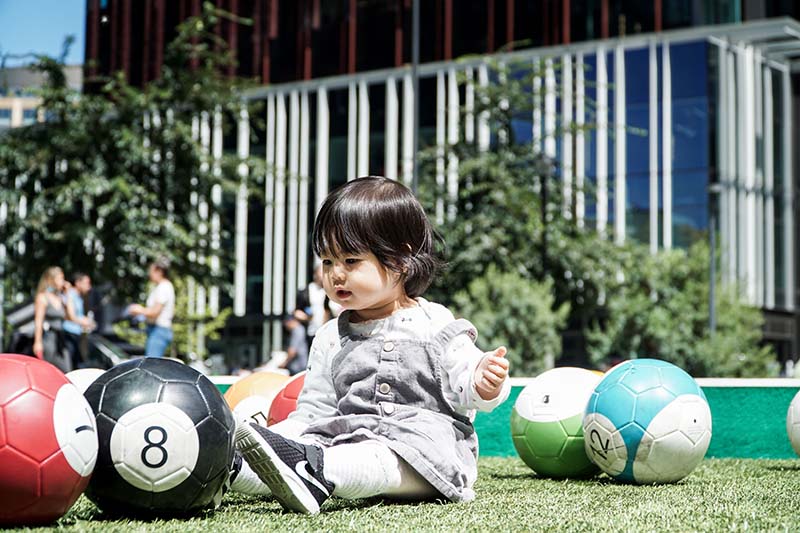 Off-leash dog area with friendly pups, many of whom spend their day at the Amazon offices with their owners!
Understory with a public exhibit and a small kids play zone where there are blocks for kids to build a pretend green town!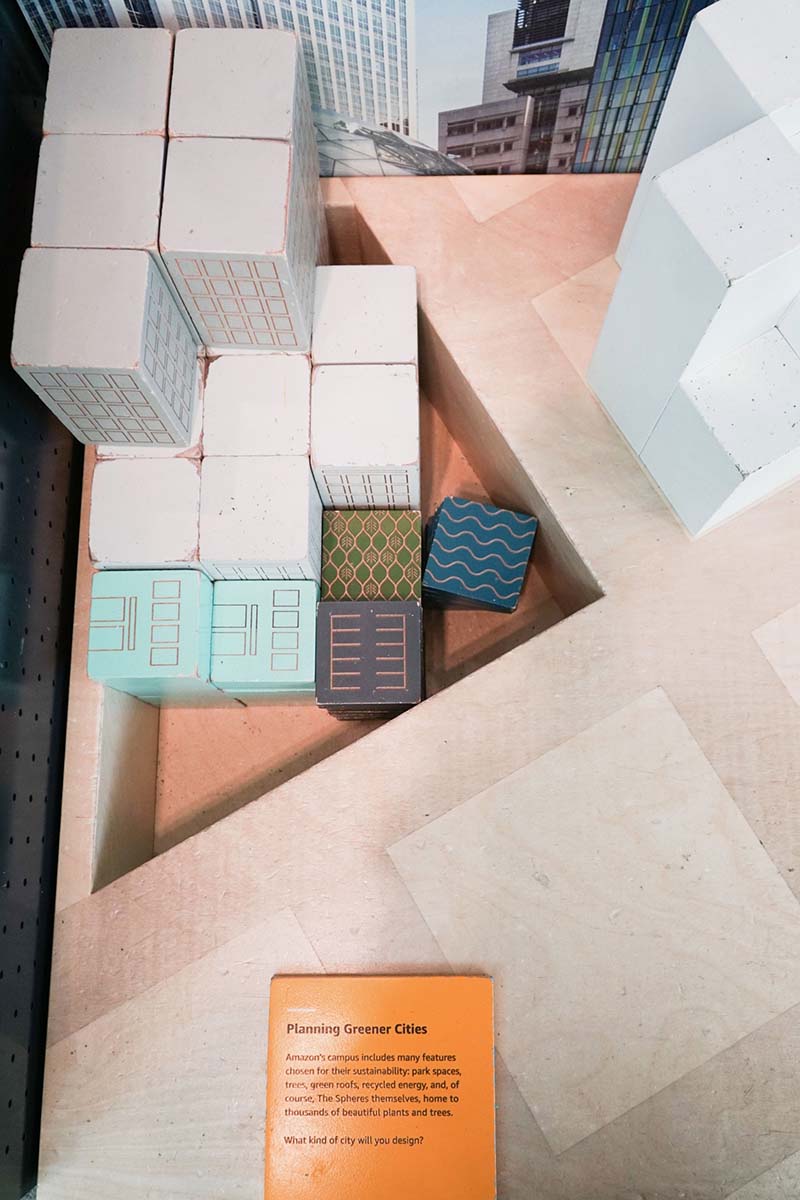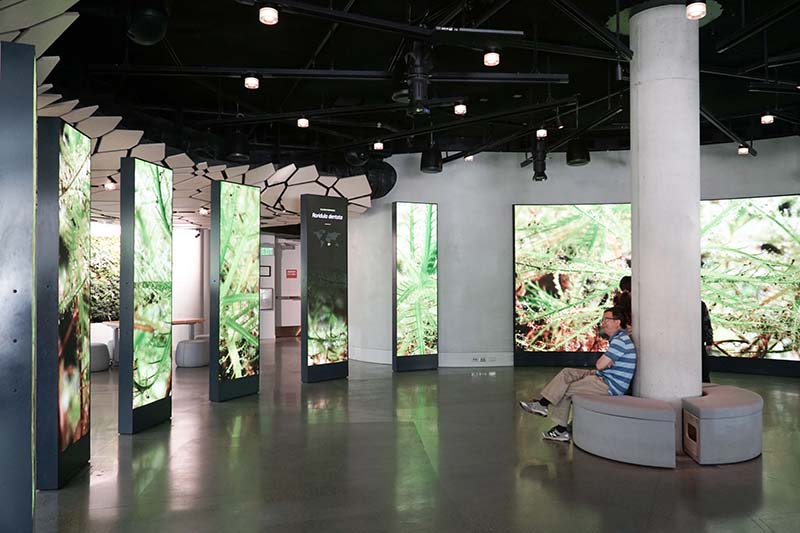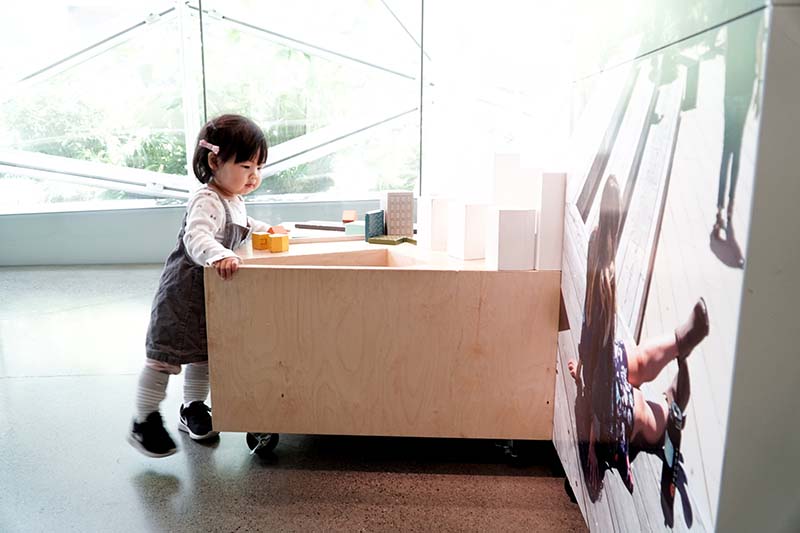 Is Amazon Spheres Open to the Public?
The Amazon Spheres are generally reserved for Amazon employees' use, but are open to the public through weekly headquarters tours and an exhibit on the ground level.
To schedule a tour, you can visit the Amazon Spheres website. I read from Marcie in Mommyland's Blog that tickets do run out fast, so keep a tight watch on their release!
Why Visit The Amazon Spheres with Young Children?
It's a great opportunity to teach children about biodiversity and greenhouses
The environment is ideal for seeing and appreciating nature upclose in a safe and guided setting
Seeing how modern-day offices integrate nature into the work environment cultivates the mindset that we can be one with nature if we humans make the effort to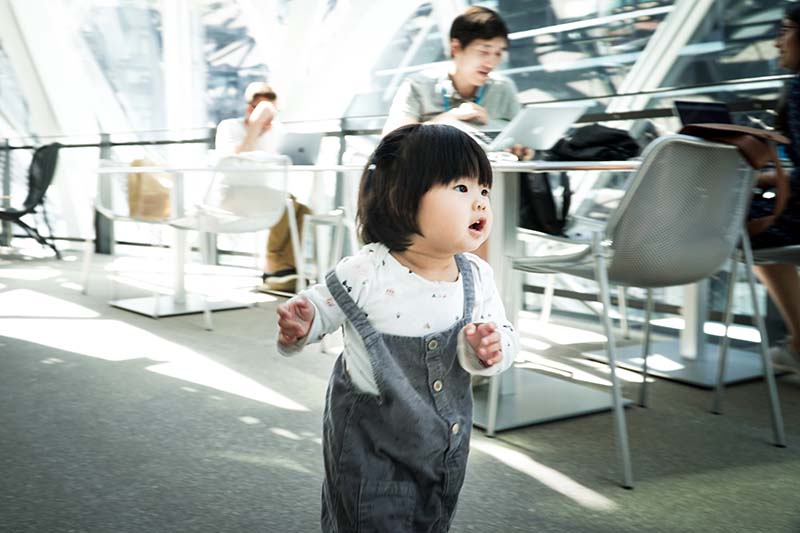 Considerations
Watch out to ensure children don't touch the plants!
If you're starving and doughnuts aren't your thing (they're available at the General Porpoise store on the second level in the Spheres), you can grab microwaveable meal kits from the nearby Amazon Go stores (read my experience here) or a heartier burger meal at the nearby Shake Shack
I couldn't find a nursing or diaper changing room in the Spheres, so you might like to bring a diaper changing mat and nursing cover along
Follow #gweninnature on Instagram for my chronicles of traipsing North America with a toddler and seeing nature through her eyes.
Hi! I am Yunnie. I am the newly minted mama to a little baby girl and a mum friend to everyone on this special (and many times scary) journey of motherhood. Also a graduated bride with a penchant for weddings.