The topic for my Parent Education co-op class this week was Rituals and Routines. All the attending parents shared ideas about how they make holidays special and memorable for little ones. Some keep old family traditions, others make new ones!
When traditions are done consistently year on year, they become rituals that children associate with special holidays and look forward to. Many even become fond childhood memories that they attempt to replicate when they start their own families!
Inspired to create holiday rituals, I planned this snowman pancake Christmas decoration activity. Miss 20 months loves hands-on art activities so I was positive this would be a hit! It sure was ;)
The highlight was her squeezing whipped cream out of the piping bag and exclaiming "wow!" with every squeeze. Photo of the day was her sporting a white whipped cream moustache lol.
Whipped Cream Snowman Pancake Christmas Decoration!
I invited my neighbor's preschooler and toddler girls to join in the fun because this activity makes for great social interaction and play! It's also easier to prep the setup when it's for more than one child (economies of scale!)
The Snowman Pancake Activity Setup
Ingredients:
For homemade whipped cream: Today convinced me that it is possible to make sugar-free whipped cream, literally just don't add sugar! My whipped cream started from 2 cups of heavy cream whipped on medium-high speed (6-8) on Kitchenaid for about 5-7 mins until soft peaks formed. The lack of sugar makes the structure a little weaker, but it's still good enough for piping!
Decorating supplies: I laid out halved blueberries (so they sit on the pancakes), sliced grapes, goji berries, pumpkin seeds, pine nuts, pretzels, coconut flakes and heart-shaped chocolate - basically whatever's in my pantry. You can add real carrot sticks too (for snowman's nose!)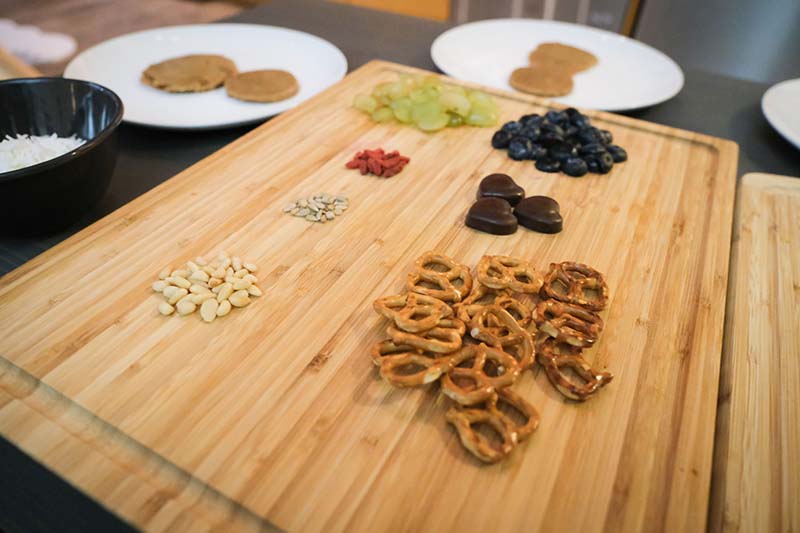 Steps:
Make the pancakes an hour before use so they cool down to room temperature and don't melt the ingredients placed on top
Use circular cookie cutters to cut out 2 circles for the pancakes, 1 big (for snowman's body) and 1 small (for snowman's head). Alternatively (which is what I did since I didn't have circular cookie cutters), I pressed the lid of a mason jar and an overturned ramekin onto the pancake to cut them into circles.
Make whipped cream 15 mins before use so they hold their shape. Place into piping bags (I used ziploc bags and snipped a small hole at the corner for fitting small metallic piping nozzles)
Lay out the ingredients and pancakes and let free play begin! Some guidance is needed for very young children.
What I Love About this Activity
It's 100% taste-safe, perfect even for mouthing babies and toddlers still in the oral exploratory stage.
This activity engages all the senses, primarily sense of sight, taste and touch.
There's no right or wrong in sensory play so children develop autonomous thinking and decision-making skills.
This activity transforms an everyday breakfast food into something creative and special!
Involving a child in the creation process of food encourages them to eat it.
It's lovely when children get to literally taste the fruits of their labor!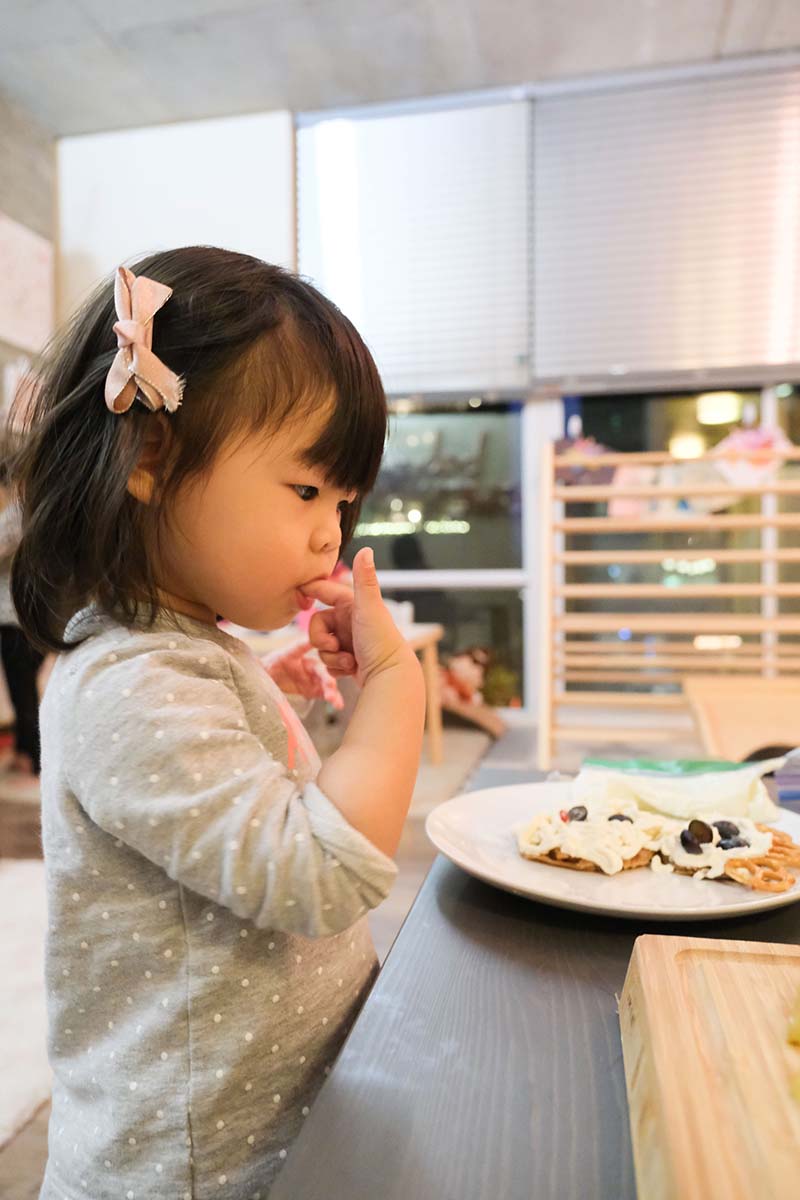 Benefits of this Activity
Sensory play boosts brain development (Wrote about it here.)
Promote creativity and self-expression through art
Develop fine motor and motor planning skills as children pick up ingredients and position onto their snowman pancakes
Build spatial awareness of relationships between objects
Social development when activity is conducted in the company of a few children
Build language skills and vocabulary
Object/character recognition (Snow, snowman)
Fun Christmas Rituals for Kids
Other wonderful ideas for Christmas rituals I've found in the blogosphere:
Hi! I am Yunnie. I am the newly minted mama to a little baby girl and a mum friend to everyone on this special (and many times scary) journey of motherhood. Also a graduated bride with a penchant for weddings.