Welcoming a new baby is an exciting time for the family, parents and toddler (or elder sibling) included. But the arrival of a new family member could also bring forth questions, worry and trepidation.
It is a big adjustment for the parents who might have already settled into a predictable daily routine with their firstborn, and for the toddler, who has never had anyone else to share his/her parents with. Understandably, while having a new sibling could teach a toddler to love and care, it might also evoke other big feelings, such as anxiety, jealousy, anger or confusion.
What is the Montessori way to welcome a new sibling?
The Montessori way of preparing firstborns for their new baby sibling is to explain to them in as much detail as possible what will happen and what to expect. Additionally, Montessori parents actively include the toddler in the process of welcoming the newborn baby home -- all to emotionally and psychologically prepare their firstborn for their future role of big brother/sister.
From putting together a wardrobe for the new baby, picking out toys, baking lactation cookies for mom, decorating the nursery, there are lots that we can tap on toddlers' inherent zeal, helpfulness and curiosity to prepare for a newborn.
Here are 10+ easy, low-cost DIY baby toys you could involve your toddler to create for his/her new sibling. Nothing beats a handmade greeting gift to show the newborn baby that he/she is received with love.
The recommended timelines for introducing these baby toys are just a guideline, do follow your child's cues, inclinations and development.
For newborns:
1. Black & White Nursery Prints
Bold, contrasting black-and-white images stimulate the development of babies' optic nerves and encourage cognitive development. They make great decor for the nursery, and can be pasted right next to the diaper changing table, ideally within 8-15 inches away, within the focal distance of newborn babies.
Note: These images aren't substitutes for parents' adoring gazes, as newborn babies prefer to look at faces over objects.
Black and white nursery prints are easy to make with toddlers, and they'll enjoy the art and craft process of cutting and glueing.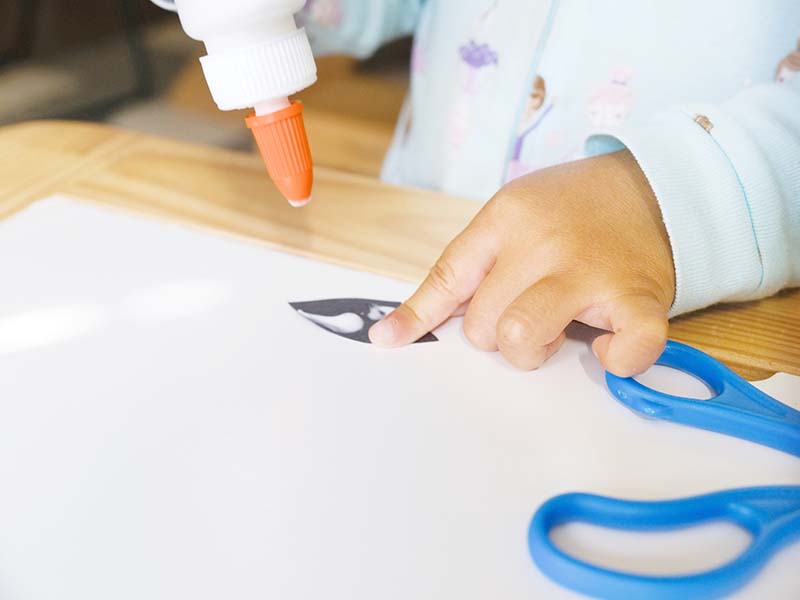 My toddler helped to cut out different shapes on black construction paper and apply glue while I guided her to position them onto square white cardboard pieces.
Newborn babies show a stronger preference of looking at round shapes with light and dark borders (similar to how eyes are shaped), so opt for designs showing more of these.
2. Spiral Visual Mobile
Visual mobiles provide developmentally appropriate stimulation to babies in their crib (or when older, from the rung of their activity gym).
The Montessori-aligned visual mobiles are the Munari, Octahedron, Gobbi and Dancers mobiles, but they are too complicated to DIY with a toddler.
These black and white spirals are my spin on the Montessori-aligned visual mobiles, and manageable for toddlers' involvement.
First, I drew a round spiral on white and black construction paper and invited my toddler to follow the line and cut. We practise scissors cutting with myriad activities almost every other day, so this wasn't too much of a challenge to her, except that the paper we used was flimsy/lightweight and broke off easily. I would recommend to draw bigger spirals, and use higher weightage construction paper.
After we were satisfied with the spiral cutting, I tied them to a wooden disposable chopstick serving as my temporary visual mobile holder.
I took pictures of how the spiral mobiles would look when a baby looks at them from below. The spirals move and spin at the lightest breeze, which makes it a delight to view.
I believe this spiral visual mobile would help improve babies' ability to track objects as well as build focus and concentration.
Loving how low-cost and simple this toy mobile is to help hone babies' eye movement and boost visual development.
For babies doing tummy time:
3. High-Contrast Story Book
High-contrast black and white storybooks are ideal to read to babies in at least the first 3 months, as they are shown to visually stimulate baby's vision and brain growth. This handmade high-contrast story book is ideal to be propped to stand for babies to look at while they do tummy time, and of course when the caregiver is holding baby to read.
I made this high-contrast story book with my toddler inspired by our latest outdoor activities and leveraging my toddler's recent obsession with shape punchers from our art trays.
The storyline is a simple one, with my toddler (little girl pictured) as the protagonist. She punched out various shapes (snowflakes, footprints and leaves) with the shape punchers, illustrated mountains, trees, a house and a heart-shape, cut them out, and helped with glue application onto the booklet I stapled together.
While working on this story book togeher, I recounted our experiences in nature. E.g. we saw snow at Mount Rainier National Park even in the midst of summer!
We went on plenty of hikes in forests and parks (and are starting to see leaves fall to the ground with the advent of fall).
Our feet took us to many, many places.
The story ended with the little girl reaching home after a long day in nature, taking off her boots and enjoying the comforts of home.
My toddler loved this first book we co-authored, and even reads it to herself. With your toddler's involvement in the story creation, he/she would be able to read/describe it to a younger sibling!
4. Sensory Bottle
The key benefit of sensory bottles would be their direct association to sensory play, which boosts brain development. Sensory bottles are great for placing in front of babies doing tummy time to motivate them to look to the front and lift their heads, and they can track the objects descending to the bottom.
Toddlers would love to help fill up the sensory bottle with water (I'm recycling a VOSS plastic bottle), add in drops of food coloring/glitter, and pop in small objects (I used straw and seashells). For slower descent of objects, glue can be added, but I went with a glueless option that is less messy for toddlers. Oil can also be added for a cool separation and mixing effect, though I omitted that as well.
Sensory bottles can grow with the baby, as they are shown to stimulate, entertain or calm a child from babyhood all the way to preschooler age and even beyond. Sensory bottles can also help to develop curiosity and discovery in a child from a young age.
When baby starts to move:
5. Tactile Toy Mobile
This is when babies can be introduced to tactile toy mobiles, which are intended for touching, grabbing, manipulating (and some, even tasting). The Kavanaugh Report explains tactile mobiles and shares DIY tutorials for Montessori-aligned ones.
My version uses the idea from Happy Hooligans who created a beautiful, elaborate mobile using multiple pine cones and beads.
My toddler picked these pine cones from nature strolls. Encourage toddlers to handpick big pine cones to minimise choking hazard when mouthed by babies.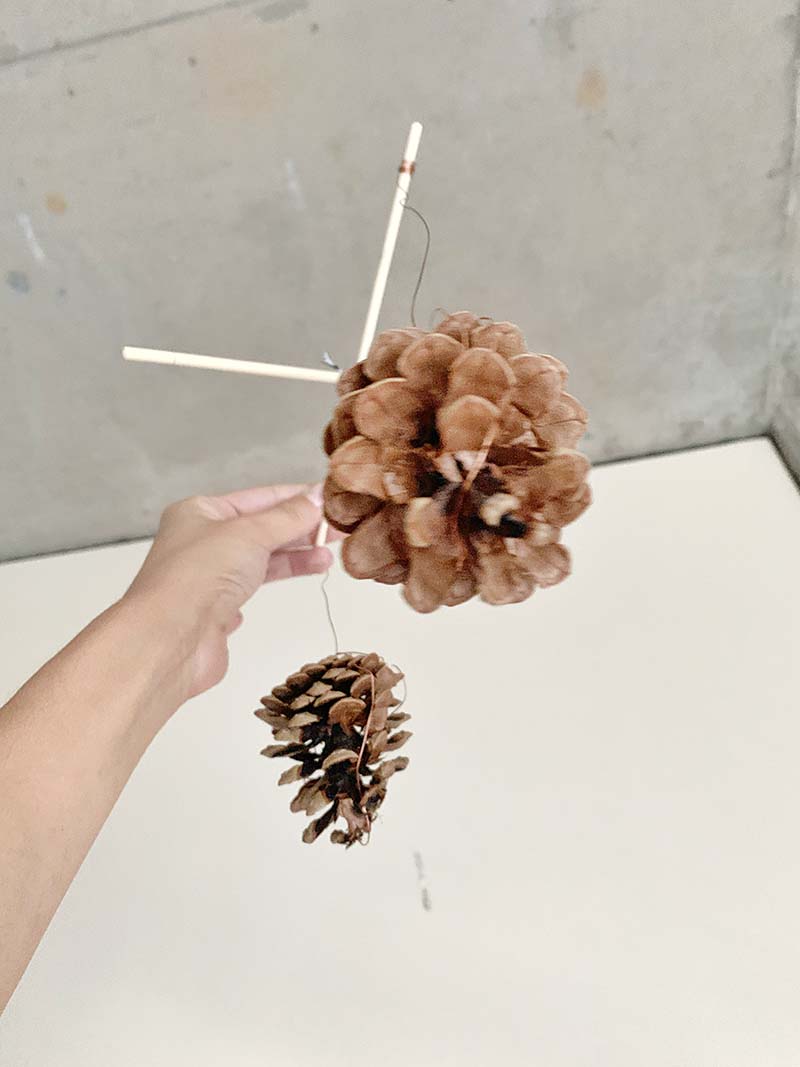 When building the tactile mobile, face the pine cones downwards so the baby can see the beautiful patterns. The texture of this pine cone toy mobile also makes for great tactile exploration.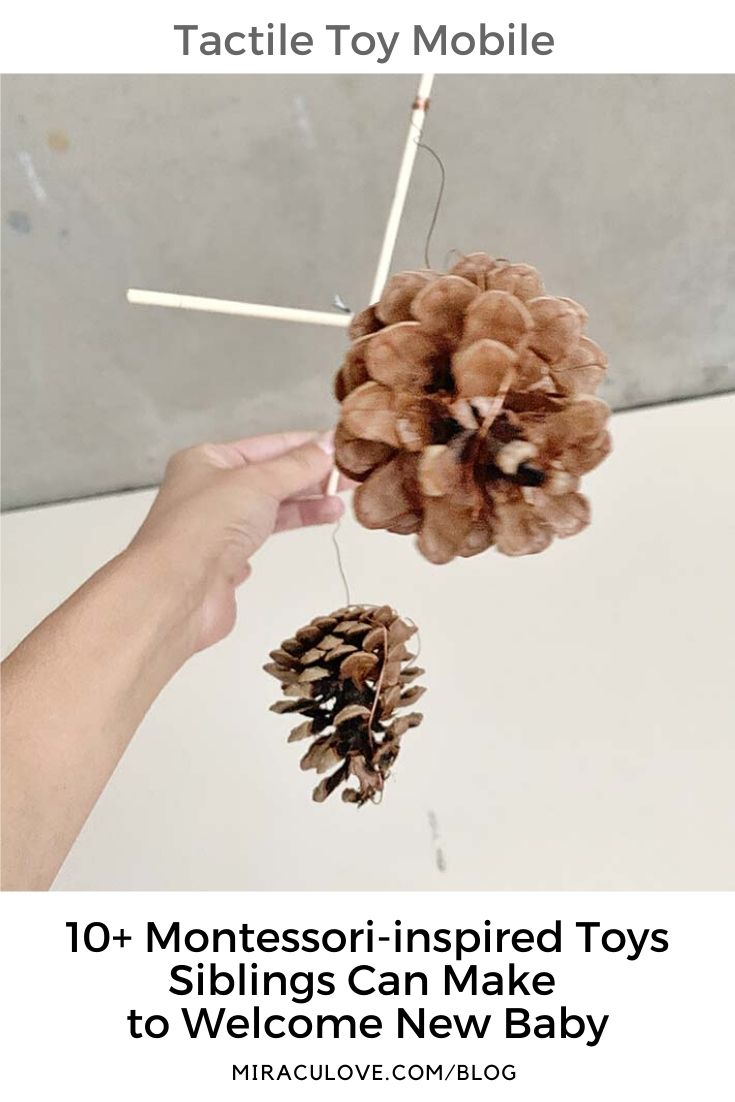 When baby starts to grab:
6. Crinkle Paper Toy
I never knew crinkle paper toys were this easy to DIY until I saw Play At Home Mummy's tutorial on it. Crinkle paper toys are great for sensory play, and crackling sounding fabric encourages cause & effect learning as babies manipulates it to produce sounds.
What's great is that you can easily reuse fabric from your toddler's outgrown wardrobe for this crinkle paper toy. I chose an old cotton onesie with stains that can't be washed off and therefore can't be donated/blessed.
Here's my toddler helping to cut the cloth from the onesie. I drew markings on the onesie to guide her cutting.
She also helped with cutting of parchment paper which I placed within the crinkle paper toy. I did the sewing (though I know she wished she could do that too. Soon, little one!)
If your baby enjoys the crinkling sound effect, you could tap on this interest to make her a crinkle oball (tutorial also from Play At Home Mummy).
7. Sock Doll Lovey
There are lots of emotional and developmental benefits of having a lovey and it is regarded a positive sign when a baby gets attached to an object, as he/she would in turn develop similar strong bonds throughout life.
This sock doll lovey is great for little hands to squeeze, grab, tug, throw and hit. It is also easy to involve a toddler in the fun creation process.
First, I passed my toddler an old sock (with a lost twin) to fill up with her existing sensory rainbow rice and beans. I provided scoopers and ladles for the job. It helps to place the sock in a container to prop it upright for the filling.
After that, my toddler chose ribbons for the sock doll lovey's hair and cut them to desired lengths. She chose 3 types of ribbons to work with, which was great as the different textures of ribbons would make a sensorial tactile experience for babies to explore. I used satin ribbons for the lovey's hair, organza ribbon for the scarf, and a silk ribbon for a ribbon bow at her back.
I secured the sock by sewing shut the opening and curled up the hair ribbons (long ribbons can be a suffocation hazard) before sewing them. I also made felt eyes and cheeks for the lovey, but the sewing has to be ultra tight for those to prevent them from dropping off/being ripped off (a choking hazard). You could opt to go without a facial expression for the lovey and sew it on when baby is grown and can add his/her inputs!
When baby starts to explore fine motor abilities:
8. Tugging Ribbon Egg Crate
This tugging ribbon egg crate is inspired by Laughing Kids Learn's DIY tugging box. It is great for stimulating curiosity and fine motor development, as well as reinforcing cause and effect learning.
I chose an egg crate for this tugging toy idea because it is more compact and the long and short ends of the ribbons can easily be seen from a top-down view.
I would however recommend to stick with a cardboard box if you suspect egg allergies for your little one.
I made small slits in the egg crate with a penknife, and my toddler helped with enlarging the holes with her scissors.
She also picked out all the ribbons we used for this tugging ribbon egg crate toy, while I helped to fasten them with knots at both ends. Of course, she helped to test out the tugging toy when it was done. Toddler-approved!
9. Object Permanence House
This DIY Object Permanence House is a spin-off one of the most iconic Montessori tools, the Object Permanence Box, which helps babies understand that objects contain to exist even they are not sighted (e.g. when mama leaves the room, she still exists and she'll come back).
Understanding object permanence is one of the first and key developmental accomplishments of a baby. Mothers Abroad shares about the different Montessori-aligned Object Permanence Boxes there are in Montessori prepared environments, and how babies interact and learn from them.
My Object Permanence House builds on the same concept of dropping something into a box, which disappears from sight, but re-appears when the box lid is opened. my version is low-cost and the creation process is fun and can involve a toddler!
The DIY is simple. First find a suitably sized cardboard box with a nice height and good surface area to draw windows and cut out a door. Then, cut a circle on the top to fit a toilet paper (TP) roll through as the roof.
My toddler helped with the cardboard box selection and TP roll cutting. I also invited her to draw the roof of the house.
She soon got to work testing out the Object Permanence House with her wooden colored peg dolls. You could use any alternatives, but I would recommend to use something with a size/shape that's not choking hazard. Note that the TP roll roof is also optional because it limits the size of the objects that can fit through. You could simply cut a wide/big enough hole for any object replacements you use.
The Object Permanence Box House helps babies practice focus, eye-hand coordination and learn the cause and effect relationship (putting an object in and finding it again).
Note that this Object Permanence House, being cardboard made, is not as sturdy as the Object Permanence Boxes retailed in the market (especially with the door which could be ripped out), so do stand-by with masking tape to secure/extra materials to re-make a new one. Being that it's minimal-cost to make, I hope it's less of a heartache to toss/recycle and create a new one.
10. Music Shaker
It is a known fact that music exposure promotes early brain development in children, even babies in the uterus. Music shakers help babies explore and learn about rhythm, improve gross and fine motor skills and discover self-expression.
I invited my toddler to help with putting sensory rainbow rice and beans into another VOSS plastic bottle, and even did a quick setup for her to learn about spatial relationships between objects by checking which nature loose parts (acorns + pine cones) fit into the mouth of the bottle.
The use of rice, beans, acorns and pinecones make for a vibrant assortment that stimulate visual senses, in addition to producing distinct rattling sounds when shaken.
It is easy to update the contents of the music shaker, and the contents of the bottle could even reflect learning themes (e.g. forest insect theme as shown below).
Here are some other DIY, intuitive music makers you could make with your toddler, for the baby to explore. I hope your toddler would enjoy a duet performance with his little sibling!
Wishing you a smooth journey to becoming a bigger, happier family! May your toddler enjoy being 'mama's little helper' and 'baby's best friend' with these baby toy ideas :)
Hi! I am Yunnie. I am the newly minted mama to a little baby girl and a mum friend to everyone on this special (and many times scary) journey of motherhood. Also a graduated bride with a penchant for weddings.