Young children use their keen senses to make sense of the world around them and are intensely curious about how things work.
Here are 10 not-to-be-missed sensory activities that stimulate the sight, touch, taste and smell senses with tonnes of learning benefits for your little ones:
1. Noodle Food Play (Minimal Waste!)
Food sensory play is superb for children to experience tactile sensations and become comfortable with new textures, tastes, sights and smells (especially if they're picky eaters!)
Read here how you can ensure minimal waste in food play.
2. Glitter Bottle Visual Sensory Play
Young children are very visual and will definitely love glitter sensory bottles! For children with fiery temperament or anxious tendencies, these sensory bottles are good for calming and easing anxiety!
Read here how to make simple sensory bottles from household items and craft materials.
3. Edible (Nutritious Even!) Sand Play
If your child is in the oral exploratory stage and puts everything into her mouth, understandably you won't be that keen on sand play.
Here's one recipe for edible sand that's not just safe to consume, but highly nutritious! Hint: It's rich in omega-3s. Amazingly, it even feels and looks like the real thing!
Read here how you can create safe edible sand play for your little one.
4. Ice Bath Play
This is a great sensory activity to teach little ones about temperatures and different stages of matter!
Read here how you can go about creating a fun ice bath play for your little one.
5. Toy Water Bath
Perfect for little ones who love water!
It's also a great way to introduce basic science — floating vs sinking and absorbing vs repelling water 💦
Kiddos will have fun figuring out how items behave in water.
Read here how you can set up a fun toy bath for your little one.
6. Nature Sensory Board
A terrific way to store little treasures from nature and let your little one revisit those memories at the park or beach!
Read here how you can create a seasonal nature sensory board.
7. Treasure Baskets
Treasure baskets leverages the concept of Heuristic Play — which is playing with everyday objects to understand the world around them — to develop thinking skills and abilities in babies and toddlers.
It's cool to see how little ones find different ways to interact, feel, explore, touch and manipulate familiar household items.
Read here about heuristic play and how you can create interesting treasure baskets.
8. Watering Plants Outdoor Nature Play (With Homemade Watering Can!)
Beyond looking at and touching plants, watering them is a great way for young children to learn that plants are living things and need water just like us to grow!
The challenge is often about finding a right-size watering can that little hands could hold and water at a slow rate without drowning the poor plants.
Read here for tutorial for homemade watering can to complement this sensory activity.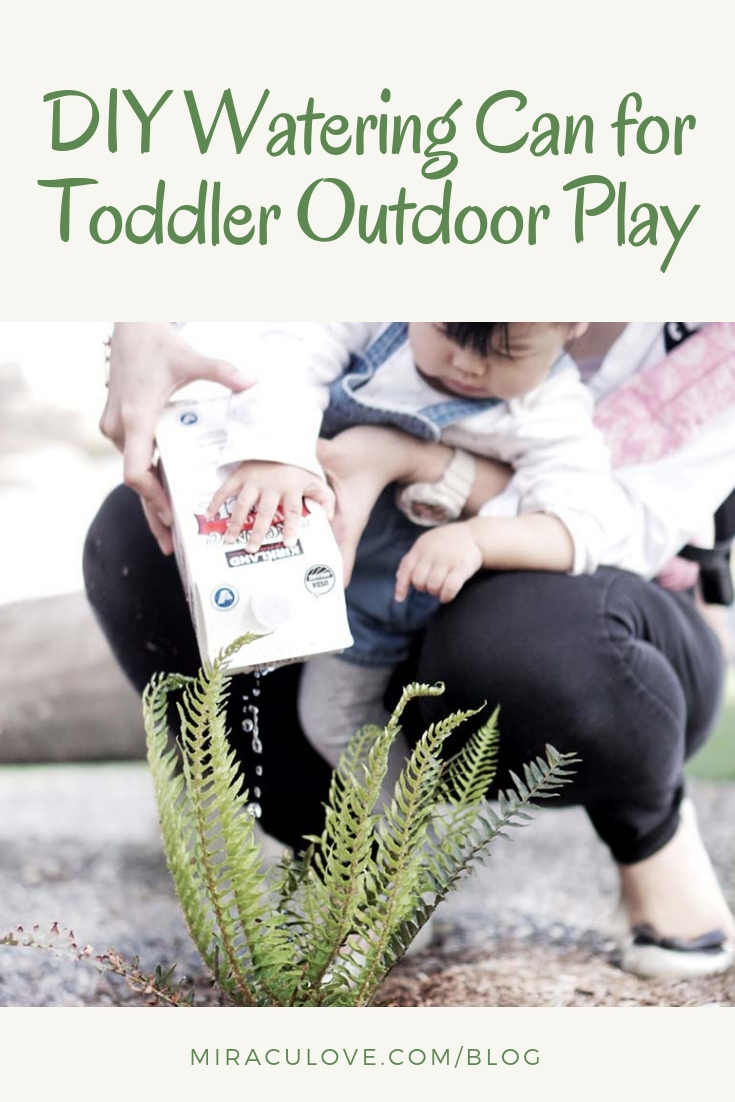 9. Vegetable Garden Sensory Bin
Green thumb in training… it starts from baby/toddlerhood!
A great way to learn how vegetables grow and food ends up on the table.
Read here for more regarding this sensory activity.
10. Culinary Play (Making a Pizza from Scratch!)
The first experience with dough can be pretty interesting for a lil one, especially when she realises how it can be manipulated via poking, pressing, rolling and kneading.
Read here about this touch-centric sensory activity.
Follow me on @miraculove_sg (Instagram) or join my exclusive Facebook group for more play ideas!
Hi! I am Yunnie. I am the newly minted mama to a little baby girl and a mum friend to everyone on this special (and many times scary) journey of motherhood. Also a graduated bride with a penchant for weddings.