It is the Montessori belief to inculcate in children the lifelong skill of problem solving and reasoning by encouraging them to troubleshoot and find their own answers from an early age. Acquiring these skills are important to grow children into rational, independent and confident adults.
I have been trying to integrate this Montessori philosophy into the way I parent and homeschool. Many times I had to stop myself (physically and verbally) from stepping in too quickly to help my toddler with a difficult task, at her first sign of discomfort. I also do my best to avoid giving straight answers, encouraging my child to brainstorm the solution by asking her an open-ended question instead.
Complementing this approach, I also created these 14 Montessori-inspired DIY problem solving activities for my toddler to experiment, discover, learn self-correction and work out problems independently. It is also my hope that puzzles would teach my toddlers the values of patience and tenacity -- puzzles can't be rushed and there are no shortcuts, like many things that lead to success in life.
14 Montessori Inspired DIY Problem Solving Activities for Toddlers!
The 14 DIY problem solving activities are classified into 3 categories -- puzzles, matching and sorting and nesting, and within each category, sorted in ascending order of difficulty. These activities fit children's natural play schemas of connecting and transporting as well as dump-and-fill, and are intuitive.
Through these experiences, I hope children can develop skills such as handling of materials, fine motor refinement, completing a cycle of activity, motor planning and self-correction of mistakes, thereby improving their mental abilities as a whole.
Foreword
It is natural for toddlers to get upset during puzzle play and even give up. Empathise with how they are feeling, "You are frustrated because you really want the puzzle pieces to fit but they are not. It is normal to feel this way. Would you like to take a break then come back with a fresher mind?"
Stepping in to help or providing directives might rob children of the opportunity to learn and figure things out on their own.
Matching
1. Egg & Pizza Paper Plate Puzzles
This activity recycles barely used paper plates -- wash clean, flip over and illustrate on the paper side to make DIY puzzles. These puzzles are self-correcting and suitable for young toddlers starting out in puzzle play.
I chose the egg and pizza as subject matter as they were round, first and foremost. It helped that eggs and pizzas were familiar imagery to my young toddler, so puzzle play with these food items might help to reinforce the object recognition.
Play tip: Placing another paper plate beneath half the puzzle enabled my young toddler to slip the missing half on more easily.
Other learning opportunities:
Language development -- Discuss favourite toppings on pizza and favorite way to have eggs
Math learning -- Count number of unique pizza toppings
Creativity and self-expression -- Create more variations of pizzas with your toddler using a myriad of art materials
2. Flash Card Puzzle
This activity is great for repurposing flash cards that your toddler might have outgrown. These flash card puzzles are self-correcting and suitable for young toddlers.
For older toddlers, you can tailor the difficulty level of this puzzle activity by adding more cuts. I used halves with my 18 month old toddler.
Note: The cardboard base I made for the puzzles turned out to be completely unnecessary and I would recommend to skip that.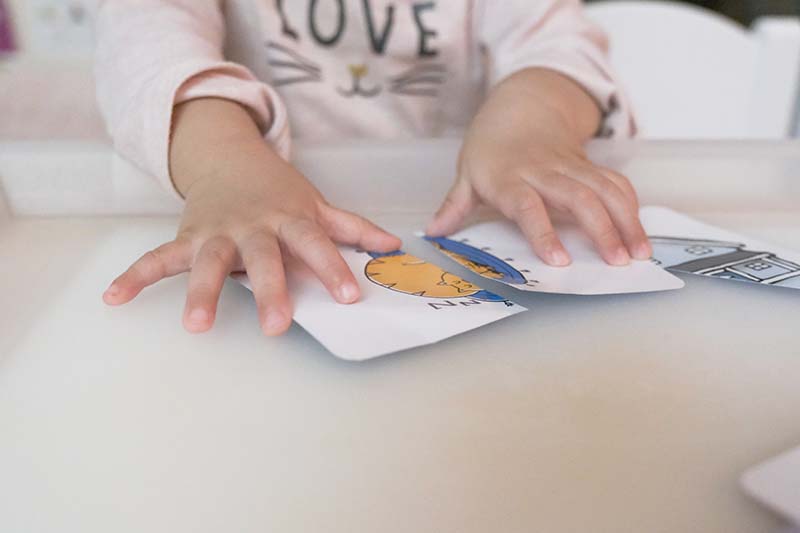 To boost language development, have your toddler name the subject on the flash cards and describe the appearance of the subject in rich vocabulary.
3. Insect & Animal Silhouette Puzzles
This puzzle activity is great for helping children recognise unique physical traits and anatomies of insects and animals, for example 8 legs for the spider and a long curvy (detachable) tail for the lizard.
Using clean silhouette imagery of one uniform color helps children zoom in on the defining physical properties of the insects and animals without being distracted by irrelevant details.
Apart from animal and insect science, language development can be enhanced through rich vocabulary used during the activity to describe the physical features and silhouettes of these insects and animals.
4. Cardboard pizza puzzle
The idea for this cardboard pizza puzzle originated from Happy Tot Shelf's watermelon puzzle. The idea for the pom pom ball handles originated from Mothercould's rainbow cardboard puzzle. The pom pom balls fit into the context and design of the pizza puzzle as 'meatballs', which was perfect.
For my tray setup, I provided the puzzle in its undone form, Montessori-style. Toddlers tend to be more attracted to activities that are undone. Additionally, I placed puzzle pieces on the left and the puzzle base on the right as the left to right movement to complete the puzzle is indirect preparation for learning to read.
For older toddlers, this puzzle makes a great introduction to learning fractions (the concept of equal segments forming something whole).
This round pizza puzzle novel to my toddler, who was familiar with the conventional puzzles which have individual puzzle pieces fitting their respective indentations in the puzzle base. The positioning and alignment of quadrant pieces to form one full circle takes much fine motor practice.
5. Weather Shape Puzzle
This activity was inspired by @7daysofplay's DIY shape puzzle. I also love her play hack of attaching strings to the felt puzzle pieces to prevent them from getting lost, making this DIY puzzle convenient for travels.
This weather-inspired puzzle activity is great for toddlers who are recognisant of shapes and colours in everyday life, and have a basic understanding of weather changes.
Steps to creating this weather-inspired puzzle:
Cut out 6 weather related symbols namely the moon, cloud, lightning bolt, raindrop, star and sun.
Trace their outlines on cardboard with a black marker.
Stick 'hook side' of velcro dot stickers on cardboard. The 'loop side' do not have to be stuck onto the felt pieces.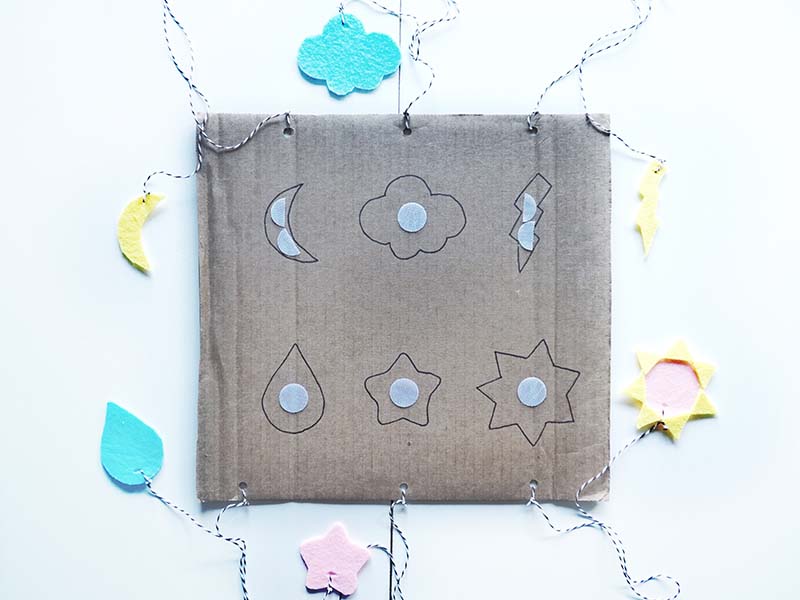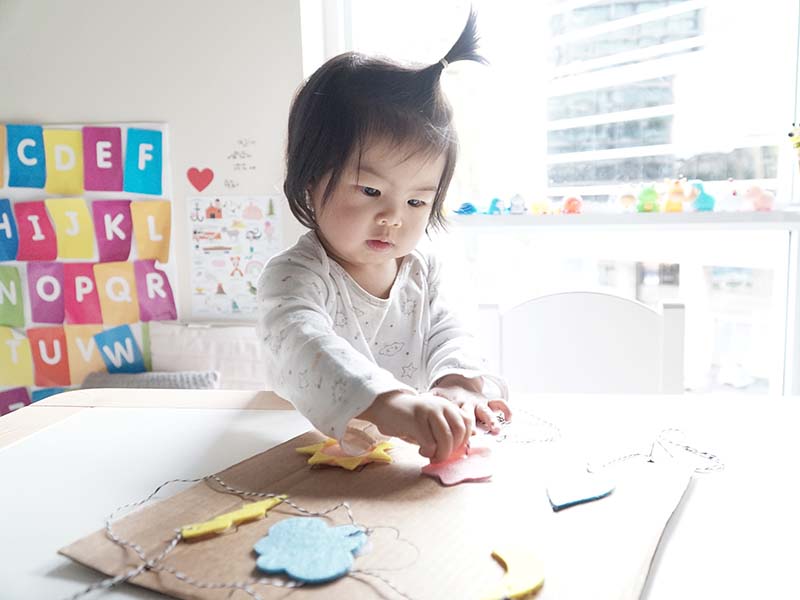 6. Alphabet Letter Matching Puzzles
These puzzles are for toddlers with some degree of letter recognition to match the uppercase letters with their lowercase counterparts. This reinforces their learning of the alphabet.
For older children who have mastered ABCs and differentiation of uppercase from lowercase letters, you could make this activity a timed challenge to hone reflexes and quick thinking.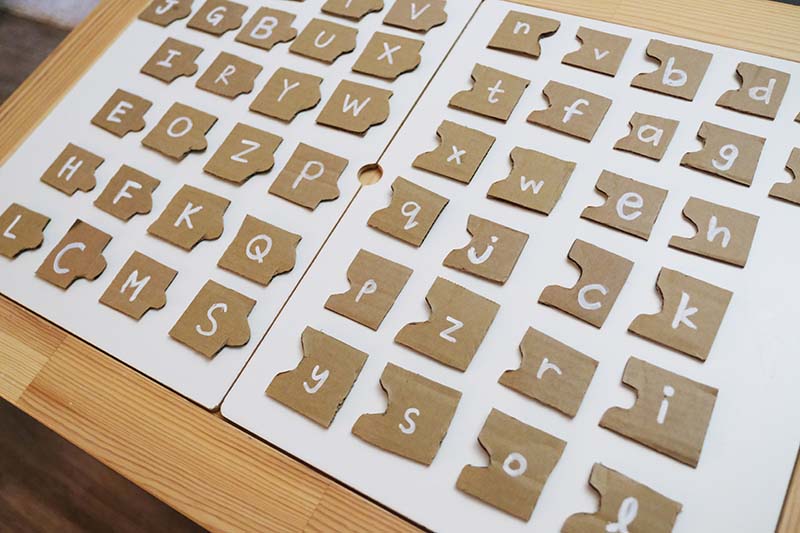 Living Montessori Now has several recommendations for Montessori-aligned alphabet books, which are great for pairing with this activity.
Sorting
7. Felt & Straw Color Sorting
This is an alternative to the fruit loop stacking activity and perfect when you have felt scraps leftover from crafting projects.
How to set up this felt and straw color sorting activity:
Prop straws upright by sticking them into balls of play dough
Make felt chains (staple ends of long rectangular felt strips to form circular loops) of matching colors to the straws
The color sorting was intuitive to my toddler who noticed the felt chains' color similarities to the straws and sorted them accordingly. This activity is great for early math learning (identification of similarities and classifying them) and cognitive development.
8. Sock & Shoe Matching
This matching activity was great for my little caterpillar who owns more shoes and socks than her parents. It is extremely low-prep and I love that the end result is neatly sorted laundry and personal belongings.
You can build language skills through describing the socks and shoes as well as their functions with rich vocabulary. This activity might even teach children to take care of and be accountable for their personal belongings.
Aside from matching, my toddler spent much time learning to put on and take off the socks and shoes, even trying them on her hands. I encouraged this healthy exploration and experimentation, which are signs of interest in independent self-care and dressing.
9. Popsicle Stick Color Sorting
The idea for this self-correcting color sorting activity originated from Happy Tot Shelf's DIY color matching rainbow toy.
Setup tips:
Cut a cross instead of slit for young toddlers to slot the popsicle sticks through, which provides tactile resistance while ensuring they focus on color sorting instead of becoming frustrated over fine motor problems.

Ideally use a box with shorter height than the popsicle sticks. This prevents the sticks from falling into the box. If you have to use a tall box, cut away a side flap so your child can tilt the box to independently retrieve dropped sticks.
10. Vehicle Color Sorting
This vehicle color sorting activity is great for toddlers learning about occupations and emergency vehicles -- police cars, ambulance and fire engines. Police cars, ambulances and fire engines have their very distinctive colors, and this activity helps toddlers with recognising them.
Steps to creating this emergency vehicle color sorting board:
Illustrate emergency vehicles on cardboard
Glue recycled red, white and black bottle caps onto their wheels
Provide pom pom balls of corresponding colors in a container next to this color sorting board
Books explaining what emergency vehicles do would make great complements for this activity, such as 'Here Come Helpers' by Leslie Kimmelman and Scholastic's 'Let's Go Rescue Trucks'.
11. Lego Color Sorting
This Lego color sorting idea originated from Happy Tot Shelf's duplo color matching activity for toddlers.
My toddler struggled to align the lego bricks so I added a modification. Instead of using 2 bricks, I flanked all 4 sides with 4 bricks, making it easy for the middle piece to be fitted in. This ensured my toddler's focus on color sorting, instead of fumbling too much with positioning the lego bricks.
After my toddler mastered the above activity, I tweaked the shape of the empty brick space to prompt further problem-solving. Instead of 1 square brick to fill the gap, she had to use 2 adjacent square bricks to form a rectangle. This modification teaches early math skills (addition) and sharpens cognitive awareness and shape recognition.
12. Fridge Magnet Shape Matching
This shape matching activity originated from Busy Toddler. It is low-prep and repurposes existing household items (fridge magnets).
I love that this activity enables my toddler to work on a vertical surface, which has many developmental benefits including core building and upper arm strengthening.
This activity provides a great opportunity to teach basic science (magnetic attraction). Use of rich vocabulary to describe the magnets' appearances during the activity helps with language development as well.
Nesting
13. Container Lid Nesting
Nesting activities have positive impact on children's early language and fine motor skills. Visual discrimination and spatial awareness are essential for toddlers to differentiate the sizes, work out how they fit with one another and stack them accordingly.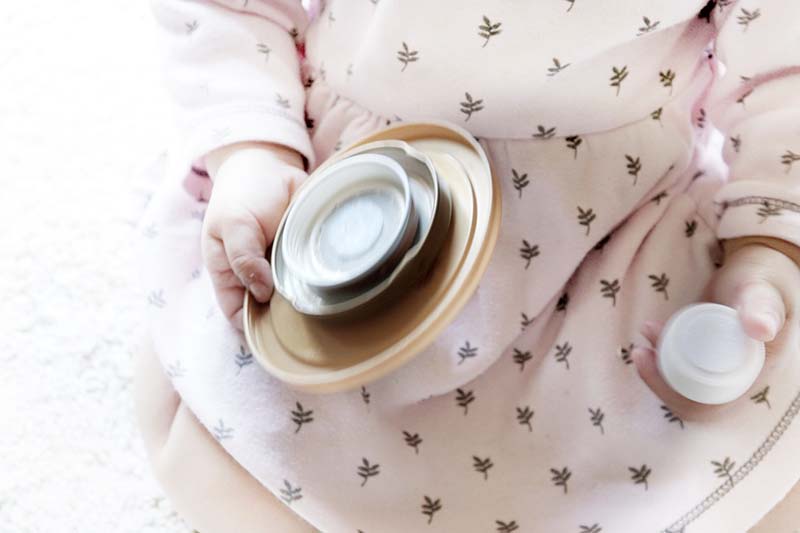 Steps to making this DIY container lid nesting toy:
Collect lids from containers once they've outlived their purpose. Arrange and stack the lids by size.
Attach alternating hook and loop velcro stickers to touching container lids
Thinking Out of the Box
14. Spider Web Rescue Mission
This spider web rescue mission activity is inspired by The Train Driver's Wife and Jolly B For Kids.
Children naturally do dump-and-fill to tilt items out of their containers, but the spider web formation deters the objects from falling out. This activity puts toddlers' dexterity and problem-solving skills to a test.
The difficult level can be customised by adjusting the intricacy of the spider web and size of items placed within the container. The larger the item, the harder it is to manuver it out.
I used a handheld kitchen colander and yarn string for the activity. Yarn was a little too soft and malleable making the retrieval of items very easy, so I would recommend baker's twine or shoelaces for more challenge.
I repeated the activity several times until my toddler became bored of it, rotating the items to keep the experience fresh and novel.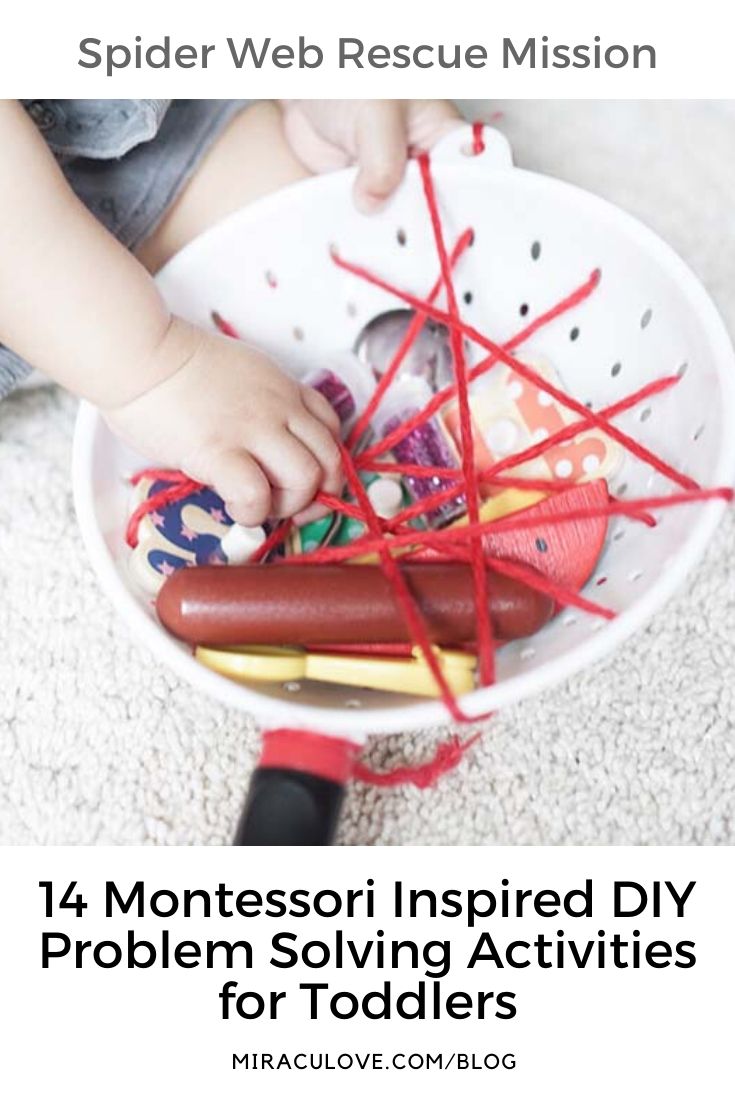 I hope your toddler enjoys these 14 Montesori-inspired DIY problem solving activities!
Hi! I am Yunnie. I am the newly minted mama to a little baby girl and a mum friend to everyone on this special (and many times scary) journey of motherhood. Also a graduated bride with a penchant for weddings.