Oatmeal is one of the superfoods that is excellent for starting a growing baby or toddler's day! It's a breakfast staple for Gwen and I whip up differently flavoured oatmeal every few days to make things interesting and expose her to various flavours (she can be quite picky!)
Here's a quick run-through of how you can choose, store, and prepare
Flavourful Oatmeal for Babies & Toddlers!
What Kind of Oats Should I Pick?
The first time I walked through the Whole Foods aisle, I was stunned by the variety of oats. All had names that sounded foreign to me, like steel cut, old-fashioned...
After some research, I understood why there's a market need for variety. When oats are harvested, they come with a tough, inedible hull. Processing is required to remove the hull and additional methods like steam-rolling and cutting yield the differently sized and shaped oat groats.
A Run-through of Oats
Oat Groats
Oat groats take a super long time to cook (close to 1 hour) and have to be cooked in much more water than the usual oats (three parts water to one part groats).
I would say they're more for adults, with their very chewy texture… perhaps too much chewing for your little one to enjoy!
Steel Cut Oats
Steel cut oats are groats cut into 2 or 3 pieces. They generally have a chunky texture.
These also take longer to cook than the usual oats (around 30 mins) but you don't have to add as much water as when you cook oat groats (2 parts water to 1 part steel cut oats).
Rolled Oats / Old-fashioned Oats
These are oat groats that are steamed then passed through rollers.
Regular rolled oats take about 15 mins to cook, while the flaked type (also known as "Quick Oats") cook in as little as 5 mins.
Regular rolled oats require 2 parts water to 1 part oats.
Instant Oats
Instant oats are cut and rolled thinly. They're easiest and fastest to cook!
They require just boiling water to be added. Few minutes later viola - they're ready to be served. Very convenient to bring for travel.
Note
There are many oat products in the market to choose from. Some have added sugar, salt or flavourings. I go for 100% oats as the only ingredient listed on the label.
Nutritional Benefits of Eating Oats
Oats are an excellent source of fibre, proteins and B vitamins. They also contain calcium, iron, magnesium, selenium and phosphorus.
It's ideal as one of baby's first solids and getting your little one to enjoy oats from an early age helps them retain a taste for healthy, nutritious food throughout adulthood.
In adults, regular consumption of oats has been found to lower risk of developing Type 2 diabetes, protect against heart disease and cancer as well as boost the immune system.
Storing of Oats
Store your oats in an airtight jar, in a dark, cool place for no more than 2 months to preserve their freshness.
If you use a spoon to scoop out the oats, be sure it's completely dry because even the slightest moisture might cause oats to become rancid (they're more prone to going bad vs other grains.)
Serving Oats
From 4 to 7 months, we ground our own oats using a food processor to make baby oatmeal (porridge) that has a smooth texture and added more water than required at times so the porridge was easy to consume for little Gwen. It's not necessary to buy special "baby oatmeal".
When Gwen got used to chunkier and lumpier textures after the 8th month, we no longer had to grind the oats.
An alternative method is to cook the oats, then puree it before feeding the baby!
Flavourful Oatmeal Recipes
Blackberry & Blueberry Oat Porridge
1/2 cup rolled oats
3/4 cup water
Blueberries (desired quantity)
Blackberries (desired quantity. I recommend to use the pulp of each blackberry and throw the core away)
Pour the water into a saucepan and bring to boil
Sprinkle in rolled oats and stir well
Drop in the blueberries and blackberry pulp
Reduce the heat to a simmer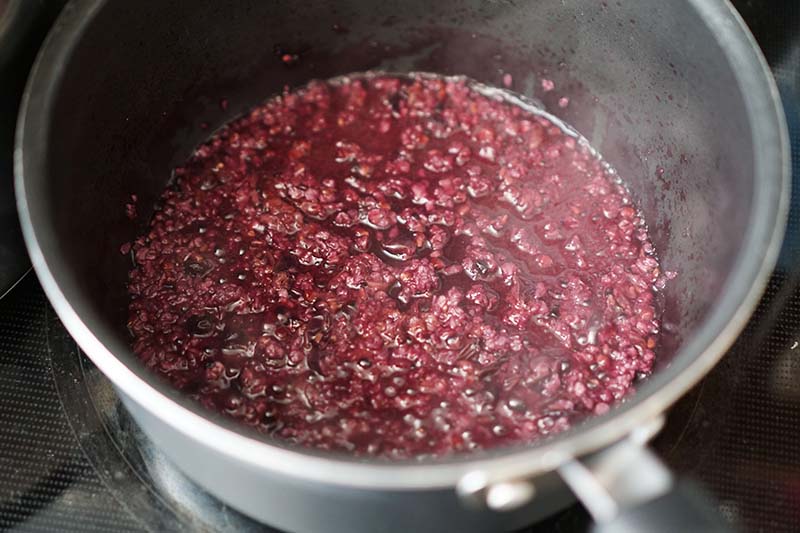 When mixture is thick and blueberries easily burst for the juice to be secreted, it's ready!
Time: ~10 mins
Diced Apple Oat Porridge
1/2 cup rolled oats
3/4 cup water
1 small apple, peeled, cored and diced
Pour the water into a saucepan and bring to boil
Sprinkle in rolled oats and stir well
Drop in the pre-prepared apple cubes
Reduce the heat to a simmer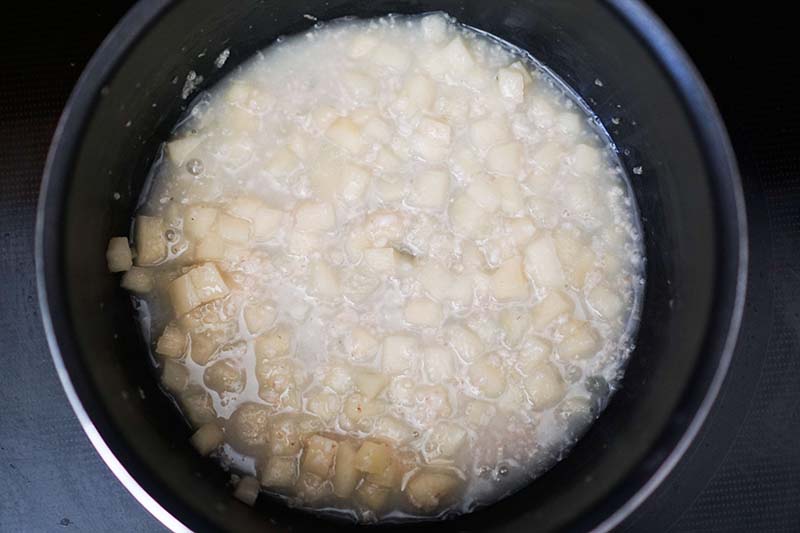 When mixture is thick and apple cubes are soft and mashable, it's ready!
Time: ~10 mins
Other Oatmeal Complements
Fruits: Mashed bananas, cubed strawberries, chopped red cherries and even watermelon cubes!
Milk: Almond or whole cow's milk (stir in just before serving)
Vegetables: Diced carrots, broccoli or cauliflower florets, cubed tomatoes
You may also like to see our Banana Wheat Toddler Pancake recipe – a healthy and nutritious breakfast or snack for your little one!
Hi! I am Yunnie. I am the newly minted mama to a little baby girl and a mum friend to everyone on this special (and many times scary) journey of motherhood. Also a graduated bride with a penchant for weddings.