Miss 24 months has been very curious about 'poop' and how the potty works. She even started integrating the potty into pretend play scenes, diapering her doll figurines and having them sit on the potty! It is a healthy developmental sign of toilet readiness so I encourage her interest.
I took this opportunity to provide a lesson on the human body, starting with the Digestive System, as aligned to her current interests. After this unit study on the Digestive System, we would progress to the Outer Body and other Human Body Inner Systems - namely Skeletal, Muscular, Nervous, Respiratory and Circulatory - when the learning opportunities present themselves.
"What the hand does, the mind remembers."
— Dr. Maria Montessori
Given children learn and remember new concepts best from hands-on, visual and concrete materials, I created several activities related to the Digestive System, focusing on learning:
Main food groups
Types of nutrients required by the body
The pathway of digestion
What constitutes healthy eating
Human Body Unit Study: Digestive System (Montessori-friendly)
The resource I relied very heavily in this unit study of the human digestive system is the Good Enough to Eat: A Kid's Guide to Food and Nutrition by Lizzy Rockwell.
Matching Foods to Pictures
With reference to the book, I introduced the main food groups:
Breads, cereals, rice, pasta, noodles and other grains
Vegetables and legumes
Fruits
Milk, yoghurt, cheese and/or alternatives
Lean meat, fish, poultry, eggs, nuts and legumes
I pointed to the examples under each main food group and named them aloud. For the first 4 categories, I provided real foods from my fridge and kitchen pantry for my toddler to match objects to the pictures.
For the last category which includes raw meat, I provided Melissa and Doug food group toys for the matching exercise as it's not appropriate for young children to handle uncooked meat which presents salmonella risk.
Fats in Food Experiment
The book shared this experiment to test for fats in food.
Steps:
Take a small quantity of the food items to be tested
Rub the food items onto the paper
Leave the paper to dry overnight
Observe the paper under sunlight. If there is light passing through the food patches, it indicates presence of fats in the food items. Paper becomes more translucent (allowing some light to pass through) when fat is applied on it.
It was an interesting activity. We took samples from our meals throughout the day e.g. peanut butter and butter from breakfast, soup from lunch, honey and fruits from afternoon snack and rice from dinner.
(Note: This test is not very accurate if amount of fat in the food item is very small. For example, bread contains a small amount of fat, but did not make the paper translucent.)
Digestive System Play Dough Sculpting
I drew the digestive system (mouth, esophagus, stomach, small intestine, large intestine and rectum), and provided different colors of yellow, pink and brown play dough for my toddler to sculpt and create a 3D anatomy of the digestive system.
I described the shape, size and dimensions of play dough needed to form the different organs e.g. long 'worm-like' pieces for the small intestine. We worked on sculpting each organ one by one.
Rich vocabulary to describe our hand sculpting movements and the physical traits of the organs was used during this activity, aiding understanding of the topic and language development.
It was a great fine motor activity as my toddler practised and helped in making various shapes to sculpt the different body organs.
Tip: Demonstrate several times with slow, deliberate hand movements without talking to help children observe how different sculpting is done.
My toddler even discovered a new way to form the long thin strands of the 'small intestine' -- by rolling it on the table!
Visual Journey of How Food is Broken Down
I created this hands-on activity to help my toddler visualise the journey of food through our body's digestive system.
First, on a paper towel, I drew a piece of bread.

I described how bread is eaten and goes into the mouth, to be chewed into smaller pieces and shared that saliva in our mouth contains digestive juices that break down the food. To visualise that, I provided my toddler with a pair of child-safe zig-zag scissors to cut the 'bread' into smaller pieces.
Food travels down the esophagus to the stomach where stomach acid turns food into a thick liquid. To visualise that, I provided my toddler with a small beaker of coca cola (representing stomach acid) to mix into the 'bread'.
Nutrients from the food are absorbed into the bloodstream in the small intestine. We discussed this while stirring the mixture.

In the large intestine, water is extracted from undigested food and passed out of the rectum as excrement. I squeeze out the coca cola liquid from the wet 'bread', pressing it into a tight ball to represent 'poop'. The brown color of the coca cola liquid has stained the paper towel brown, making it look pretty convincing as 'poop'.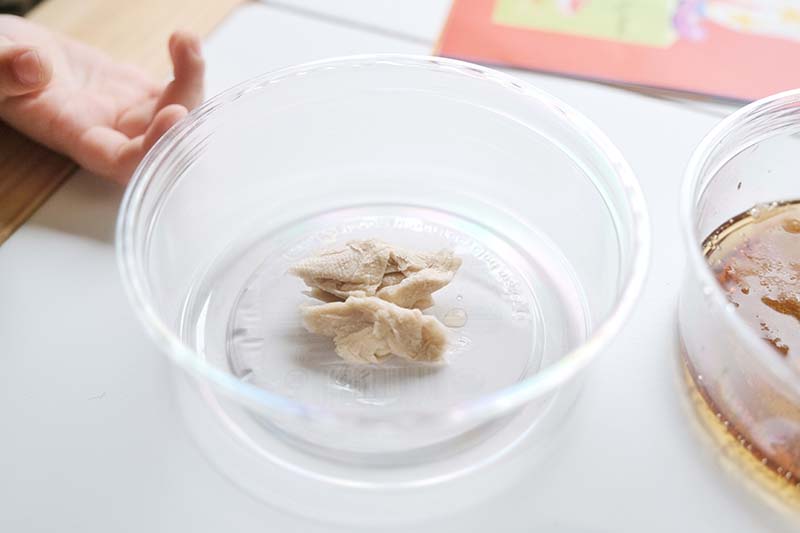 This 'poop making' exercise got my toddler most excited, though she declined to try making it herself.
My Healthy Plate Exercise
Back in my schooling days in Singapore, the food pyramid was the official guide for healthy eating. After some research, I realised that the food pyramid model has become obsolete and is now replaced by the 'healthy plate' in Singapore.
I like the new 'healthy plate' model! It is relatable, visual and easy to understand, leveraging a 'plate' to show the foods to eat in the recommended amounts. I also champion the emphasis on more fruit and vegetables (instead of carbohydrates in the outdated pyramid).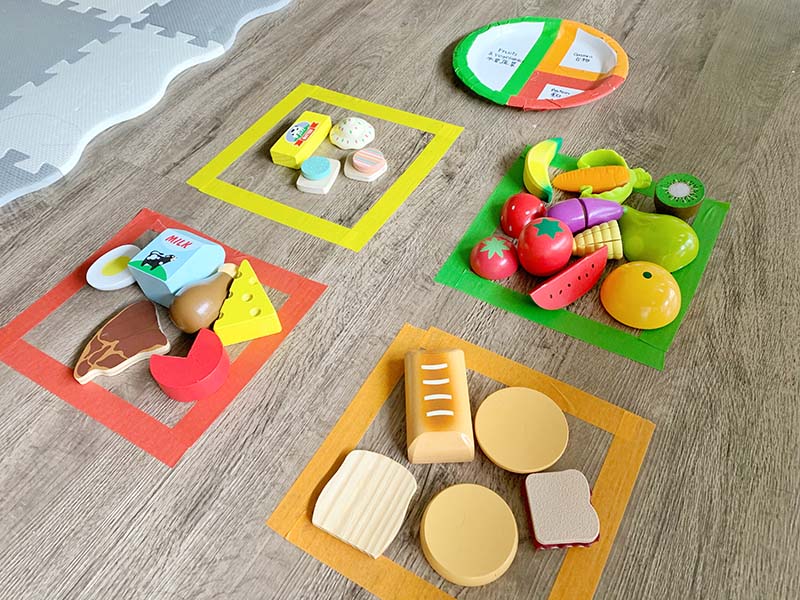 It is important to teach children the importance of balanced and healthy meals and how to strive for that in their daily diet. Healthy eating values would likely children them into adulthood.
The latest healthy eating guidance (in Singapore):
Fill half your plate with Fruit and Vegetables
Fill a quarter of your plate with Whole-grains
Fill a quarter of your plate with Proteins (Meat & non-meat)
Use small amounts and healthier oils
Choose water over sugary drinks
For this activity, I took a paper plate and marked out the recommended portions for the food groups using colored painter's tape. I brought out real food items from my kitchen pantry and fridge for my toddler to 'fill her plate' with her favorite foods from this selection and I showed her how these food items would be categorised on the 'plate'. I also did my best to include her hand-picked ingredients into our meals throughout the day to remind her of this exercise.
Helpful Resources
Everday Learning
In fact, there are many teachable moments in everyday life that allow me to revisit this topic of the Digestive System with my toddler.
For instance when I notice my toddler being constipated, I would say, "You're straining really hard. I wish it's easier for you. Let's have more fruit and vegetables for fiber and kefir for probotics to help with the pooping."
When my toddler gets into a vigorous physical activity after a heavy meal, I would remind her that digestion takes hours and exercising strenuously on a full stomach could lead to bodily discomforts like reflux and nausea.
Such teachable moments help me to link what is otherwise an advanced and hard to visualise topic to our everyday lives, so it becomes relevant and memorable for my toddler.
I hope your little one enjoys this human body unit study on the Digestive System!
To follow my child-led, open-ended activity ideas, follow my Instagram, Pinterest or Facebook Group.
Hi! I am Yunnie. I am the newly minted mama to a little baby girl and a mum friend to everyone on this special (and many times scary) journey of motherhood. Also a graduated bride with a penchant for weddings.