My toddler first developed a keen interest in space when I read her Nerdy Babies: Space and Scholastic Science's Books on Space (picked this up from a secondhand book store; it's too technical but my toddler enjoys the visuals). I noticed this interest in space when my toddler began to memorise pages from these books and mastered how to draw a full moon and crescent moon.
Space is a vast, complex and abstract concept for children as it is far beyond our reach and can be hard to visualise. As such, I created the following 10+ Montessori-friendly activities that are hands-on, language-rich and encourage tactile exploration to help reinforce my toddler's learning about the planets, the solar system and the universe.
Space Unit Study for Toddlers (10+ Montessori-friendly Activities)
1. Rocket Anatomy Puzzle
To make this rocket anatomy puzzle -- I trimmed off the flaps of a slim rectangular cardboard box, illustrated a rocket referencing rocket parts from the Amazing Machines: Roaring Rockets book, then stapled the illustration to the box. Subsequently, I divided the box into three parts (separating the rocket command module, main body and fuel tanks) and propped them into a kitchen towel holder.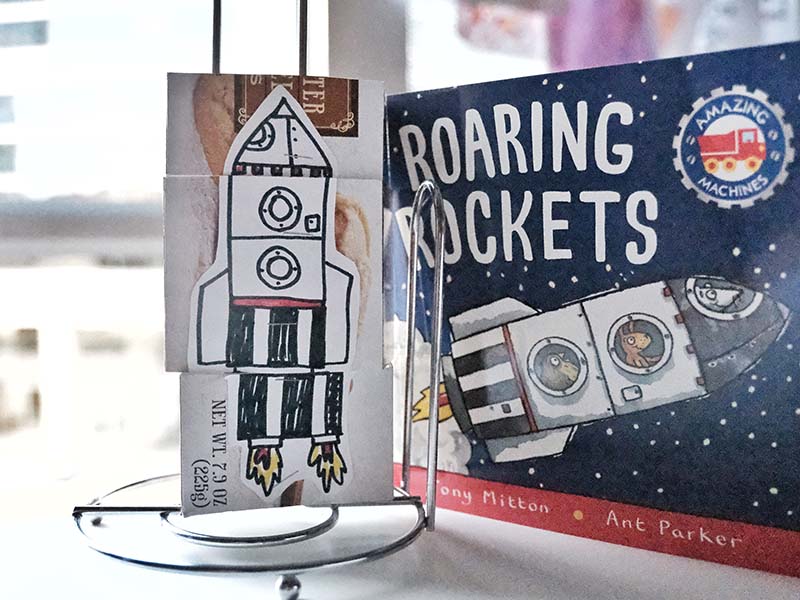 I invited my toddler to piece the rocket pieces together on the kitchen towel stand.
It took several tries for my toddler to arrange the rocket parts in the right order. This puzzle builds spatial awareness, reasoning and problem-solving skills in children.
2. Astronaut Outfit Puzzle
This is a similar puzzle to the above, but leverages the design of an astronaut outfit anatomy instead.
I referenced the astronaut outfit anatomy from the Clothesline Clues to Jobs People Do book, which is a good read for toddlers to understand different occupations, with astronauts being one of them.
3. Anti-Gravity Astronaut
The space books we read often mentions the concept of gravitational force. I explained to my toddler that gravity is a force on Earth which holds everything to the ground. Without gravity, as in space, anything that is unstrapped would float about.
To explain gravity in a visual way, I created this anti-gravity astronaut activity.
I illustrated an astronaut which my toddler helped to cut out and I taped the illustration to a strong fridge magnet.
Then I placed this magnet with the illustration onto the lid of a clear plastic storage container and placed another strong magnet on the other side of the lid.
By moving the magnet beneath the lid, I could make the astronaut 'float' about. My toddler was amused by the 'floating' astronaut and tried her hand at moving it around as well, musing, "The astronaut is floating!"
This is a great activity for explaining gravity and introducing the concept of magnetic attraction to children.
Another idea to introduce the concept of gravity would be this galaxy-inspired sensory bottle by One Little Project (the glitter floats upwards instead of sinking to the bottom in what looks to be anti-gravity).
4. Moon Surface Sculpting
Through our book reading, my toddler learnt interesting facts about the moon -- that there is no wind on the moon so astronauts' footprints remain on the moon surface forever, and that the moon's surface is battered-looking with craters caused by colliding comets.
This activity seeks to replicate the rocky and bumpy moon surface. I sculpted a round moon using homemade play dough and provided 'debris' (irregularly shaped rocks, stones and sea glass) for my toddler to press into the play dough moon to simulate collision into the moon's surface.
Because rich vocabulary used during play helps with language development, I used a wide range of descriptor words to describe the comet collision impact on the moon like "crash", "smash", "hit" and "ram into" as she enthusiastically stuck the objects into the play dough moon.
I learnt a number of facts about craters and the moon's surfce from the NASA website, which I shared with my toddler as we carried out this activity.
5. Moon Lunar Phase Bottle Cap Matching
My toddler recognises and can name the full moon and new moon. This activity introduces her to all eight lunar phases of the moon and provides a hands-on way to learn about moon waxing and waning.
I repurposed white bottle caps for this activity and illustrated lunar phases on them using a dry erase black marker. Each bottle cap shows a lunar phase.
Then I invited my toddler to match the bottle caps to an illustration of the lunar phases. I shared what I had learnt about lunar phases and eclipses from the NASA website with her throughout the activity.
6. Salt Dough Planets
I came across the idea of using paper mache to make planets and was inspired to DIY planet figurines (I had initially thought of buying this figurine set). Material-wise, I used salt dough with this recipe.
I referenced planet sizes on NASA's website. With excess salt dough, I sculpted the Sun, which is larger than all the planets combined.
Note: I had sculpted the planets and the sun to be spherical but after laying them on the baking trays to be baked for 2 hours, they grew flat bottoms. This turned out to be a good thing because that meant the planet and sun figurines were 'stable' (i.e. did not roll about when placed on a flat surface).
After they had been cooled, my toddler helped to apply acrylic paint and marker ink on the planets to give them color.
I referenced the planet colors on the NASA website. I described the size, color and appearance of the planets to my toddler as we painted and colored the planets.
This inexpensive salt dough set of planets is useful in reinforcing my toddler's learning of the planet names and the order of planets from the Sun.
7. DIY Planet Projection
I was inspired by CHALK Academy's use of toilet paper (TP) rolls and a flashlight to project Chinese characters on the wall in the dark so I adapted the idea to project planets.
CHALK Academy recommended an eco-friendly way of making these planet projection TP rolls. As suggested, I reused the clear, hard plastic from food packaging, cut circles from the hard plastic and taped them onto the TP roll. Subsequently I used dry erase markers to illustrate planet Earth and different lunar phases of the moon.
When night fell, I invited my toddler to experiment with projecting Earth and the moon phases onto the wall with a flashlight.
Tip: I have yet to try this but find a partner and project the Sun, Moon and Earth on the wall with three TP rolls. Move the Moon projection around the Earth to teach your toddler about the Moon's orbit around the Earth. Also move the Earth projection around the Sun to demonstrate Earth's orbit around the Sun.
8. Asteroids Around the Sun
Asteroids are small, rocky objects that orbit the Sun and most are irregularly shaped.
For this activity, I placed the salt dough sun figurine I had previously made in the middle of a black card stock which represented space. I provided an array of rocks, stones and sea glass which represented asteroids for my toddler to arrange around the sun.
I shared information I had learnt from the NASA website about asteroids with my toddler as she engaged in this activity.
9. Joining the Stars - Constellation
A constellation is a group of visible stars that form a pattern when viewed from Earth.
For this activity, I cut out stars from white paper. Then I provided my toddler with the paper stars, a black card stock to represent space and Q-tips to join up the stars to form constellations.
I told her some facts about constellations which I had learnt from NASA's resource page on constellations. In the future, I plan to teach my toddler about well-known constellations such as the Zodiac constellations. Little Bins for Little Hands has great constellation activities for children.
10. Shooting Star Crayon Resist Art
This activity utilises the resist art technique to reveal 'shooting stars' (drawn with a white crayon) which become visible once painted over with darker colors (that represent the night sky).
The shooting star reveal was quite a 'wow factor'. I explained to my toddler that wax crayon is water-resistant so paint will not adhere to the crayon marks, leaving behind white spaces not colored by the paint.
My toddler loved this shooting star painting activity and went on to paint many pictures of shooting stars.
Other Space-themed Learning Ideas
Rocket Construction: Use open-ended magnetic building blocks like Magna-Tiles and Tegu magnetic blocks to construct rockets with your toddler. Provide metallic kitchen tools and utensils such as baking trays for heuristic play to be incorporated into this construction activity. A rocket construction activity develops math, science, spatial and tactile skills.
Pinay Homeschooler has a variety of Montessori-inspired tray activities for learning about space.
Living Montessori has great book recommendations for children to learn about the solar system and free solar system printables.
I hope your toddlers enjoy these hands-on, Montessori-friendly activities to learn more about space!
To follow my child-led, open-ended activity ideas, follow my Instagram, Pinterest or Facebook Group.
Hi! I am Yunnie. I am the newly minted mama to a little baby girl and a mum friend to everyone on this special (and many times scary) journey of motherhood. Also a graduated bride with a penchant for weddings.