Thanksgiving is around the corner. Back where I hail from (Singapore), we don't celebrate Thanksgiving so I had no clue about the origin of this festival which is one of the most celebrated national holiday events in the US. The lack of knowledge wouldn't do! So I did some digging and learned the following:
From History.com - Thanksgiving originated as a harvest festival where English pilgrims and Native Americans came together for the first time
From Kiddyhouse.com - turkeys became the symbol for Thanksgiving dinners because of the four wild turkeys that were served at the first Thanksgiving feast
Inspired by all this new knowledge, I decided to do a turkey-themed art and craft activity for my little toddler, which also served an added function of teaching color-sorting.
DIY Thanksgiving Turkey Color Sorter Toddler Toy!
Tutorial
You will require these materials:
Paper plate
Black marker
Other art supplies - markers, paint or crayons
Bottle caps
Hot glue gun or double-sided tape
Pom pom balls
Steps:
Draw a turkey on the paper plate with a black marker (Remember to include the turkey's defining feature - the "snoods", otherwise known as the red fleshy thing hanging off turkeys' beaks!)
Decorate the paper plate with your toddler using art supplies
Use hot glue gun or tape to secure bottle caps on the edge of paper plate, fitting them in as design for the turkey feathers
Provide your toddler with pom pom balls of corresponding colors to the bottle caps
Encourage toddler to match the pom pom balls to the bottle caps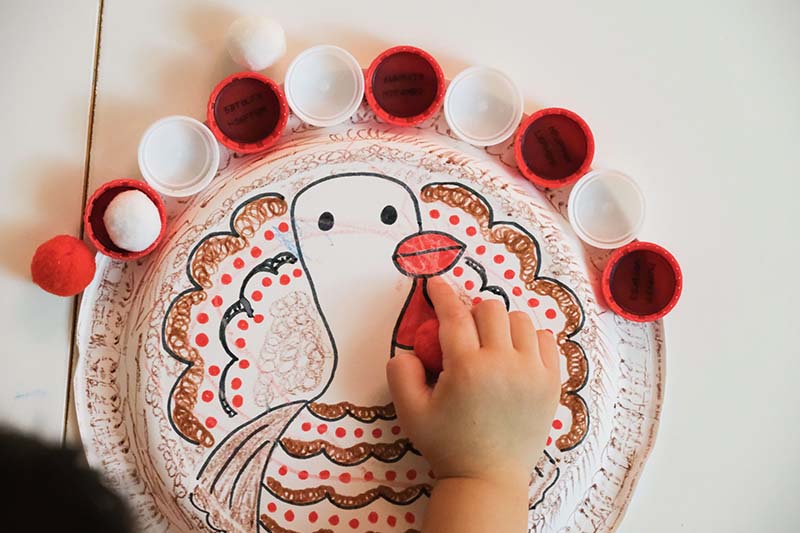 Benefits of this Color Sorting + Art Activity
Teach one-to-one correspondence, a basic math skill (Children learn this when placing each pom pom ball into bottle cap)
Practise counting which teaches numbers
Build color and animal (turkey) recognition
Enhance understanding of cultures and events (thanksgiving)
Fine motor (esp pincer grip) practice
Build focus and concentration
Encourage self-expression with free-style decoration of turkey
When your little one is done with color sorting, put this turkey up on the door or wall as seasonal decoration at home! Your toddler will be so pleased and proud to see her artwork being displayed.
Other Turkey-themed Thanksgiving Fine Motor Activities
Other Turkey-themed Thanksgiving Art & Craft Activities
Other Fall Themed Toddler Activities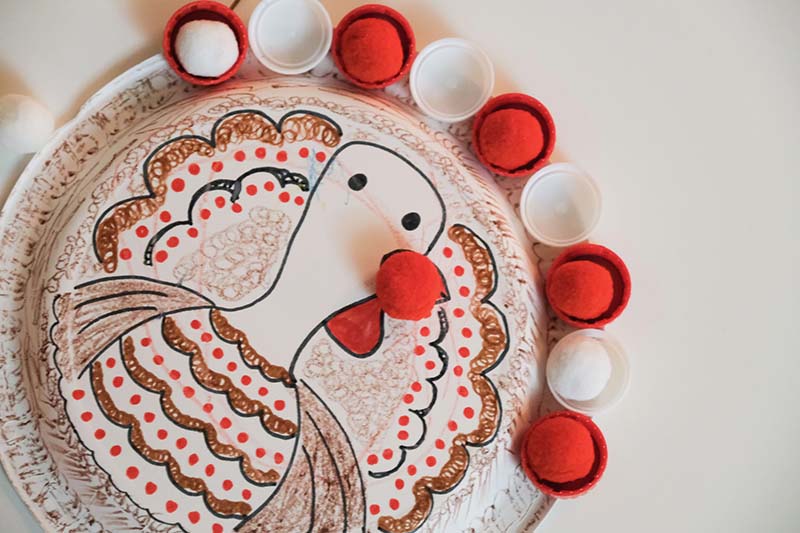 Hi! I am Yunnie. I am the newly minted mama to a little baby girl and a mum friend to everyone on this special (and many times scary) journey of motherhood. Also a graduated bride with a penchant for weddings.